Wisdom Tree Investments (NASDAQ:WETF) is an asset management firm specializing in exchange-traded-fund construction and distribution. The company has approximately $34.5 billion in ETF assets. Investment into exchange-traded-products has exploded in the past decade as institutional and retail investors seek low management fees and more passive strategies. ETFs are backed by securities such as equities or bonds, and can be used to track indices, sectors, or baskets of securities designated to achieve a specific investment strategy. The exchange-traded-product industry is still young, and not yet in a period of consolidation. While the big asset managers such as BlackRock (NYSE:BLK) iShares and State Street (NYSE:STT) SPDRs have taken control of a large percentage of the ETF industry, there are several players such as Invesco (NYSE:IVZ) Powershares, DST (NYSE:DST) ALPS, Direxion, and finally, Wisdom Tree, who have managed to obtain a small, yet still profitable market share.
Moving Average/ Short Interest Analysis:
Before I begin my qualitative analysis, I would like to briefly touch upon a graph I constructed depicting WETF's short interest against its 50 & 200 day moving averages. Currently, an astounding 18+% of the available floating shares are being shorted. The short interest as a percentage of float is at its highest level ever as WETF has sold off over 40% YTD. Looking over the graph, it is evident that SI movement has strong correlations with price movement against the moving averages. Large spikes in SI can been seen in early February through March as WETF broke through support on the 200-day, and the 50-day crossed below the 200-day moving average. SI at this level is very vulnerable to a short squeeze in the event of large upward price movement. In the event of a breakout, shorts will cover their positions by buying back the stock. Increased demand will naturally drive up the stock price, potentially causing more and more shorts to their cover their position. This is referred to as a short squeeze.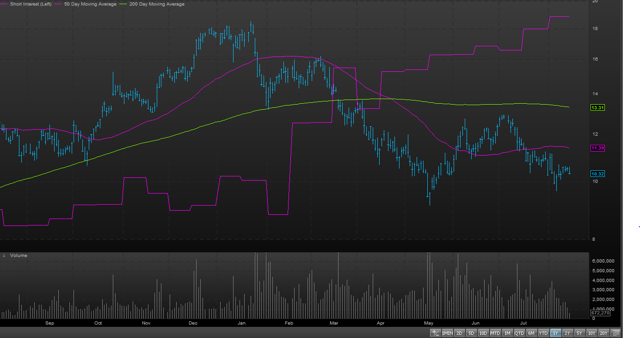 Source: Factset
Reviewing Wisdom Tree's Quarterly Report
On August 1st, Wisdom Tree reported better-than-expected 2nd quarter earnings, bringing in .08 cents per share. In the earnings call, President and CEO John Steinberg said,
We are clearly demonstrating the efficiency, power and potential of our business model. Since the first quarter, we showed a nearly 5% improvement in our gross margin to 82.4% for our US business. Including our new European entity, we reported a record 45.6% pretax margin on a base of $34 billion in average AUM. Our business and our balance sheet have never been stronger. With $141 million in cash and investments, WisdomTree is in a position of strength to invest for future growth.
Three notable items from the 10-Q:
1. WETF's cash position increased by $24.5 million YTD to about $129 million. Main cash generation is a result of cash from operating activities. In the "Use of Capital" section of the 10-q, Wisdom Tree states, "If our cash position continues to increase, we will explore other uses of cash, including adopting additional return of capital programs such as open market stock repurchases or paying cash dividends."
2. Despite outflows from their signature product, DXJ, a Japanese Hedged Equity Fund, WETF saw 2nd quarter net inflows of $300 million into its ETFs. As shown below, WETF derives as much as 30% of its management fee revenue from exchange traded funds tracking Japanese equities. Increased depreciation of the Yen relative to the dollar, as well as appreciation of Japanese equity markets will benefit WETF significantly. In Q2, Wisdom Tree proved that they are not in fact dependent on their trademark fund, the WisdomTree Japan Hedged Equity ETF (NYSEARCA:DXJ), for survival.
(click to enlarge)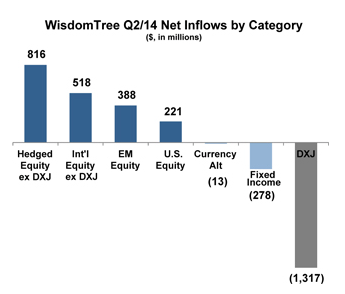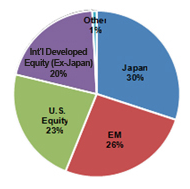 Source: Wisdom Tree 10-Q
3. Wisdom Tree actually recorded higher advisory fee revenue and lower OPEX, however, their bottom line was reduced by necessary payment of deferred income taxes in accordance with GAAP. In Q2 they recorded a $9.53 million income tax expense.

Source: Wisdom Tree 10-Q
A Promising Income Statement
Upon reviewing Wisdom Tree's income statement, it is evident that they, as CEO John Steinberg confirmed, continue to expand their bottom line through increased revenues and operating expense control.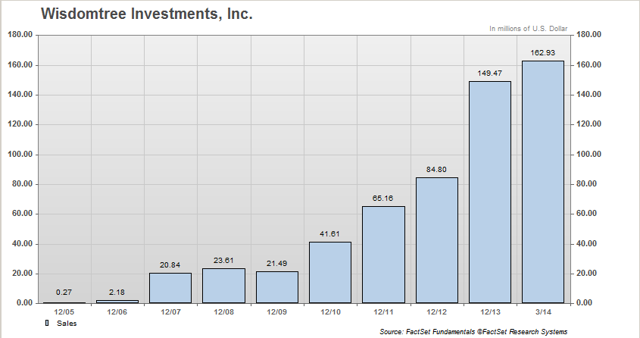 Source: Factset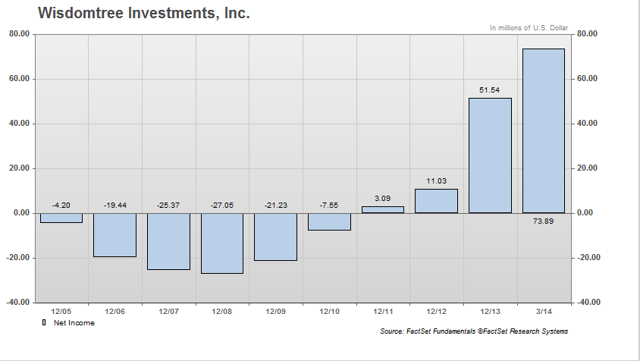 Source: Factset
Profitability
Wisdom Tree is capable of generating a large amount of net income off of a relatively small asset and equity base. Below I included three graphs showing WETF's profitability against its peers, as well as its "Return on Equity" & "Return on Assets," on a trailing three month scale. From looking at the Profitability Peer Analysis, it is apparent that Wisdom Tree has a leg up in terms of producing higher net income off of its assets and equity than fellow ETF providers such as BlackRock and Invesco. These two ratios show that Wisdom Tree is efficiently employing assets and shareholder's equity to generate income. "Revenue per Employee" and "Net Income per Employee" at $1,873,000 and $849,300 respectively, confirm WETF's powerful net income generation.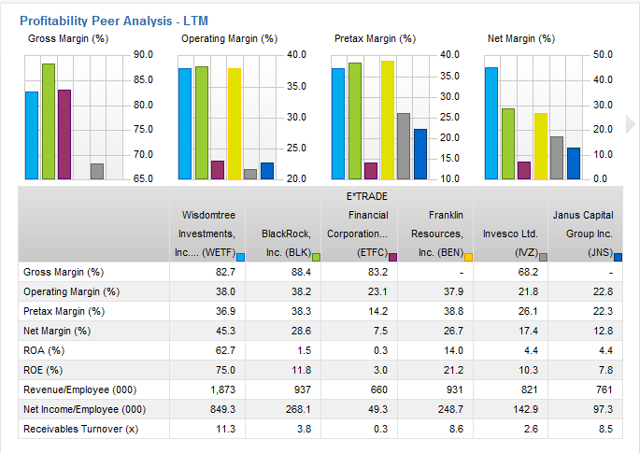 Source: Factset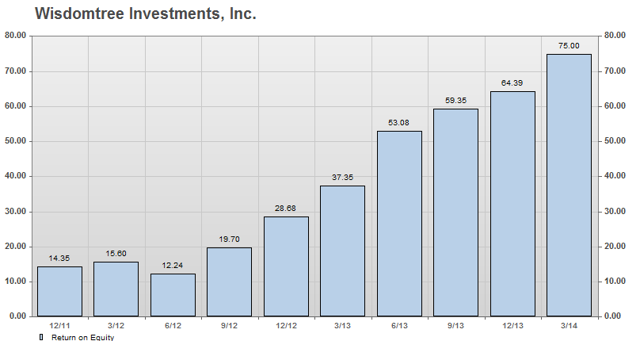 Source: Factset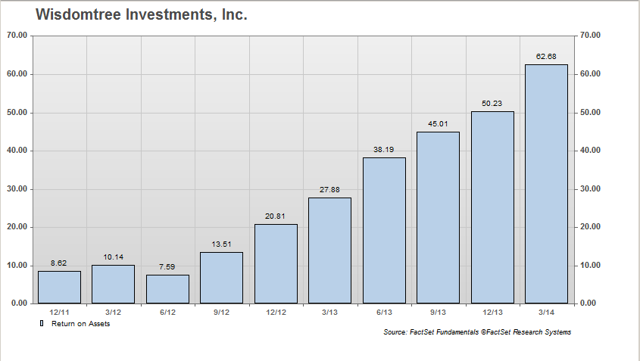 Source: Factset
Valuations:
Coming into 2014, the street suddenly became bearish on Wisdom Tree, citing the consequences of a pullback in the Nikkei225 on DXJ. As we just saw, Wisdom Tree is still in a growth stage, and many of its valuations are stretched relative to its more established peers. While the comparable valuation analysis makes WETF look rather expensive, on an intrinsic valuation basis, Wisdom Tree is rather cheap.
Comparable Valuation Analysis: On every comparable valuation scale, WETF is considerable more "expensive" than its peers. Again, WETF is in more of a growth stage than the likes of BlackRock & Invesco, and thus this analysis should be taken with a grain of salt.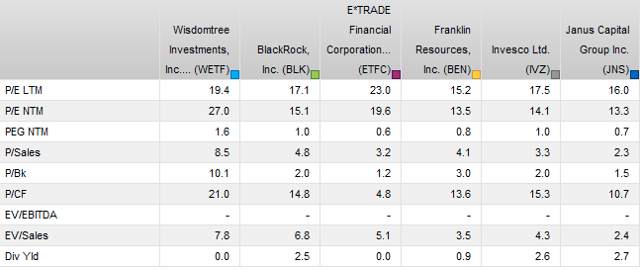 Source: Factset
Price/Earnings: I constructed a graph showing Wisdom Tree's trailing 12 month P/E ratio. As shown, WETF's P/E has shrunk rapidly as its EPS has grown. On a P/E over-time basis, WETF is trading at almost an all-time low.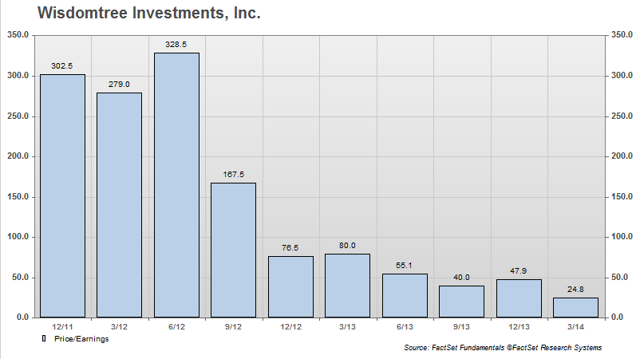 Source: Factset
Price/Book: WETF is trading at a basically all-time low P/B multiple. Book Value per share measures the approximate value that shareholders would be paid if the company went into liquidation. Shrinking P/B can be contributed WETF's growing asset base as a result of its cash flows from operations.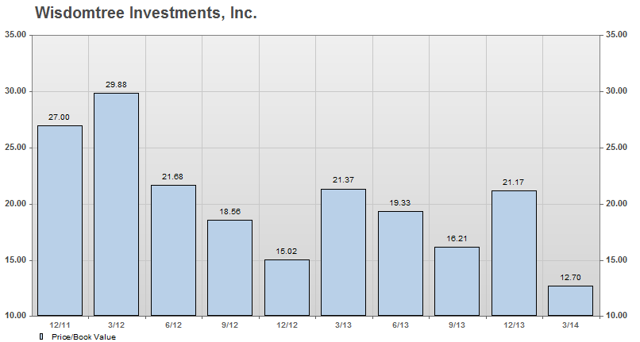 Source: Factset
Institutional Positions:
I thought it was interesting that a lot of investment advisory institutions have increased their positions in WETF over the past three months.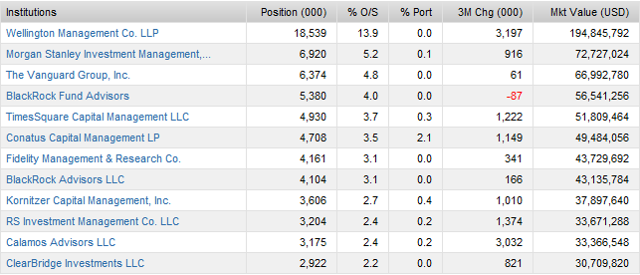 Source: Factset
Conclusion:
Wisdom Tree has gotten absolutely annihilated this year. Most investors attribute the selloff to outflows from their trademark fund, DXJ. The reality is, the market has SERIOUSLY overreacted. As exhibited in my analysis and the quarterly 10-Q, WETF is not overly dependent on DXJ, and on a valuation, profitability, and operational level, WETF is healthy. Wisdom Tree also has ample cash on its balance sheet, and will continue to make large investments into the company (such as their acquisition of Boost ETP in April), or even start to consider returning cash to shareholders. A breakout in this name could cause, as I discussed earlier, a serious short squeeze. If one can put up with 10-15% weekly fluctuations and potentially more downside before a reversal, than I would say that this is a definite buy. I am playing WETF through long-expiration calls, however, playing the stock through options is not ideal as the bid-ask spread is not very liquid. This stock needs a contrarian.
Disclosure: The author is long WETF. The author wrote this article themselves, and it expresses their own opinions. The author is not receiving compensation for it (other than from Seeking Alpha). The author has no business relationship with any company whose stock is mentioned in this article.