First, a small note to thank Seeking Alpha for welcoming our small family office to their forum. For years, the little documentation and write-ups that OPI has produced have been strictly for those in our family and those working with us on certain investments. Providing us with a forum to share these ideas is a lovely idea, and we're appreciative to Seeking Alpha staff for reaching out to us and welcoming us to their community with open arms. Additionally, we're happy to share our thoughts, pursuant to the disclaimer in our profile, and for the betterment of the investment community.
We also look forward to using Seeking Alpha as a tool to help share our perspective on investments that we may be considering. The community on this forum, which we've read from time to time, seems to be the most active and certainly the nicest to look at out of all of the "other" popular finance sites, which seem to have a knack of cramming your browser windows with 85% ads and popups; with just a small paragraph of insight tucked in somewhere that you have to find.
Let's commence our relationship with a short piece on where we currently believe the equity markets are today. First, we would encourage people to read this fantastic piece put out yesterday, "Signs of an Approaching Bear Market". We wholeheartedly agree with the author's thesis and wish to offer our own thoughts as a supplement to his argument.
Here at OPI, we think the market has simply been waiting for an excuse to turn bearish. We've had 5+ years of prosperity and growth via the equity markets, but valuations have recently peaked and the onslaught of M&A activity of late is signaling to us that the best of the bull market could be huffing and puffing and running out of steam.
While a bit out of date, this chart by BIRINYI sums up where OPI believes we are in today's equity marketplace: the exuberance level.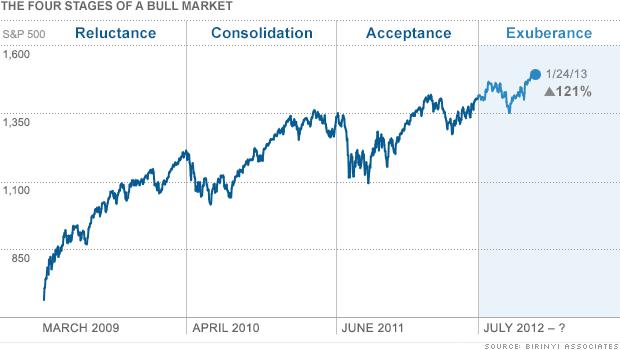 Morning trading on Friday changed gears rather quickly after the announcement made its way onto CNBC and other news stations that Ukrainian forces had attacked Russian forces. We're not sure that Friday's news would have had the same effect on the market had it occurred 2-3 years ago.
We've spent many a day in the office watching financial news on days where a negative headline would pop up and the market would rise nonetheless. Countless days we sat through global skirmishes, poor morning data from overseas, less-than-stellar jobs numbers, and even missing airliners. The market didn't seem too interested in anything except continuing to rise to 17,000. On days when we'd get a 100-300 point correction, buyers stepped in promptly the next morning.

Articles like this one, from CNBC, are what should make some investors nervous:
A big concern is that Russia will ramp up its aggression against Ukraine, said Ed Mermelstein, a U.S. attorney working on cross-border investments in Russia and former Soviet states. If Russia stops "hiding behind the facade" that it is not supporting the rebels, its leaders may change their position to "reflect a need to protect the Russian speakers of Ukraine," he said.

Even if Friday's reported incident was not an intentional Kremlin plan, the very idea that the Ukrainian military turned back a Russian incursion may lead to escalation.

"The dynamic that is created is that Putin does not like to lose face, and the more he's confronted by what look like missteps after economic sanctions and things like that, will make him feel that he needs to react in some way," said Blaise Misztal, the Bipartisan Policy Center's director of foreign policy. "And that can spiral dangerously if it continues."
Had this been a solitary headline a year ago, it would have hardly even been a blip on the radar. But, the fact that this headline seems to suggest we are nowhere near the terminus of tensions in this area of Europe worries us.
In addition to the Russia/Ukraine situation, we also have the Israel/Palestine conflict that continues to flare on an almost daily basis.
On top of this, we have Argentina, which recently defaulted on its debt.
Here in the U.S., we're not doing much to help ourselves. The Federal Reserve is tapering its bond buying and getting ready to raise interest rates sometime near October, it's presumed. This will obviously begin to slow the amount of credit that's available and will likely help push any economic slowdown that's already underway over the edge. Additionally, OPI is not satisfied with the job our politicians are doing.
None of these factors show signs of meaningfully abating -- at least not in the near-term.
Here at home, equity valuations continue to juice themselves up. As we can see from the chart sourced below from mutipl.com, S&P valuations are getting plenty rich, near an average P/E of 19.
- source)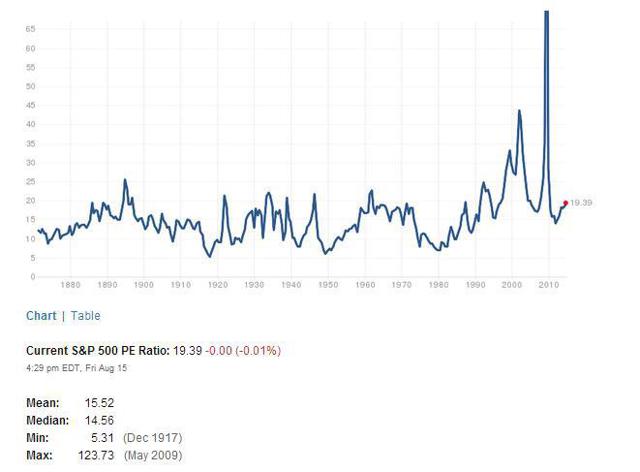 We've believed for a while now that the market has been looking for an excuse to go bearish. Now, it has a few of them.
In '68, the catalyst was Vietnam. In '73, the catalyst was OPEC. In '81, it was Volcker. In '87, it was Black Monday. Those were followed by the dot com bubble, and of course, the housing market collapse in 2007. Our 2014 catalysts, we believe, are here -- front and center.
We feel the combination of geopolitical tensions paired with the specter of rising interest rates could get people feeling a bit cautious. Even Barclay's was out last week with a report stating that they were beginning to take a more guarded view of equity markets.

The Peel's Feel:
OPI is currently at its largest cash balance ever, both as a whole and as a percentage of total investments. We are on the sidelines right now and the few investments that we do have are inclusive of major short hedges or are simply valuation based shorts.
That's not to say that there aren't any long opportunities out there now, because there always are. We like playing the cautious route here, however, and we're going to be waiting to pick and choose a few more select short positions, which we'll likely combine with typical inflation hedges like silver, gold, and other hard assets.
We feel it's a great time to get liquid and take profits. While valuations are juiced, we rate getting into the equity markets now as ROTTEN (SELL), and have a 6 month price target on the Dow of 15,550.
Disclosure: The author has no positions in any stocks mentioned, and no plans to initiate any positions within the next 72 hours. The author wrote this article themselves, and it expresses their own opinions. The author is not receiving compensation for it (other than from Seeking Alpha). The author has no business relationship with any company whose stock is mentioned in this article.
Additional disclosure: While we hold no position in any specific entities mentioned in this article, we're short a couple of individual stocks. All statements in this article made pursuant to our disclaimer/disclosure in our Seeking Alpha profile.