It was another mostly uneventful week for precious metals that continue to trade in an ever-narrowing range that suggests a break-out could be in store this fall after summer vacations come to an end and investors once again focus on financial markets. A quarterly demand report from the World Gold Council provided fodder for both bulls and bears while the strengthening dollar and higher stock prices again made it difficult for precious metals to advance. This came despite worsening geopolitical concerns and the threat of an outright war between Ukraine and Russia.
Gold buying in Asia remains lackluster, but that should soon change due to seasonal factors, and investors in the West are similarly disinterested in precious metals at this time, though some hedge funds are still keen on this asset class. Uncertainty over developments in Ukraine and Iraq should produce enough safe haven demand to keep metal prices from falling far during the last two weeks in August, but it seems any substantive rally will have to wait until at least September.
For the week, the gold price fell 0.3 percent, from $1,309.10 an ounce to $1,304.60, and silver dropped 1.7 percent, from $19.91 an ounce to $19.57. Gold is now up 8.2 percent so far this year, still nearly one-third lower than its record high over $1,920 an ounce three years ago, and silver's 2014 gains have eroded to just 0.7 percent, some 60 percent below its all-time high of about $50 an ounce reached in early 2011.
If not for geopolitical concerns, it could be far worse for gold investors, but recent developments in both Ukraine and Iraq make clear that neither of these conflicts is headed toward a peaceful resolution anytime soon. News came on Friday that Ukraine destroyed most of a Russian military convoy that had entered Ukrainian territory, moving the two nations closer to outright war.
In Iraq, the government is now less dysfunctional after electing a new prime minister. This, however, is not likely to slow the advance of the Islamic State of Iraq and the Levant (ISIL) that now controls vast swaths of the Middle East and has prompted the involvement of the U.S. military in the region for the first time since 2011.
After heavy selling in the gold market early on Friday when broad equity markets were moving higher, news from Ukraine drove a nearly $15 rebound in the gold price as the broad stock market reversed course. Once again, gold ended up right around $1,300 an ounce with stiff resistance remaining at about $1,320 an ounce and major support somewhere around $1,280 an ounce, these two levels continuing to shackle gold.
As noted here last week, this can't continue indefinitely and a break-out - direction unknown - is likely in the months ahead.
Looking back to gold market activity in the second quarter in their most recent Gold Demand Trends report released last week, the World Gold Council (WGC) noted that the long-term uptrend is still intact. They also observed that markets have returned to more "normal" gold buying patterns, now a year removed from one of the biggest gold market sell-offs ever seen in early-2013.
As always, there is much in this report to digest and it is well worth reading in its entirety, but the evolving gold market is much more complex than that implied by the many headlines that this report generated in the financial media. In fact, these WGC reports are something of a Rorschach Test for any financial writer or investor in that they can see whatever it is they want to see. Yes, gold demand was down 16 percent from a year ago when record price declines prompted record buying in Asia, but current demand it is in line with the multi-year trend of just over 4,000 tonnes per year.
Two of the more intriguing parts of this report, in my view, were the two charts below, the first depicting the dramatic exodus from gold ETFs last year when prices fell, U.S. investors sold, and many of the gold bars that were held in ETF trusts were shipped to Asia.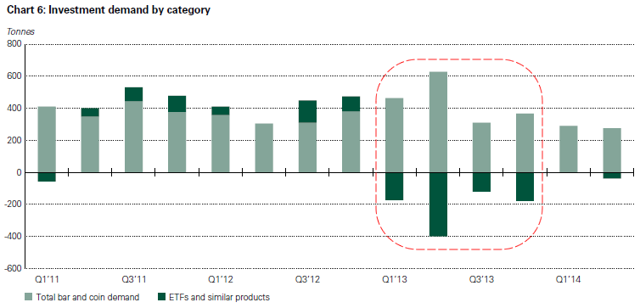 Obviously, the long awaited return of gold demand in ETF form will be a key factor behind any sustained market rally.
Another chart that I thought was quite informative was the one below indicating gold premiums in China and India in recent years.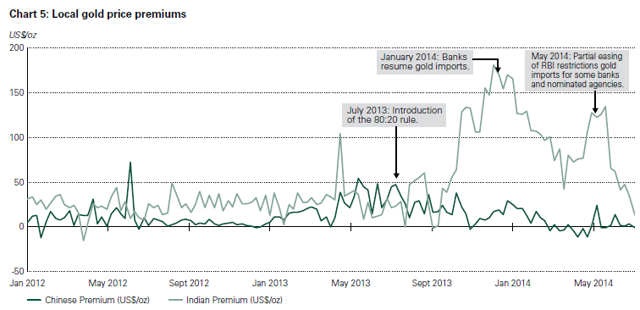 The impact of the draconian gold curbs by the Indian government are clear to see (and the chart would be even more interesting if data on smuggling could be laid side-by-side with gold premiums). Also, the more modest rise and fall of premiums in China as the gold price tumbled and then rebounded shows consumers in China got a much better deal when they went bargain hunting for gold over the last year.
Of course, going forward, none of this matters a bit, but what will likely have a positive impact on the gold market in the period ahead are seasonal demand trends that usually result in increased buying in China and India. Whether seasonal trends hold - and to what degree - is key for what can only be characterized as lethargic physical markets in Asia. If seasonal buying does kick in - and $1,300 an ounce is still considered to be a reasonable price in both India and China - this could have a big positive impact on sentiment in the West where, for better or worse, prices are set.
Importantly, import restrictions have only been eased slightly in India and it appears the new government is in no hurry to remove any more gold import curbs, particularly after a surge in gold imports in June. Moreover, this year's monsoon season has, so far, resulted in less rain than usual and this could hurt farm incomes and, hence, demand in rural India where the lion's share of India's gold is purchased.
According to a survey in this Bloomberg story, gold imports to India are expected to decline by about 15 percent this year, however, total demand is hard to figure due to ongoing smuggling. In China, overall demand is also hard to pin down due to the expansion of new "opaque" gold import routes but, here too, demand is expected to be lower than last year's record buying.
To be sure, the return of investment demand in the West will go a long way toward producing a sustainable rally for precious metals, but a recently rising stock market and a stronger dollar continue to make this more difficult than it might otherwise be. Dismal economic data from Europe last week only adds to the euro's woes (causing the U.S. dollar to strengthen) and renewed interest in U.S. biotech stocks and technology/social media stocks in recent days is likely dull whatever interest there was amongst U.S. investors for gold and silver.
Recall that the gold price almost always moves opposite the dollar and often moves opposite of broad equity markets.
Holdings for the SPDR Gold Shares ETF (NYSEARCA:GLD) fell for the fourth straight week, however, the decline was a miniscule 0.3 tonnes and this could have marked a bottom in this important gauge of investor sentiment in the West. The GLD "tonnes in the trust" are little changed this year after seeing massive outflows last year and sustained inflows to this popular ETF will likely be a signal that investment demand in the West has returned.
The holdings for the iShares Silver Trust ETF (NYSEARCA:SLV) rose by 31 tonnes last week to 10,132 tonnes indicating more bargain hunting on silver's recent price declines. Also, the premium paid for the Sprott Physical Silver Trust (NYSEARCA:PSLV) jumped from 3.64 percent to 4.67 percent, this too probably an indication that at least a few buyers were eager to take advantage of lower prices.
One man who doesn't mind the ups and downs in precious metals markets is billionaire John Paulson who, according to this report at Reuters, maintained his approximately $1.3 billion stake in the GLD ETF during the second quarter. George Soros, another billionaire hedge fund manager who markets watch closely, nearly doubled his gold stock holdings that, this year, have outperformed the underlying metal by a wide margin.
It's worth pointing out that favorable comments such as those included in this WSJ story last week detailing renewed interest in gold stocks by hedge funds could give the gold market a boost. This could be an important driver for higher precious metals prices in the months ahead as gold shares are seen by some analysts as "leading" metal prices. If there is one certainty for the broad gold market this year it is that gold stocks, as a whole, have been stellar performers after three long years of misery for investors and then finally bottoming out late last year.
There are many forces working against higher gold and silver prices over the very short-term, but the picture should begin to change in September.
Disclosure: The author is long PSLV. The author wrote this article themselves, and it expresses their own opinions. The author is not receiving compensation for it (other than from Seeking Alpha). The author has no business relationship with any company whose stock is mentioned in this article. I also own gold and silver coins and bars