The fashion doll segment is growing much more slowly than all other dolls, and national buyers foresee a point not too far in the future when fashion doll sales will begin to decline -- at least in the U.S. This is not too surprising, given demographic and cultural factors -- population growth, market saturation, and the kids growing older younger (KGOY) phenomenon.
Though not quantifiable, another factor is that all fashion dolls basically fall into two categories: Barbie (or a clone thereof) or Monster High (or Monster High-like). Either the doll represents the chaste, kind, nice girl mothers would like their daughters to be or it represents the bratty, often bullying, and not-very-nice girls these daughters sometimes are -- Dr. Jekyll and Mrs. Hyde, as it were. Buyers fear that the same consumer fatigue that beset Barbie and her sisters will also begin to bedevil Monster High and its clones, to the extent that the entire category will go south unless somebody comes up with yet another fundamental change.
Mattel (NASDAQ:MAT), which has the Barbie, Monster High, and Ever After High, as well as the Disney Princess brands, and MGA, which has Bratz, Moxie Girlz, and and Mooshka, have dominated the fashion doll space in the U.S. since beginning of this century. The chart below, which is based on Klosters' Retailer Panel data going back to 2007, shows this brand dominance very clearly: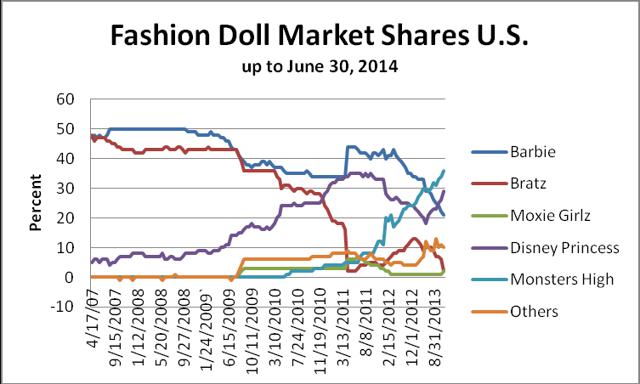 However, other doll companies have begun to grow fairly rapidly and deserve closer scrutiny, since they may well represent a new alternative. Two companies that stand out in this category: Jakks Pacific (NASDAQ:JAKK) and Spin Master.
Privately held Spin Master, after a number of failed attempts, now has the Flutterbye Flying Fairy, a fashion doll entry that seems to have traction. Flutterbye is unusual and different in that it is a winged doll that flies on its own steam, at price points between $10.99 and $34.99. The line is not based on an outside license or a movie. Spin Master's market share in the fashion doll category is estimated at 3%, up from about 1% two years ago. The company's strategy seems to be working and, more importantly, is not dependent on outside factors such as movies or licenses. In short, Spin Master's success or failure in the doll space depends only on skill and hard work.
Jakks Pacific has gone a different route, but is also doing well. In fact, of the two, Jakks is growing faster, and at 5 percent, has a significantly higher market share than Spin Master. Jakks also has a number of Disney (NYSE:DIS) licenses, such as Tinker Bell/Fairies, which it had for a number of years, "Oz the Great" last year, and "Maleficent" this year. In addition, it has a secondary license for "Frozen", which is doing fantastically well. Last year, Jakks Pacific also launched the Winx fashion doll range based on the animated television series Winx Club. Distribution at the major retailers tends to be good, and the national buyers told me that all are doing very well, with the possible exception of Winx, where both shelf space and sell-through have shown a negative tendency.
The chart below shows how the four companies stack up in terms of U.S. fashion doll market shares at the end of June 2014: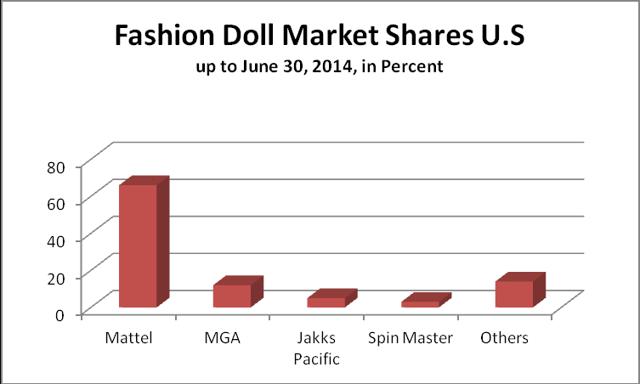 I also looked at the major brands in terms of consumer interest as shown by web searches, which demonstrate the threat Jakks represents to Mattel better than anything else.
These web searches are driven by the fact that both the "Frozen" and the "Maleficent" movies are exceptional box office sales generators. For the first 40 days, "Frozen" racked up box sales of $263 million in the U.S. as compared to "Maleficent's" $216 million. However, according to my retailer panel, "Frozen's" fashion doll sales are clearly ahead of "Maleficent's" at a rate of about 5:1. I asked the company about this apparent discrepancy. Kim Ferguson, senior director of marketing for Jakks Pacific's girls brands, says:
"The two movies are different and not really comparable. 'Frozen' is an animated feature film/ ongoing property with long-term Disney content support beyond the theatrical release, which introduced two new princesses to the Princess portfolio. 'Maleficent' is a live action film about a Disney villain, and like other live- action theatrical releases, is a huge movie event, but will not have the same staying power. The 'Frozen' story line and the two princesses lend themselves to toys and dolls. 'Frozen' as a comedic, adventure story with memorable music, appeals to a wider age range of girls and to core doll consumers, while 'Maleficent' -- due to a darker story of revenge and betrayal -- appeals to a slightly older, edgier girl -- who is not as much a core doll consumer. 'Maleficent' dolls are more of a collector item than 'Frozen' dolls, demand is more modest, and the sales goal is to be sold through cleanly by the end of the theatrical run. The bottom line: There is a broader and bigger audience of girls who aspire to be Elsa and Anna and play out their story."
This sales discrepancy would probably be considerably higher were it not for the fact that supply for "Frozen" dolls cannot keep up with demand and are widely out of stock at the majors.
"We are working very hard alongside our retail partners to get more of our most popular Frozen products into stores. We are continuously shipping our Frozen products to retailers, but they sell out as quickly as they hit the shelves," says Ferguson.
In summary, Jakks is beginning to do well in the fashion doll space, and over the longer term, could represent a real challenge to Mattel and MGA if it can maintain its momentum.

However, there are two structural problems that face the company in this quest. The first is that it has not yet established itself as a significant factor in Europe, and for this it would need the type of licenses it now has in the U.S. The company faces a vicious circle in this: Without existing strong sales, it does not get good toy licenses, and without good licenses, it does not get strong toy sales.
Secondly, current growth drivers are all Disney movies, which will eventually run out of steam. Yes, there will be new movie properties to be had -- "Cinderella" and "Alice in Wonderland" in 2015 and 2016, respectively -- but at this point, there is no guarantee that Jakks will get a piece of either one. Also, Jakks' non-movie- dependent brands, Tinkerbell and Disney Fairies are growing too slowly, and Winx is not strong enough to guarantee continued sales acceleration at the rate the company has seen over the past 18 months.
All indications are that Jakks is turning the corner and that the new people it has brought into the organization are making a real difference. I believe that it will find ways to overcome these obstacles in the same manner and with the same zest with which it tackled the challenges that it has faced over the past year.
(This Article was first published by the Toy Book on August 15, 2014)
Disclosure: The author has no positions in any stocks mentioned, and no plans to initiate any positions within the next 72 hours. The author wrote this article themselves, and it expresses their own opinions. The author is not receiving compensation for it. The author has no business relationship with any company whose stock is mentioned in this article.