Like the name says, Apartment Investment and Management Company (NYSE:AIV), also known as AIMCO, owns and operates apartment complexes throughout the United States, primarily in coastal states. With a market capitalization of nearly $5 billion, the company was founded in 1994 and is headquartered in Denver.
AIMCO is squarely focused on earning an investment grade debt rating from Fitch. With its debt currently rated at BB+ by both Fitch and S&P, the company is one notch away.
Working toward this goal, AIMCO has several initiatives underway to reduce its $4+ billion debt load including the issuance of preferred stock. Using two issues (one new issue plus additional shares added to an existing preferred), about $123 million of debt was converted into equity during Q2.
During its August 1, 2014 conference call with analysts to review Q2 2014 results, CEO Terry Considine stated that:
[AIMCO] will use the proceeds from this issuance to prepay property debt in order to increase the size of our pool of unencumbered properties. Our financial metrics are approaching Fitch's requirements for an investment-grade rating, and we expect to reach those levels over the next several months.
Using the proceeds to pay off property loans will allow AIMCO to increase its unencumbered property holdings to about $950 million by year-end, "…very close to the requirements set out by Fitch," according to CFO Ernest Freedman.
Another initiative to improve its balance sheet and generate cash is the upcoming sale of the company's affordable housing properties. Several of these properties were redeveloped using Low Income Housing Tax Credits between 2005 and 2009. The tax credit compliance period for many of these properties begins expiring next year through 2019 and the company will be selling them.
Sources: Common stock data, SeekingAlpha.com; Preferred stock data, PreferredStockInvesting.com; AIMCO Q2 performance, "2nd Quarter 2014 Earnings Release," aimco.com
Low Rates Help REITs
One of the many beneficiaries of low interest rates is real estate companies, as increases in debt service costs can quickly eat into the rents collected from property tenants. As last year's fears of increasing interest rates have subsided, many property REITs have enjoyed a rebound in their common stock price throughout 2014.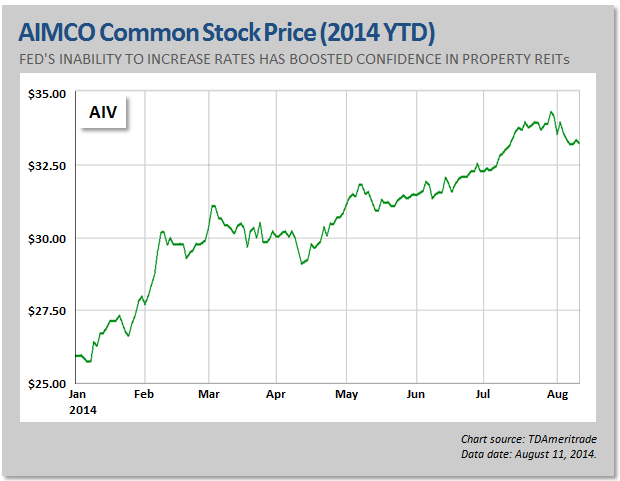 While many property REITs missed much of last year's value run-up, they're making up for it this year. AIMCO's common stock has risen by 28% since January as it has become clear that introducing an increase in interest rates is probably going to be harder, and take longer, than many were thinking.
Shrinking Foreclosure Inventory
Another factor that has improved AIMCO's outlook is that the inventory of distressed homes in the U.S. (foreclosure sales, short sales and real estate-owned sales) attractive to many first-time buyers has dwindled substantially.
A reduction in the inventory of distressed homes boosts prices which, in turn, improves apartment occupancy rates and puts upward pressure on rents. Across AIMCO's portfolio, average revenue per apartment has increased by an average 3.7 percent over last year. And occupancy has ticked up by 0.4 percent, almost all of that coming in the second quarter of 2014.
Combined with static operating expenses attributed to their properties, AIMCO's Net Operating Income has shown a 5.9 percent improvement over last year and Funds from Operations was reported at $1.02 per common share, up from $0.97 at the end of 2013.
Sources: Distressed homes sales, RealtyTrac.com; "2nd Quarter 2014 Earnings Release," aimco.com
AIMCO's Preferred Stock
AIMCO'S common stock pays a $0.26 per share quarterly dividend. With the uptick in the price of the company's common shares this year pushing the yield down to a miserly 3.2 percent, those looking to invest in the company may want to consider AIMCO's preferred shares. With a current yield of about 6.7 percent, AIMCO's preferred shares are returning more than double the dividend yield of the company's common stock.
AIMCO offers two traditional preferred stocks that trade under the symbols AIV-A and AIV-Z (preferred stock trading symbols are not standardized; see "Preferred Stock Trading Symbol Cross-Reference Table"). Both securities are call protected and offer cumulative dividends but speculative grade B+ S&P ratings (three notches below the BB+ rating of the company's debt).

Note that these two securities are currently priced above their $25 par values, exposing today's buyer to a capital loss in the event of a downstream redemption of these shares by AIMCO (shareholders will receive the security's par value, $25, in cash in that event). And if a future increase in interest rates materializes, the market prices of these preferreds could fall below today's value.
Having said that, there is a growing amount of evidence that preferred stock investors have already "priced in" a complete exit of the QE program by the Fed. For example, preferred stock prices returned to their pre-QE2 level in June 2013. And as the Fed has been tapering out of QE since January of this year, preferred stock prices have gone up, not down (see "Today's Preferred Stock Marketplace; What A Difference A Year Makes", May 12, 2014).
What's Next?
The 6.7 percent current yield being offered by AIV-A and AIV-Z is consistent with other B+ rated preferred stocks available in today's preferred stock marketplace.
This chart illustrates the risk (as measured by S&P rating) versus reward (as measured by current yield) trade-off currently being made by preferred stock investors. Each diamond represents a preferred stock trading on a U.S. stock exchange.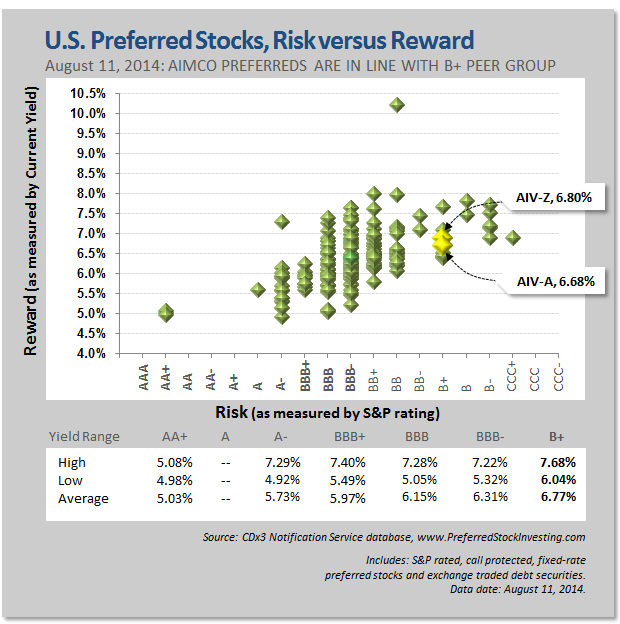 As the above chart illustrates, there are many preferred stocks with comparable yields available that offer much stronger ratings than AIMCO's offerings (bold ratings on the above chart indicated S&P's investment grade ratings). To the extent that you have faith in S&P ratings (B+ here), the implication is that AIV-A and AIV-Z may be overpriced given the risk.
But it could also be that preferred stock investors are anticipating the benefits of continued low interest rates combined with confidence that AIMCO will be successful in securing an investment grade debt rating later this year (which would likely boost the prices of their two preferreds).
For preferred stock investors, the cumulative dividends of AIV-A and AIV-Z, along with their competitive current yields, call protection and potential for a rating upgrade will have to be weighed against their current speculative grade B+ ratings and the potential reduction in value that could accompany an eventual increase in interest rates.
Disclosure: The author has no positions in any stocks mentioned, and no plans to initiate any positions within the next 72 hours. The author wrote this article themselves, and it expresses their own opinions. The author is not receiving compensation for it (other than from Seeking Alpha). The author has no business relationship with any company whose stock is mentioned in this article.
Additional disclosure: The CDx3 Notification Service is my preferred stock email alert and research newsletter service and includes the database of all preferred stocks used for this article. Securities identified within this article are for illustration purposes only and are not to be taken as recommendations.