Verizon Communications' (NYSE:VZ) stock has lagged the market severely over the past 2 years, as investors seem to fear that growth in the wireless industry is slowing and that competitive pressures are mounting. The reality though is that Verizon recently posted almost 8% wireless revenue growth and expects continued margin expansion this year. The purchase of the Verizon Wireless stake from Vodafone did create a lot of technical selling pressure on VZ stock this year, but the deal has transformed Verizon into predominantly a wireless business (now 80% of EBITDA). Translation: EPS is accelerating and this stock at 12.6x forward earnings is as cheap as it's been in 5 years.
From a valuation perspective, my base case simply assumes VZ trades back to its historical market multiple of 15-16x, implying a $60-64 price target in 12 months with dividends. That is up 24-32% from current levels. Worth mentioning too is the optionality for Verizon to drop certain owned assets into a REIT, saving taxes and affording an opportunity to move network or tower assets into a REIT that likely would fetch much bigger 14-18x EBITDA multiples. I would not be surprised to see an activist step in here and make such a push.
Oh, and it is worth noting that Warren Buffett started buying VZ stock earlier this year.
Basics: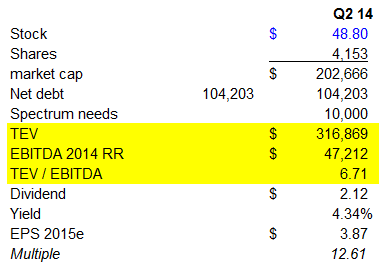 Business:
I actually wrote a bearish article on Verizon in mid 2012 here, primarily against my long Vodafone position. At the time, VZ was trading at 18x earnings and had a much larger percentage of its business in its flat/declining wireline businesses. VOD was trading at an implied EV/EBITDA multiple of under 4x net of their VZ Wireless stake. I was short VZ and covered after Vodafone announced the sale of its 45% stake in Verizon Wireless last year.
This is a good chart of VZ (in white) against the S&P (in green) since that article came out in July 2012.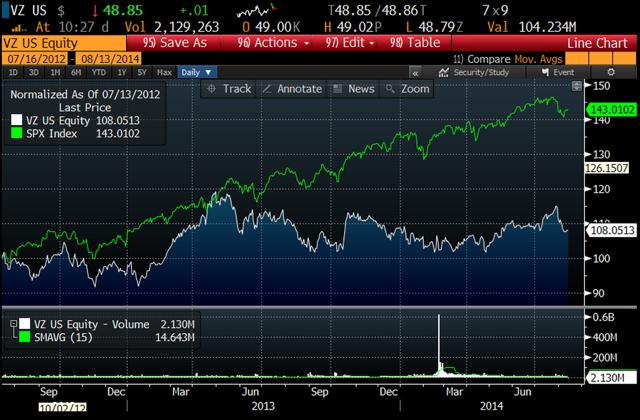 (This doesn't include dividends on either security, but it's clear that VZ has been a laggard)
I think this poor performance is set to end and now is a good entry point into the stock.
Wireless Concerns Overblown Today
First of all, investors in the wireless space have become concerned over the maturation of the market and over increased competition from the likes of T-Mobile (NASDAQ:TMUS) and Sprint (NYSE:S) . TMUS has been competing heavily on price since its listing in early 2013, and their Average Revenue Per User (ARPU's) have dropped from roughly $55/month to $50/ month over the past year. Softbank's CEO, Masa Son (majority holder of S) has also talked about price competition. But in truth Sprint's ARPU's have stayed flat, despite the noise coming from its top brass. From what I have heard since the Sprint purchase, Masa primarily intends to compete with superfast data.
Bigger picture, there have been 4-5 national carriers in the US for well over 15 years now. In Verizon's case, ARPU has grown around 1.4%/year over the past decade on average. Even more interesting, VZ's ARPU was up 1.7% in the 6 months ending June 2014, and up 2.2% last year. Clearly price competition has not shown up in their financials, and recent numbers seem even better than the long term averages.
As far as the industry maturing, well, that is inevitable. However, the top four carriers still grew total subscribers at a 6.1% pace in Q2 of 2014 compared to the year before (325mm subs today vs 307mm at June 2013). Considering that the 4 year average subscriber growth rate was 5.3% for the big four, I still scratch my head at the notion that investors see growth slowing. The data clearly suggest the opposite.
Growth-wise, opportunities in healthcare, auto's, high definition voice/video and mobile video are still in their infancy in this country. Mobile data traffic growth is in fact exploding. According to Verizon, new tablet customers may only cost $10/month to add to an account, but this traffic is not cannibalizing their phone data usage. Its pure margin, and a new avenue of growth for the company.
Side Note on Iliad's Offer for T-Mobile
Investors perhaps have also become fearful of the implications of a potential sale of T-Mobile. Sprint as a buyer is now off the table it seems (despite Softbank's pleas with the FCC), and Iliad (OTC:ILIAF) of France two weeks ago offered to buy 57% of TMUS for $33/share.
Iliad, run by multi-billionaire Xavier Niel, started Free Mobile in France in 2010 with a $25/month unlimited phone/text/data service. Their aggressive pricing has wreaked havoc on ARPU's in France. Competitor SFR, a major wireless carrier there, has seen its ARPU fall from $55/month in 2010 to $31/month in Q1 this year. Ouch. Concerns of a repeat in the US have put pressure on all four of these stocks.
However, it appears unlikely that Iliad will be successful in buying T-Mobile. For one, TMUS has noted it prefers the $40/share offer from Sprint, which possibly could re-emerge at a later date. Iliad is a $14BB TEV company, trying to borrow $15BB to gain control of TMUS (which has a $23BB market cap and a $43BB TEV). T-Mobile is 4.5x levered, and Iliad would become 10x levered to in order to finance themselves. The math really doesn't work for Iliad to do this deal solo.
It's also worth pointing out that acquiring spectrum in France was quite cheap, and building a wireless network in a small country (and mostly Paris) is far different than building out a market the size of the United States.
Some Numbers
Let's throw around some earnings multiples of VZ to see what kind of scenarios we can come up with.
First of all, I should point out that in 2009, 55% of VZ's net EBITDA came from Wireless, with the balance in a diminishing Wireline business. EPS was actually declining around this time. Fast forward to today, fully 80% of Verizon's EBITDA now come from the Wireless business, with its Wireline business actually growing Revenue and EBITDA thanks to growth in its FIOS business (pay TV and Internet). In fact 92% of Verizon's EBITDA today is in growth segments.
This shift has fueled an acceleration in earnings, with VZ reporting 10%+ growth in EPS in 9 of the last 10 quarters. Here is a long term chart of its adjusted EPS and dividends: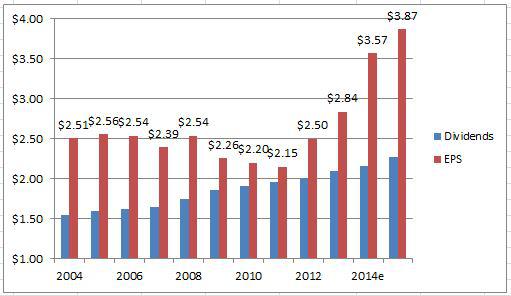 In the first half of 2014, earnings grew 30% compared to the year before. Runrate EPS is now $3.66 on a proforma basis, that is assuming the VZW stake purchase had closed in January of this year. The Street is forecasting $3.57 for this year, and $3.87 in earnings next year. I suspect that the hurdle is quite low to hitting 2015 numbers given the 10% recent performance. There is nothing worse than "missed" earnings in this market.
In any case, you would think that the market would ascribe a better multiple for VZ given that the company's business has shifted to its higher margin, higher growth wireless segment. Not to mention the jump in earnings growth.
Not so, as below is a chart of VZ's P/E ratio. (As a side note, Verizon's cash earnings are quite close to its EPS figures, making for easy FCF yield comparisons).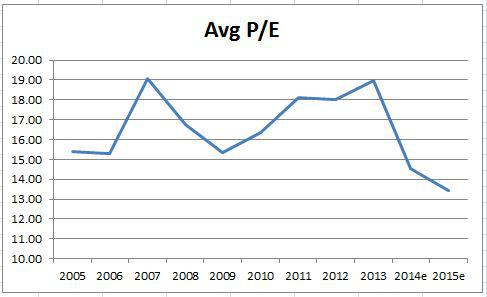 Perhaps more illuminating is to look at Verizon's P/E multiple minus the multiple of the S&P 500 over the past decade. This tells you when VZ is trading at a premium multiple (or discount if negative), to the S&P.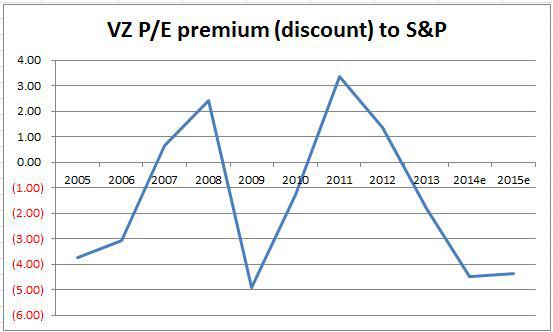 This clearly shows the dramatic re-rating that VZ has experience over the past 2 years. Today, it is trading 4.5 turns cheaper than the S&P, yet sports 10% earnings growth and a much higher dividend yield. We haven't seen this low a relative valuation since 2009 and 2005 (both excellent entry points by the way).
On a FCF basis, Q2 annualized EBITDA is $45.4BB, capex $16.5BB, interest $4.6BB, and using a 35% tax rate implies $3.79 in FCF/share. Looking out 12 months, EBITDA could easily grow 5%, total capex is anticipated to be flat (a little higher in Wireless, offset by less in Wireline), and again using a 35% tax rate gets me $4.06 in FCF/share. That is an 8.3% forward FCF yield, far too high for such a high quality, non-cyclical business. I have excluded pension contributions as they would become unnecessary in almost any scenario where interest rates increase.
Dividend and Comps
Many would point out that VZ's dividend yield is the lowest among telecoms at 4.3%, especially compared to AT&T at 5.3%. AT&T is actually a tad more expensive than VZ at 12.8x 2015 earnings, but it is growing at a much slower pace, may lever up to buy Vodafone next year, and also is buying DirecTV. Too much acquisition risk for me, and Vodafone's recent financial performance has been awful.
Furthermore, note that AT&T has grown EPS by 23% cumulatively from 2009 to this year, while VZ has grown 58% cumulatively over the same period. At about the same multiple, it seems a no-brainer to buy Verizon over AT&T. I don't see VZ making another acquisition as they did lever up somewhat to close the VZW stake purchase. Fortunately VZ is still investment grade rated and at only 2.2x Debt/EBITDA, not at a level of debt that concerns me.
In my conversations with management, the goal seems to be not to allow debt to exceed its peak of around $114BB. They are building cash to fund perhaps up to $10BB worth of spectrum this Fall in the AWS band (1700MHz) auction. Right now cash is at 5.8BB, and by year end would grow by enough to fund any spectrum purchases. Beyond funding spectrum, FCF generated thereafter would likely be used to increase their dividend and perhaps fund a significant buyback.
Assuming earnings continue to grow as they have been, VZ will undoubtedly increase the dividend at a faster pace than they have recently. Just a 60% payout ratio on $3.90 in 2015 EPS would take the dividend up 20% from today's levels.
Valuation Range

In my downside case, I assume that VZ misses 2015 Street estimates and does $3.55 in EPS, down from current runrate numbers (and vs Street at $3.87), and the stock trades to an historic low 12x multiple. That would take the stock to $45, down 8%.
In my upside case, VZ grows earnings 7% next year and with a market multiple at 16x, would be worth $65/share, up 32%. Often VZ has traded at 17-18x, so there is some optionality for $70/share too.
What about a REIT?
Verizon confirmed that they have been considering shifting some assets into a Real Estate Investment Trust. REITs pay no taxes and tend to trade at 12-18x EBITDA, or 12-16x FFO multiples. Verizon actually owns a whopping $220BB of PP&E.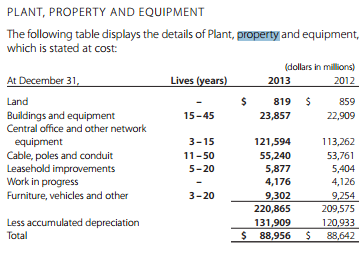 There are admittedly challenges to copying Windstream's spin of fiber/copper networks into a REIT. First of all, almost all of VZ's fiber/copper networks reside at subsidiaries of the Wireline Segment, where very little taxable income is generated. Other issues include state PUC's in the Northeast which may be more difficult to appease, perhaps requiring that VZ top off its pension fund for example before allowing a spin. Or that VZ would lose the ability to sell perhaps certain legacy telecom assets.
However, VZ owns over 11,000 towers in the wireless segment, plus 160 switching offices. I don't see why these assets could not be converted to a REIT. Regarding the wireline networks assets, perhaps Verizon holdco could guarantee pension obligations and debt that resides at various Wireline subsidiaries to appease state PUCs, and then use losses at the Wireline operating companies to offset VZ Wireless profits.
While I am clearly no tax expert, there are billions at stake here and a solution seems possible. Overall, Verizon will likely pay $8-9BB in cash taxes per year in its current form, and EBITDA shifted to a REIT not only would save tons in taxes but also be ascribed a multiple 7-10x higher than where the company trades. If say just $2BB of EBITDA moved to a REIT (out of $45BB), then that could easily add $5/share in value to VZ today.
Conclusion
A REIT spinoff is not necessary to generate solid returns here. While a T-Mobile sale would seem to trigger a price war, the fact is that a mini-price war has been going on for well over a year now in the US wireless space. If Iliad and DISH together bid for and buy TMUS, will they decide to cut prices in half? Unlikely. I don't think Charlie Ergen became a billionaire by putting capital to work just to gain market share and revenue at the expense of profits.
At the end of the day, there will be and always has been competition in the wireless space in the US. But the ones poised to win are still Verizon and AT&T, who own the best networks, generates the highest margins and returns on equity. While I have played Sprint and Softbank in the past, today (even to my surprise) the risk reward seems the highest with Verizon.
Disclosure: The author is long VZ. The author wrote this article themselves, and it expresses their own opinions. The author is not receiving compensation for it (other than from Seeking Alpha). The author has no business relationship with any company whose stock is mentioned in this article.