Merger and acquisition activity is lifting the bid for many consumer stocks. In the past few weeks, Fortune Brands (FO) said it would focus on its spirits business, including Jim Beam, and split off its consumer goods and sports products, making them ripe for acquisition. And an investor group headed by Kohlberg Kravis Roberts (NYSE:KKR) is looking to unlock the value in Del Monte Brands (DLM), which it's acquiring for $5.3 billion.
Manufacturers of consumer products weren't uniformly impacted by the recession, mostly because some make necessities as well as simple luxuries.
There are two particular small-cap consumer product makers that currently fly under investors' radar screens - and one even pays a 'hidden' dividend every year.
These companies are the type of defensive plays that every portfolio needs in a recovering economy, and might be worth your attention if potential suitors continue their holiday shopping spree.
Typically when investors look at defensive stocks, the names that pop up include conglomerates like General Electric (NYSE:GE), restaurant chains such as McDonald's (NYSE:MCD), consumer products makers like Procter & Gamble (NYSE:PG), or utilities such as American Electric Power (NYSE:AEP).
But burrowing down to the defensive small-caps means investors can still expect handsome returns, even without an aggressive investing approach. The two companies that I've found make items that are probably already in your home, but maybe you've never realized that you can actually buy stock in the manufacturers.
The first company is the maker of personal-care products and operates in the shadows of P&G - and it knows when to pull the trigger on acquisitions. Its name has roots in Greek mythology and refers to a symbol of legendary beauty.
Helen of Troy (NASDAQ:HELE) makes an assortment of personal-care items and house-wares, but it's best known for its hair products. The company licenses such trademarks as Vidal Sassoon and Revlon, and owns a broad portfolio of brands including Pert, Final Net, Vitalis and its namesake Helen of Troy. It sells housewares under the Sunbeam, Dazey and OXO brands, among others.
Helen of Troy reported a loss in 2008, but charged back in 2009 with a $71.8 million profit. The company has exceeded analyst quarterly earnings estimates the past four periods, typically by 5 to15 percent.
The company also just announced that it was paying $260 million for privately held Kaz, which markets products under licensed brands such as Vicks, Braun and Honeywell. Earlier in 2010, it acquired the Pert and Sure businesses. Helen of Troy, which has little debt on its books, offered to pay cash for Kaz, and said the deal will be accretive to 2011 results.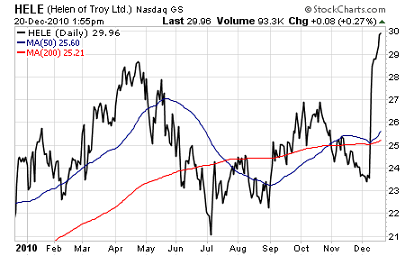 The other company is an old name in kitchen appliances, maybe one that is more familiar with your grandparents than to you. The company is National Presto Industries (NYSE:NPK), the Wisconsin maker known for the pressure cookers that have been in use for more than a century.
Over the years, the Presto brand has expanded to include saucepan-size pressure cookers, steam irons and electric frying pans, to name a just few products. More recent additions are the Salad Shooter slicers, frozen pizza ovens and hot-air popcorn makers.
National Presto is also a defense contractor, making specialty ordnance including ammunition and firing devices.
If you use a typical stock screener, you might see a dividend of just $1 from National Presto. But beyond its $1 regular annual dividend, the company also has been routinely paying a special performance payment, which in recent years has been huge. In March, it paid the base dividend, but tacked on $7.15, raising the effective yield to 6.2 percent. That special dividend is something that has generously grown since 2004's $0.25 offering.
The stock has started to catch fire, rising 15 percent in the past month and 20 percent year-to-date. But with a forward P/E of 12.90, National Presto still shows some good bargain potential, especially considering that special dividend.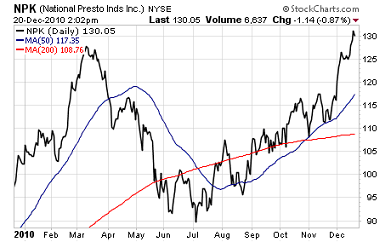 Disclosure: No positions