If I told you a company was projected for about $90 billion in revenues this year, how much do you think the company would report in profits? Would net income be $5 billion, $10 billion, or more? Well, what if I told you that this company was actually expected to lose money this year, and that this would be the second year in the past three that the company could report a net loss?
If you haven't guessed by now, yes, I am talking about Amazon (NASDAQ:AMZN). After a larger than expected second quarter loss and forecast for a huge operating loss in Q3, analyst estimates have come way down. Today, I'll look at the financial picture of Amazon, which may surprise some investors.
Q2 miss and net loss:
When Amazon reported second quarter results a couple of weeks ago, revenues were basically in-line with expectations. The big surprise was that the company lost $0.27 a share in the quarter, compared to expectations for a $0.15 loss. Why the big miss? Well, as I've continued to detail, the company's operating expenses are rising much faster than revenues. In the quarter, the company reported a 23.15% rise in Q2 revenues over the prior year period. But look at some of these rises in operating revenues:
Fulfillment expenses up 29.67%.
Marketing expenses up 39.70%.
Technology and content expenses up 40.35%.
General and administrative expenses up 31.82%.
Total operating expenses (not including the cost of goods sold) was up 34.87% in the period.
Amazon reported an operating loss of $15 million in the period, compared to a $79 million operating profit in Q2 last year. The company did actually beat its Q2 forecast, because at the Q1 report the range was for an operating loss of $55 million to $455 million. However, when you add in other items like interest expenses and income taxes, the company ended with a $126 million loss for the period. In Q2 2013, Amazon lost just $7 million. So despite the near $20 billion in quarter revenues, the company's net loss widened.
Unfortunately for Amazon, this means that the margin trend has started to head in the wrong direction again. In the chart below, I've detailed trailing twelve month operating and net margins for Amazon in recent years.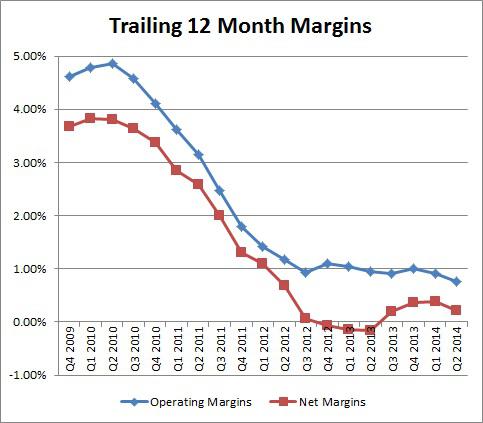 Amazon isn't back near its worst levels yet, but the company will probably return to a net loss rather soon. In the next section, I'll detail why the company's Q3 forecast has led many to reduce their expectations even further.
Q3 guide down:
Amazon provided the following guidance for fiscal Q3, as taken from the above linked Q2 earnings release:
Net sales are expected to be between $19.7 billion and $21.5 billion, or to grow between 15% and 26% compared with third quarter 2013.
Operating loss is expected to be between $810 million and $410 million, compared to $25 million in third quarter 2013.
This guidance includes approximately $410 million for stock-based compensation and amortization of intangible assets, and it assumes, among other things, that no additional business acquisitions, investments, restructurings, or legal settlements are concluded and that there are no further revisions to stock-based compensation estimates.
The revenue forecast was a little light, with a midpoint of $20.6 billion, as analysts were looking for $20.83 billion. However, it was that huge operating loss forecast that really woke a lot of people up. To be fair, Amazon usually does give very conservative guidance on the operating line. As we saw above in Q2, and with a number of recent quarters, the company has come in above the high end of its operating loss range. I wouldn't be surprised if the Q3 operating loss ends up being around $375 million, but remember, that's not the bottom line. As a result of this guidance, analyst estimates have dropped considerably, as you can see in the table below.

Analysts are now expecting a significant Q3 loss, and Q4 estimates have come down dramatically as well. As a result, analysts are now forecasting the company to lose money for all of 2014. Amazon did lose money in 2012, but rebounded with a profit last year. Even though revenues are projected to increase to more than $90 billion this year, Amazon may again lose money.
A weakening balance sheet:
With Amazon struggling to be profitable and spending a lot to keep the revenue growth going, the company's balance sheet has weakened a bit in recent years. In this section, there are two financial ratios I'll show that detail this. Since Amazon's business is very seasonal, I've done a 4 quarter (12-month rolling) average to even out things. The first ratio is the current ratio.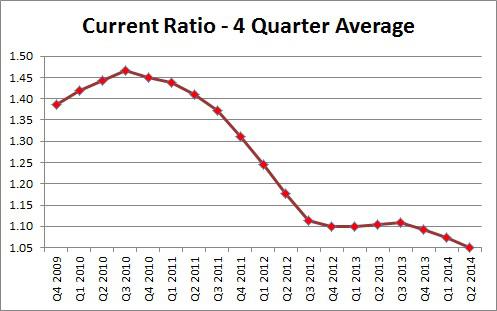 The current ratio has taken another leg down recently, and at the end of Q2 the company only had working capital of $4 million. If the company keeps going in this direction, I think you'll see some sort of capital raise coming, most likely debt. In the second chart, I'll look at the debt ratio, which is also known as the liabilities to assets ratio.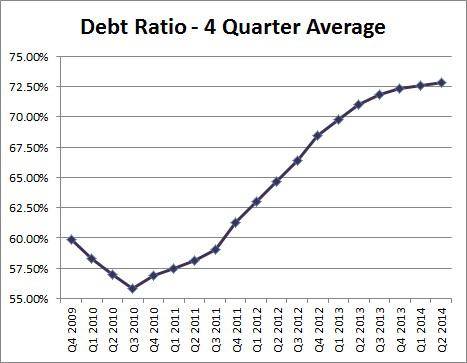 This ratio also continues to get worse by the quarter. While Amazon is not in any financial trouble at the moment, these weakening ratios will have consequences. The company's financial flexibility is limited, which means investors will probably not see a dividend paid or stock bought back anytime soon. In fact, the share count will continue to rise. Additionally, if Amazon does take out more debt, the company will likely face a higher rate premium (holding rates equal) given the weakening balance sheet.
Final thoughts:
It appears that Amazon has forgotten what profitability is again, and that sent shares more than $50 lower after the latest quarterly earnings report. While shares have rebounded a bit since, investors finally seem to be getting upset with this company's lack of net income. For a company that is expected to see roughly $90 billion in revenues this year, you would think a few billion of profits wouldn't be too hard. But for Amazon, even a few million is proving to be a tough challenge. If this process continues, I think more shareholders will give up on this name, and perhaps $300 won't be held the next time around.
Disclosure: The author has no positions in any stocks mentioned, and no plans to initiate any positions within the next 72 hours. The author wrote this article themselves, and it expresses their own opinions. The author is not receiving compensation for it (other than from Seeking Alpha). The author has no business relationship with any company whose stock is mentioned in this article.
Additional disclosure: Investors are always reminded that before making any investment, you should do your own proper due diligence on any name directly or indirectly mentioned in this article. Investors should also consider seeking advice from a broker or financial adviser before making any investment decisions. Any material in this article should be considered general information, and not relied on as a formal investment recommendation.