AT&T's (NYSE:T) dividend is not at risk. OK, now that we have got that out of the way, I do want to discuss a further threat to T's margins and by extension cash flows. As we all know, T operates in a highly competitive wireless market and while wireless comprises 47% of the Company's revenues in the latest quarter, it is the primary driver of future profit growth (as well as capital requirements). That is why news that Sprint's (NYSE:S) new CEO, Marcelo Claure, in a company-wide "town hall" call on Thursday, said, "very disruptive" price changes would be announced as early as this week, is highly relevant to T shareholders. Mr. Claure, in only his first week as CEO, acknowledged that as an also-ran, the Company would need to shake things up to be relevant to the market, he said, "When your network is behind, unfortunately, you have to compete on value and price" (Source: Lightreading.com). Unfortunately for T holders, S is 70% owned by Softbank, which in turn is controlled by its CEO, billionaire Masayoshi Son, who has the financial firepower to absorb the cost of a protracted price war.
The Wall Street Journal reported that Sprint tested an unlimited talk, text and data plan for $50 /month, $30 less than T-Mobile (NASDAQ:TMUS) and something T (and Verizon (NYSE:VZ)) don't offer. S also tested a $125 "family" plan that offered unlimited talk, text and 1 gigabyte of data.
Clearly, S is operating from a position of weakness and its only comparative advantage is a relatively underutilized network. Therefore, while T has literally spent billions ($11.6 billion in total CapEx in the first six months of 2014 and see my article, "Update: AT&T Earnings - Biggest Growth? CapEx) to keep up with customer data demand, Sprint has excess capacity to deploy into battle.
It is difficult to determine how an aggressive S will impact T. Recently, T aggressively responded to a newly-assertive TMUS, by adjusting prices and materially reducing device subsidies. T was TMUS's direct target as both carriers operate on the same TDMA-based system. Despite the actions of TMUS, T and VZ were both able to maintain share, while S suffered a decline.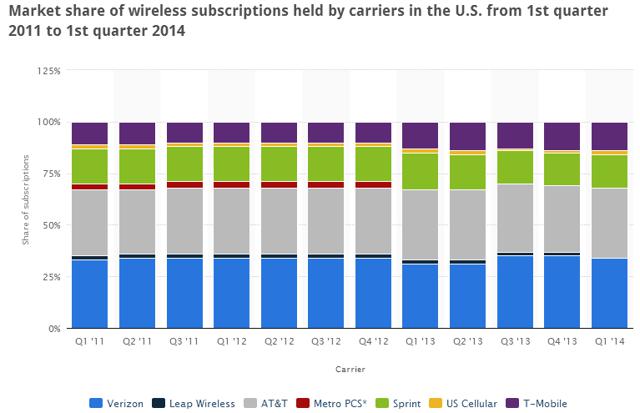 Source: Statistica
While TMUS was more creative on prices, its primary differentiator was moving away from the subsidy model. If S aggressively reduces prices, it is logical T (and the other carriers) would have to react. The impact to T is not currently predictable, however the below chart attempts to model some potential outcomes.

As the above chart demonstrates, the impact of a price war would be material to earnings, and by extension, to the stock price.
With $34 billion in operating cash flow, T's existence certainly is not threatened by a wireless price war. However, its stock price may be negatively impacted. As discussed most recently in my article, "AT&T: 12% For True Believers", I continue to believe that T is best held by those who truly value the dividend. It is too rich and risky for total return investors.
Disclosure: The author has no positions in any stocks mentioned, and no plans to initiate any positions within the next 72 hours. The author wrote this article themselves, and it expresses their own opinions. The author is not receiving compensation for it (other than from Seeking Alpha). The author has no business relationship with any company whose stock is mentioned in this article.