Should you ignore the new bull market in oil tanker rates? The market has just done that, yawning at the relentless climb in spot charter rates to hire VLCCs, Suezmax and Africamax vessels. Who can blame them? Every time, a company makes a dime shipping oil, it buys another tanker, flooding the oil shipping business with oversupply and killing shipping rates off.
And yet, the oil tanker market is looking awfully good. So let's look at what has happened in the Seven Seas of hauling crude. For that, we follow the Baltic Dirty Tanker Index (BDTI) that chronicles 17 oil tanking routes, broken up into VLCC (Very Large Crude Carriers), Suezmax (small, capable of fitting through the Suez canal), Aframax (smaller still), and medium range tankers (smallest, 60 to 80,000 DWT). (Everyone seems to follow the Baltic Dry Index (DBI), the index that captures shipping rates for solid resources as coal, iron and fertilizer and ignores the BDTI. The BDTI is the heart of the oil economy. Not every country has the luxury of having an oil well in its back yard.)
The index is up 60% from its lows. Suezmax rates have climbed 22% in the last week (as judged by the Western African to U.S. route). Rates of VLCCs going from the Arabian Gulf to Japan have shot up 162% since December 14.
Yet, the stocks that represent the tankers have done nothing. Nordic American (NYSE:
NAT
) and Frontline (NYSE:
FRO
) have sold off.
Click to enlarge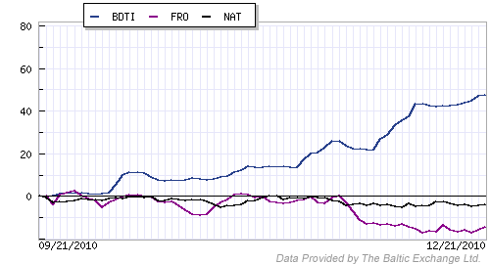 Arguably, oil tankers have a long way to regain their heady days of 2004 or 2008 when rates were sky high. However, the recent move in tanker rates is more than intriguing. I suggest buying the oil tankers before everyone piles in. If oil continues its move toward $100, look for a return to contango when VLCCs were used as vast parks of oil waiting to be sold in the futures market. I recently took a position in NAT at $25.60. Right now, the market hates the stock. Investors will discover the company as oil tanker rates continue their climb.
In the mean time, you'll get a dividend (last quarter, 25 cents). If rates go down, you get a small dividend. If they continue their ascent, you gain both on increased dividends and share value. My assessment of the risk reward: One down and six up.
Disclosure: I am long NAT.