I have always believed in being realistic when it comes to posting on Seeking Alpha. I have challenged comments that support my thesis if they make little sense and have supported comments that do not support my thesis if I agreed with the point being made. Therefore, I am comfortable admitting I was wrong about Millennial Media (NYSE:MM). A year ago I wrote an article on the company suggesting it was a worthwhile buy, but boy was I wrong. I believe I was wrong about my investment thesis due to the underachieving management team. Going forward, despite a new CEO, I believe we will see more underachieving on the part of the management team.
Let's start with the question of whose interests is the company looking out for? I can tell you it is certainly not its shareholders. If you invested in MM two years ago you lost 78% of your investment. Had you simply put that money in the S&P you would have made 39% on your investment.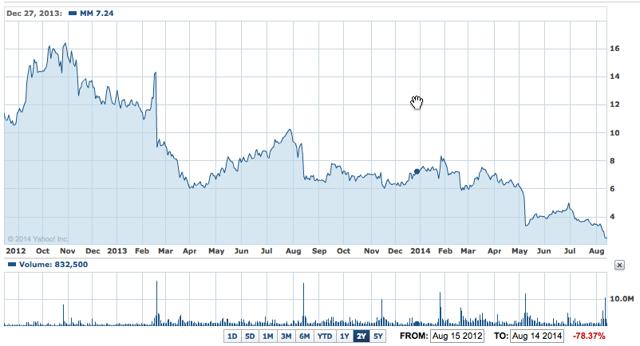 Digging deeper, let's look at stock based compensation, and what management has to say about it. On the most recent earnings conference call the company said:
We expect stock-based compensation to be a bit higher this year than last year due to recent and expected grants to new executives. We anticipate stock-based compensation will be almost ($)4 million per quarter this year.
If I were a current shareholder (used to be long but took my losses at $7 a share) I would be upset that the company believes it is justified in handing over $16 million in stock based compensation. Take a look at the chart below showing stock based compensation and stock performance. (Note: 2014 stock based compensation of $16M is based on the recent conference call claiming $4M per quarter). The chart shows that while stock price has declined over the past two years, stock based compensation has tripled! I can't even imagine how the company can justify awarding $16M in stock based compensation this year as the company's stock price has continued to fall.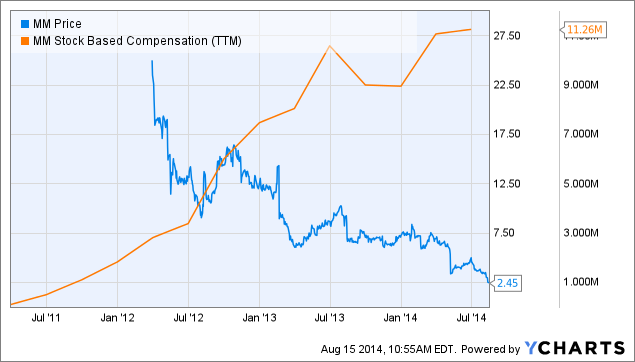 At the end of the day, a company is judged based on how it performs relative to earnings expectations. Therefore, one of the ways I evaluate a company is by looking at whether they under-promise and over-deliver, as those are the stocks that the market will reward. MM has tended to do the opposite: over-promise and under-deliver, and that is why the company's share price is currently at sub $2.50. Let's take a look at how the company has performed after announcing earnings.
| | |
| --- | --- |
| Quarter | Result |
| Q4 2012 | -0.375436148 |
| Q1 2013 | 0.02739726 |
| Q2 2013 | -0.188235294 |
| Q3 2013 | -0.119777159 |
| Q4 2013 | -0.145833333 |
| Q1 2014 | -0.371962617 |
| Q2 2014 | -0.145762712 |
| AVERAGE | -0.188515715 |
The company, on average, falls 18.9% after it announces earnings, dating back to Q4 2012. This does not inspire much confidence in my opinion.
Conclusion
I am writing this article to get shareholders to think about whether the company truly has their best interests at heart. The company is rewarding executives while shareholders watch the stock move in one direction: down. The company has a history of falling substantially after earnings, which is not indicative of a shareholder friendly company.
Disclosure: The author has no positions in any stocks mentioned, and no plans to initiate any positions within the next 72 hours. The author wrote this article themselves, and it expresses their own opinions. The author is not receiving compensation for it (other than from Seeking Alpha). The author has no business relationship with any company whose stock is mentioned in this article.