The week ahead is not an easy one to handicap, not even for a Greek. There are positives and negatives in play and unpredictable intangibles as well. On the economic and earnings front, there's not much information coming to the wire, but a couple of key events could still swing things for stocks. Then there's the wildcard situation in Ukraine; how developments unfold east of the Dnipro River could mean a lot for traders at the junction of the Hudson and East Rivers.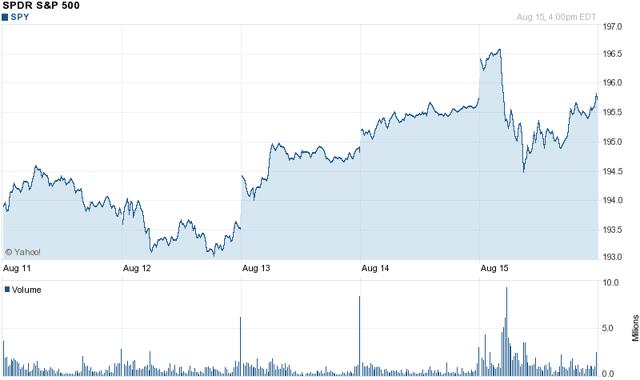 In the chart above you see Tuesday's impact of the German economic data, and then on Friday the impact of the reported Ukrainian attack on a Russian military column within Ukrainian territory. The event left the outlook for this week cloudy to put it mildly. Since the event, Russia has denied the presence of its military in Ukraine, and so seems to have eased tension. That was, at least, until Russian separatists shot down an Ukrainian fighter jet this weekend.
This week brings with it high level meetings of EU, Russian and Ukrainian representatives, which could stall Russia long enough to allow Ukraine to overtake Donestk. Somehow, I do not see that eventuality occurring before Russian tanks roll into Ukraine, all the way to the Dnipro River in my opinion (to the Psel River). That event risk should temper enthusiasm, but if the market continues to buy into every slightly positive statement of the Russian President, then stocks could keep rising until tanks roll.
| | | | |
| --- | --- | --- | --- |
| Security | Friday | YTD | TTM |
| SPDR S&P 500 (NYSE: SPY) | -0.02% | +6.0% | +18.0% |
| SPDR Dow Jones (NYSE: DIA) | -0.3% | +0.5% | +10.5% |
| PowerShares QQQ (NASDAQ: QQQ) | +0.5% | +10.7% | +29.0% |
| iPath S&P 500 VIX ST Ft (NYSE: VXX) | -0.0% | -32.1% | -51.8% |
| PIMCO Total Return (NYSE: BOND) | +0.1% | +4.5% | +4.7% |
| PowerShares DB US $ Bull (NYSE: UUP) | -0.2% | +0.8% | -1.3% |
| SPDR Gold Shares (NYSE: GLD) | -0.6% | +8.1% | -5.4% |
| iPath S&P Crude Oil (NYSE: OIL) | +1.1% | +0.3% | -8.7% |
Bonds continue to take favor as the flight to quality resulting from geopolitical scares drives capital into the dollar. Gold rose too on the news, but only after dropping precipitously on the open Friday, so the 0.6% drop we see in the table above here for the SPDR Gold Trust offers a confusing data point. Rather, look to the move in the OIL for a better idea of the havoc wreaked by Ukrainian developments. The VIX got excited as well Friday, but was tamed by the close. The NASDAQ continues to defy gravity; you might find my report calling Apple (NASDAQ: AAPL) a flight to safety destination interesting and possibly important in determining the index strength.
The Non-Geopolitical Drivers
It's Jackson Hole week, which really wouldn't mean all too much if it weren't for all the media hype around the Kansas City Fed's annual symposium. It does attract a gathering of who's who in economics and investments, and the focus of attention is regularly upon the Federal Reserve Chair. This time around, Janet Yellen will be giving the keynote address. Traders will be closely attuned to what the Brooklyn born lady has to say, but they'll be quick to turn against her should she let them down.
Fear not Wall Street, as the setup heading into the speech is sweet for stocks. Given the latest pricing measures, which have all been absent of any sign of inflation, she has no reason to surprise anyone. However, we do get one more price measure this week, when the Consumer Price Index is reported. Still, expectations are on course for the CPI, with economists looking for a month-to-month increase of 0.1% in July. Excluding volatile food and energy prices, Core CPI is expected to move upward by 0.2%. That's a digestible pace, so I see no threat to stocks as long as all goes to plan.
Otherwise, the economic slate includes Leading Economic Indicators data for July. Given expectations for economic growth, weighed now against sudden strife striking Europe, South America and Russia, all eyes will be on this important U.S. domestic measure. Economists are looking for an increase of 0.6%, which follows June's increase of 0.3%. Robust economic growth is going to ignite concern about overheating prices, and again, the Fed forecast.
Working in stocks' favor though, you can expect Janet Yellen to lean on the latest soft German economic data reported last week and the risk tied to the Ukraine situation. I expect she will note it in her speech. It gives her something to cool market concern about the Fed. Furthermore, it feeds low interest rates, as the flight to safety that has ensued as a result of the latest tension has driven long-rates lower again.
Housing and manufacturing data litter the week as well, but given well-embedded expectations for softness in the former and strength in the latter, I'm not looking for much impact from the data. The earnings front, however, could impact stocks this week. A slew of retailers are set to report this week (NYSE: XRT), including names with broad market reach like Target (NYSE: TGT), Home Depot (NYSE: HD), Lowes (NYSE: LOW), Sears (NASDAQ: SHLD) and Dick's Sporting Goods (NYSE: DKS). Outside of the retail arena, Salesforce.com (NYSE: CRM), Hewlett-Packard (NYSE: HPQ), J.M. Smucker (NYSE: SJM) and Navios Maritime (NYSE: NM) could have an impact on stocks more broadly speaking due to the important message they may imply about the broader economy.
In conclusion and in short, traders will want to keep their eyes on Ukraine, Janet Yellen, the LEI and CPI reports and the reports of retailers for catalysts for stocks this week. As I'm publishing weekly and daily previews, readers may want to keep a bead on my column.
Disclosure: The author has no positions in any stocks mentioned, and no plans to initiate any positions within the next 72 hours. The author wrote this article themselves, and it expresses their own opinions. The author is not receiving compensation for it (other than from Seeking Alpha). The author has no business relationship with any company whose stock is mentioned in this article.