For investors who play the small cap pharmaceutical game, Arena Pharmaceuticals (NASDAQ:ARNA) and VIVUS Inc (NASDAQ:VVUS) need no introduction. 2012 was the year of the weight loss drug, and consequently the year of these two companies.
In the lead-up to FDA approval, investors were salivating about the huge money to be made in the weight loss drug market. Arena struck first with approval for Belviq on June 27, 2012. VIVUS's Qsymia, a combination of phentermine and topiramate, was approved a couple of weeks later, July 17, 2012,
The market and the road to approval
Both Arena and VIVUS saw their stocks bid up several times in anticipation of approval of their respective drugs, and call options were often bid up to such absurd levels that people could make money simply buying and writing covered calls, because even if the approval didn't come the covered call sales were worth more than the stocks would drop.
In the early going, VIVUS was considered the better positioned company, because Qsymia was already deep in the FDA pipeline, pending some additional letters from the company, in late 2011. Both surged in the lead-up and even more after approval.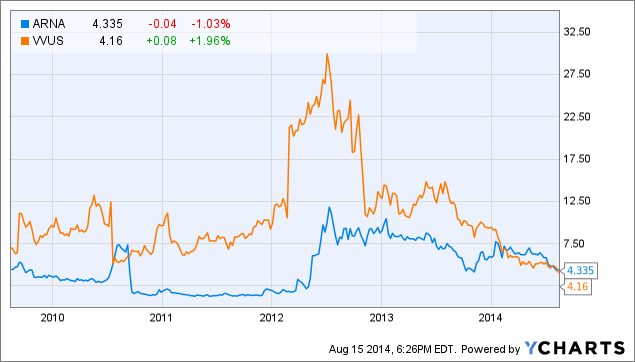 Arena hit its peak of just over $12 per share in early July, while VIVUS briefly topped $31 per share the day after its approval. Hopes were high for the profits of the new drugs, and investors had dollar signs in their eyes.
2013: Back to reality
The sky was the limit for both Arena and VIVUS, and of all the one-off drugs research companies have gotten approved over the past few years, these two were without a doubt the most promising. That's a bit telling, because of what happened when they brought their respective drugs to market.
| | | |
| --- | --- | --- |
| 2013 | VIVUS | Arena |
| drug sales | $25.2 million | $5.7 million |
| total revenue | $81.0 million | $81.3 million |
| net earnings (loss) | ($174.4 million) | ($19.4 million) |
| EPS | ($1.72) | ($0.09) |
As you can see, not all went to plan. Brilliant new approved products in a huge, untapped market, and neither VIVUS nor Arena managed to turn a profit in their first year.
Indeed, direct sales were in both cases a relatively small percentage of overall revenue. Arena got most of its money from a partnership deal with Eisai Co. (OTCPK:ESALY), a much larger pharmaceutical company that is doing most of the heavy lifting in marketing and distribution for Belviq. By contrast, VIVUS got the bulk of its revenue from licensing STENDRA, a new erectile dysfunction drug.
Going from a research company with a few promising ideas to a profitable drug-maker is clearly much more difficult than advertised, if such high-profile approvals weren't able to pan out for either.
Looking forward
The first two quarters of FY2014 have seen more losses on both sides, with VIVUS dropping 15 and 25 cents, and Arena losing 12 cents and then turning a surprise profit in Q2 on some one-off deals. That may sound like good news, but Arena's operating losses were actually worse than expected.
It's not just growing pains, either. Neither VIVUS nor Arena has any profitable estimates anywhere in the foreseeable future, and losses are projected to grow in FY2015 above and beyond what we're already seeing.
The sad truth is, neither company has shown any realistic plan to start turning a profit off their wonder drugs, and even though both have fallen dramatically from their heights, they are still trading at a major premium to their dwindling assets.
Pharmaceuticals are a hugely profitable business for the major players, but the investors in research-driven small caps with designs on becoming the next Pfizer need to temper their enthusiasm. Both VIVUS and Arena have proven just how tough of a transition this is, and that even the approval of a sure-fire winner is no guarantee of future profits.
In conclusion
Despite the deep losses Arena and VIVUS stock prices have already seen, neither is anywhere in the vicinity of "cheap" by a value investor's reckoning. Both are trying to push some new drugs through the pipeline, but none of these seem to be anywhere near as promising as their respective weight-loss drugs were.
The weight-loss boom of 2012 should be a cautionary tale against wild speculation on research companies, as anyone who bought shares on the FDA approval news got left holding the bag.
I'm not the type to recommend shorting stocks, because you never know when the market is going to create another bubble. By the numbers, however, both Arena and VIVUS, sadly, are screaming sells at this point.
I know its unpleasant news. Believe me, we've all had occasion to notice a stock in our portfolio that is down a ton, and are forced to admit we dramatically overpaid for it. There's just no justification for holding either Arena or VIVUS at this point. It's time to take that capital loss and look for greener pastures elsewhere.
Disclosure: The author has no positions in any stocks mentioned, and no plans to initiate any positions within the next 72 hours. The author wrote this article themselves, and it expresses their own opinions. The author is not receiving compensation for it (other than from Seeking Alpha). The author has no business relationship with any company whose stock is mentioned in this article.