Sanofi Pasteur, the vaccines division of the global pharmaceutical company Sanofi (NYSE:SNY), reported last week on a clinical trial showing its high-dose Fluzone influenza vaccine markedly more effective than the standard dose version among older adults, a vulnerable population for contracting the flu virus. That same day, 13 August 2014, FDA announced its approved list of vaccines for the 2014-15 flu season, that includes two types of Fluzone. These two events point to an improving performance of Sanofi's vaccine division, known as Sanofi Pasteur, the weakest division financially in the company.
Investment snapshot
Sanofi's overall financial health improved somewhat in the first 6 months of 2014 compared to the same period last year. The company had a net income of €1.9 billion ($2.5 billion) on net sales of €15.9 billion ($21.3 billion) in the first half 2014 compared to income of €1.5 billion ($2.0 billion) on sales of €16.1 billion ($21.6 billion) in 2013. Likewise, earning per share rose from €1.09 the first half of last year to €1.41 this year, a 29 percent increase.
Since the start of the year, the company's share price traded largely in a range of $50 to $54 a share, except for a dip to about $48 a share in February.
Pharmaceuticals -- treatments for human diseases -- accounted for 85 percent of the company's net sales, with its Genzyme biotechnology subsidiary, drugs and biologics for diabetes, and new products experiencing double-digit sales growth compared to the first half of 2013. Consumer health care products and animal health products had 9 and 2 percent sales growth.
In addition, its pipeline of drugs in development shows promise. As Seeking Alpha contributor Early Retiree noted earlier this month, "In fact, Sanofi seems to have finally left behind the patent cliff and has positioned itself very well for a prolonged period of earnings growth, largely avoiding future patent cliffs."
Vaccine sales for Sanofi, however, were down 2.2 percent compared to the first half last year, while improving somewhat in the second quarter. By their nature, vaccines are difficult products for generating profits. They use weakened live or deactivated viruses or bacteria to generate an immune response in recipients that can last a lifetime. Medications for chronic diseases, on the other hand, must be taken daily or even more often.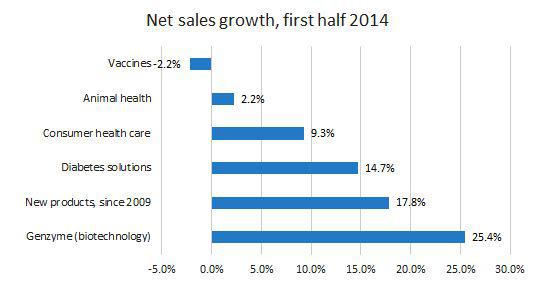 Same costs, lower revenues
Even vaccines taken regularly, such as every year for the flu, need to be reformulated to maintain their effectiveness. The composition of vaccines for the annual flu season is determined by an international committee that identifies the 3 or 4 most likely types and strains, and provides the targets for vaccine manufacturers. As a result, vaccines still have hefty research and development costs, like treatments for chronic disease, but without the solid income stream of drugs for diabetes, heart disease, or cancer drugs.
At Sanofi, R&D accounts for about 17 percent of net sales for vaccines, compared to 15 percent for pharmaceuticals, and 6.5 percent for animal health products. One advantage of vaccines, however, is their lower marketing and administrative costs. Vaccine buyers are often public health authorities who buy in large lots. In the first half of 2014, selling and general expenses accounted for 19.8 percent of vaccines' net sales in Sanofi, compared to 28.3 percent for pharmaceuticals.
But Sanofi appears to be positioning its vaccines business to make more of a contribution to, or at least be less of a drag on, the company's bottom line. The clinical trial reported on 13 August, for example, tested a high-dose formulation of Fluzone covering the three leading strains of flu, compared to the standard dose, among nearly 32,000 individuals age 65 and over in 126 locations in the U.S. and Canada. The results, published in the New England Journal of Medicine, show the high-dose formula generates more of an immune response and is 24 percent more effective in preventing the flu than the standard formula.
The target population of the trial is important. People age 65 and over -- full disclosure, I'm in that age category -- are about 15 percent of the U.S. population, but account for 60 percent of flu-related hospitalizations and 90 percent of deaths from the flu. This greater vulnerability among seniors is a result of an overall weakening of the immune system as people age, thus the need for a higher-powered seasonal flu vaccine.
Well represented in the pipeline
Vaccines overall for Sanofi make up about a quarter (12 of 46) of its drug compounds and biologics in clinical trials or awaiting regulatory approval.
In addition to Fluzone's four-strain formula, a combination vaccine covering diphtheria, tetanus, pertussis (whooping cough), and polio for children age 4 to 6 was also submitted for regulatory review. Other vaccines in late-stage clinical trials as well protect against the often deadly tropical disease dengue fever, four types of influenza, and a combination of diphtheria, tetanus, pertussis, hepatitis B, and meningitis protection for children.
Plus, a Sanofi vaccine for Clostridium difficile (C. diff) is in late stage clinical trials. C. diff is a bacterial infection of the colon, causing severe diarrhea and contracted most often in health care facilities. The disease is difficult to treat and linked to 14,000 deaths in the U.S. each year. There is currently no vaccine for the disease.
The sales performance of Sanofi Pasteur should be helped by the new vaccines reaching the market. These vaccines are addressing large unmet medical needs (dengue fever, C. diff), sizable vulnerable populations (elderly influenza sufferers), and children (two combination vaccines).
In the case of children's vaccines, Sanofi should benefit from the expansion of insured Americans under the Affordable Care Act, many of whom will be able to provide preventive services like immunizations for their children. A Commonwealth Fund study released in July, shows 9.5 million previously uninsured Americans gained commercial or Medicaid coverage in the first open-enrollment period, driven in large part by those age 19 to 34 -- in prime child-bearing years -- where the rate of uninsured dropped from 28 to 18 percent.
Sanofi Pasteur is a key part of the company's history, dating back more than 100 years and according to the company today produces 1 billion vaccine doses a year. Strengthening this part of Sanofi could provide a spark to push the company's share price out of its narrow trading range since the start of 2014, making it a more attractive investment.
Disclosure: The author has no positions in any stocks mentioned, and no plans to initiate any positions within the next 72 hours. The author wrote this article themselves, and it expresses their own opinions. The author is not receiving compensation for it (other than from Seeking Alpha). The author has no business relationship with any company whose stock is mentioned in this article.