The average consumer is significantly more health conscious than ever before, providing multiple investment opportunities throughout the market. First it was the organic food & beverage supermarkets that took off over the course of 2013 as a result of this trend. Both Whole Foods Market (WFM) and Kroger (NYSE:KR) enjoyed a very successful year returning over 40% each.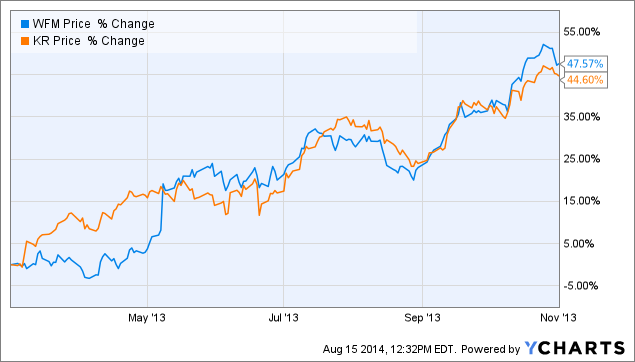 Worries of increased competition have slowed these stocks down considerably. While Kroger has managed to deliver a positive return YTD, Whole Foods and August 2013 IPO Sprouts' Farmers Market have floundered this year.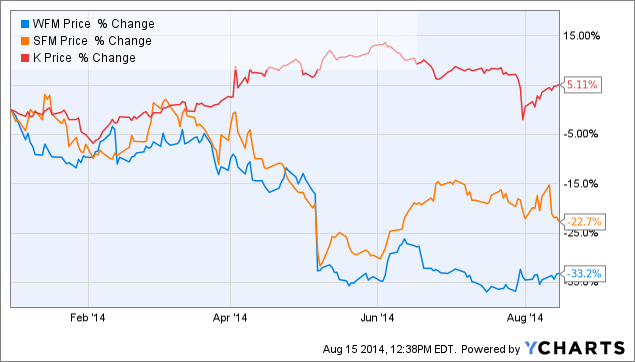 The manufacturers of the products sold in these markets have also started to grab headlines. Many of the companies that operate within this new industry are private, but the two major players are publicly traded. WhiteWave Foods (NYSE:WWAV) and Hain Celestial (NASDAQ:HAIN) have delivered consistent earnings growth and rewarded investors with a strong return. Since WWAV's IPO in late 2012, both companies have boosted their stock price over 50%.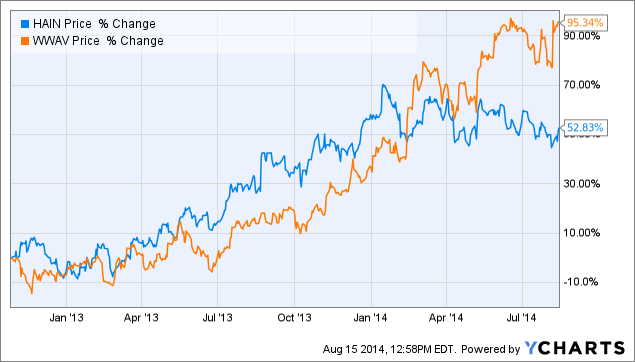 The organic grocer space is not something I would recommend investing in for the very reason the stocks have fallen: competition. Hain and WhiteWave both are still posting tremendous growth numbers and have commanding market shares in the specific areas of the supermarket they specialize, but the share price has run considerably. WhiteWave even set all-time highs during intraday trading on Friday. The trend of increased health awareness among consumers is only beginning, however. Not to belittle the potential the companies already listed have, but I believe investors should look for other beneficiaries of this rejuvenated focus on fitness.
Vitamin Shoppe (NYSE:VSI) is an interesting play on fitness and health. VSI finds itself in a rather unique position as it is one of only two major companies of its kind. VSI and GNC Holdings (NYSE:GNC) are the two pillars of this duopoly and are often mentioned in the same breath. GNC may be a more recognizable name than Vitamin Shoppe, but that is because the company was founded in 1935 and has more than 8,700 locations globally. VSI was founded in 1977 and has 678 stores at the end of Q2 2014 according to CEO Tony Truesdale on the company's Q2 Earnings Call. While GNC is still in the midst of expanding its reach, I feel that VSI provides the more compelling growth story, given its relative infancy.
Product Diversification
The very nature of the vitamins, minerals & supplements (VMS) industry is a tailwind for Vitamin Shoppe. The limited competition provides both VSI and GNC with the opportunity to profit as long as neither begins overly aggressive promotions and price cuts. A move like this would help neither firm's bottom line as one would suffer from lower margins and the other lower volumes. The main concentration for VSI is prying customers away from GNC and attracting those consumers new to the industry. The main way Vitamin Shoppe does this is by having a well diversified product portfolio.
VSI stores contain a variety of vitamins, diet supplements, and amino acids to complement its protein-based supplements. The company places an emphasis on overall health through its products, carrying options for digestive health, organ function, joint support, and weight management as well. GNC stores are dominated by pre- and post-workout supplements, bars, and shakes while offering a relatively limited selection of other products. The other major advantage of carrying a wide selection of health products is a wider total addressable market (NYSE:TAM). Gyms and fitness centers are full of people interested in exercising and being healthy, but not necessarily protein supplements. Vitamin Shoppe's more diversified products give these consumers somewhere to shop for some of the health products already mentioned and much more. VSI's array of products is going to be crucial going forward as it attempts to grow its business. Management describes its selection as the broadest in the industry: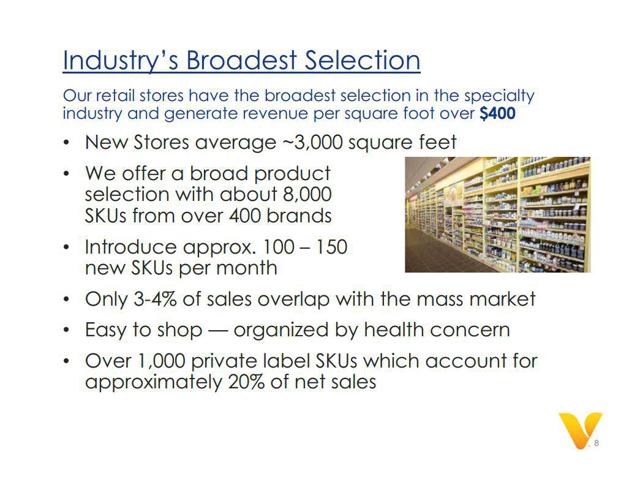 New Stores & Growth
Speaking of growing its business, Vitamin Shoppe put up 12 new stores in Q2 and is on track to achieve its target of 60 new locations for the fiscal year. On the Earnings Call, Truesdale stated the he expects 20 openings in each of the remaining quarters this year. The company is also looking toward expanding its small footprint internationally. VSI opened its second store in Panama this past quarter and also has moved north of the border into Canada. The current target is for 900 stores nationwide (no timetable provided), with no numerical guidance regarding an international store count.
The company's existing stores have been performing well, posting 35 consecutive quarters of retail sales comp growth at 4%. When Vitaminshoppe.com's 14.9% rise in sales are included, total comps increased 5.1%. This was the website's 12th consecutive quarter of double digit growth. Total comp sales growth is expected to be in the mid-single digits.
The industry itself is also growing at a nice clip. The image below depicts the VMS industry and the growth trajectory for both retail and e-commerce. Data for this chart was provided by the Nutrition Business Journal.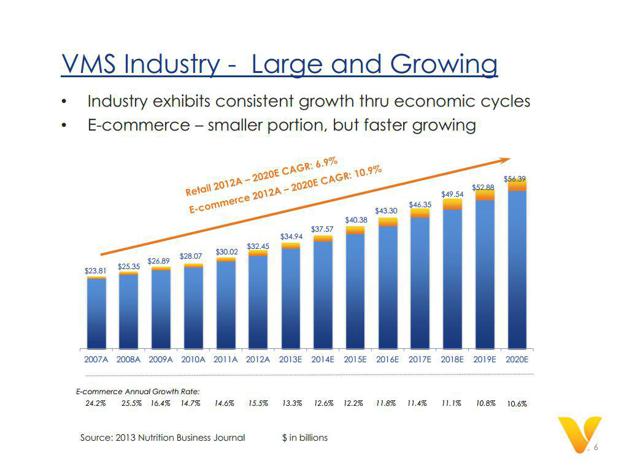 On top of VSI's organic growth, the company has also recently made some acquisitions. The company purchased Super Supplements in 2012 and Nutri-Force in June. Super Supplements was a similar style business with 31 locations in Washington, Idaho, and Oregon, providing VSI an opportunity to increase its western exposure. The deal was done for $50 million in cash. Nutri-Force was actually one Vitamin Shoppe's suppliers, the acquisition of which has promoted a more vertically integrated supply chain. A price of $85 million in cash was agreed between the two firms.
Customer Retention
A huge focal point for a business looking to expand is to maintain its current customer base while seeking additional customers. Vitamin Shoppe has done an excellent job to ensure its customers return. Its Healthy Awards Club is a free-to-join rewards program in which customers earn points for purchases. The Healthy Awards Club works very similarly to most rewards programs (earn points for purchases, redeem points for coupons), but the program has been a major driver of customer retention. 89% of total sales are from members of the Healthy Awards Club and the total member base is growing quickly.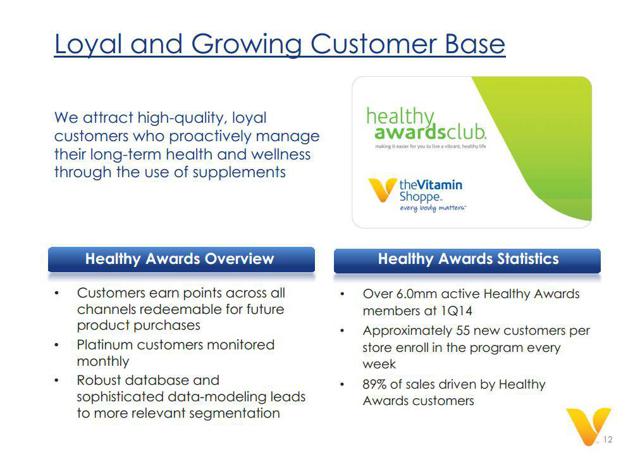 As shown above, there are currently over six million active members of this club and that number is growing quickly. Simple arithmetic of 55 new customers each week x 678 stores x 12 weeks in a quarter (approximately) = almost 450,000 new members each quarter or just over 1.75 million new members over the course of a year. At this pace, the numbers of members in the Healthy Awards Club will double in three and a half years. That projection isn't factoring in the customers who will join the Healthy Awards Club via Vitaminshoppe.com or new stores.
Financial Position
Vitamin Shoppe ended the second quarter with only $15 million in cash, but no long term debt to speak of. The low cash pile may be troubling, especially when compared to the previous quarter, but the cash figure is a result of the all-cash Nutri-Force acquisition. Vitamin Shoppe has been free cash flow positive or breakeven in each of the last five quarters. VSI also has access to a $89 million credit facility, none of which has been used yet. The board of executives is also satisfied with the company's balance sheet, granting a large share buyback program to be conducted over the next three years. Management has been authorized to repurchase $100 million worth of stock. At Friday's closing price of $38.19, that would be about 2.6 million shares or approximately 8.5% of the float.
Share Price
Vitamin Shoppe has a lot of positives going forward, but is its depressed share price one? The stock has been pretty volatile over the last year and shares currently are down over 25% YTD.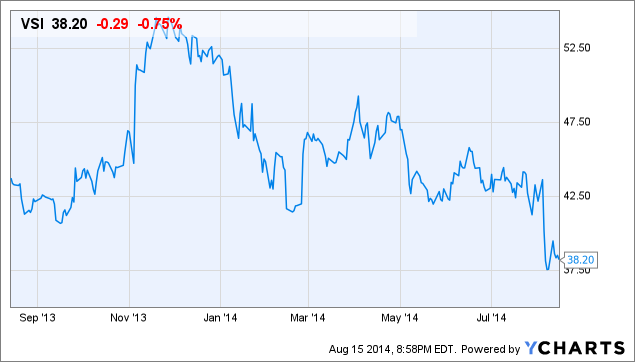 With VSI's stock price 30% off its 52-week high investors are left to determine whether this is the byproduct of a market overreaction or a justified decline. Analysts remained positive after the Q2 report, with four brokerage houses awarding VSI a price target of at least $49 the following day. I believe that the current share price of Vitamin Shoppe is an exaggerated sell-off following the company's Q2 earnings miss, but there are headwinds that will weigh on future profitability.
Earnings Misses
Failing to deliver the street-expected level of EPS is not uncommon at Vitamin Shoppe. VSI has missed earnings in each of the last three quarters. This could be a contributing factor to the stock's disappointing 2014. Investors who have been following the stock for a long time will have likely grown impatient with management's failure to live up to expectation. Even worse, any managerial inability perceived will permeate into the sentiment surrounding the company and the stock. Investors will be questioning everything management does. If company executives are unable to meet bottom line forecasts, there's a justifiable doubt questioning whether they have what it takes to efficiently accomplish smaller business objectives. If Truesdale and co. are placed under the microscope and each decision scrutinized, there will be little margin for error and increased hesitation preceding each move. This is not an ideal environment for any executive to operate in, but if VSI fails to meet earnings estimates once more it could happen.
Margin Contraction
Vitamin Shoppe struggled with slimming margins in Q2, seeing its gross margin fall 120 basis points. Management attributed half of this decline to costs associated with the establishment of its new distribution center in Virginia. The remaining 60 basis points of the shrinkage was due to the acquisition of Nutri-Force (40 bps) and faster growth in lower margin categories and e-commerce sales (20 bps) according CFO Brenda Galgano on the Earnings Call. If the margin contraction was a one-time event then it wouldn't be a major concern, but company guidance shows that this will be a recurring matter.
For the third quarter, VSI is anticipating a fall of 150 basis points in gross margin. Nutri-Force is expected to be responsible for an 80 bps dip in the coming quarter, double what it caused in Q2. It's not integration expenses that will be pressuring margins, but rather the pure nature of the business.
"Looking ahead, for the third quarter, we expect the lower margin Nutri-Force business to negatively impact consolidated gross margins by approximately 80 basis points."

-Brenda Galgano on the Q2 Earnings Call
The Nutri-Force acquisition was intended to help Vitamin Shoppe streamline distribution through vertical integration. This may eventually be a result but right now the move is only hurting VSI's bottom line.
The least severe detraction from VSI's gross margins is actually the one that concerns me the most looking forward. The distribution center will be contributing 40 more bps of decline and will presumably not affect margins past next quarter, leaving 30 bps on the shoulders of lower margin products and e-commerce. The problem here is that the company's e-commerce sales are growing at a projected CAGR of 10.9% through 2020 while retail sales are expected to grow at a CAGR of 6.9%(see VMS Industry slide above). As e-commerce continues to grow and comprise a larger allocation of sales, margins will fall further. This is a margin headwind that will persist for at least the next six years.
Complementing the growth of VSI's website is its marketing strategy, something Galgano described as "driving new customers to the website" on the Earnings Call. Galgano then explained that new customers also tend to negatively affect margins. This is huge for Vitamin Shoppe's future margins as its core business is still growing. With the vision of having 900 stores in the U.S. and a rapidly growing web presence, new customers will be a very large profit driver in the next few years. Between the acquisition of Nutri-Force, a web-tailored marketing strategy, and the anticipated influx of new customers, Vitamin Shoppe's margins will be under tremendous pressure for the foreseeable future.
Conclusion
Many niches within the increasing focus on health and fitness have been recognized by the market, but VMS looks currently underappreciated. Vitamin Shoppe is not the most compelling investment out there, but certainly a suitable one. It is also a rare kind of growth story. Many growth stocks have incredible, but risky growth in young industries. VSI's consistent growth, loyal customer base, and placement in a growing yet established market bode well for the company. I am recommending VSI on a speculative basis as I feel that the company is well-positioned to succeed in the future and its stock price is unjustly far off from its 52-week high.
Disclosure: The author has no positions in any stocks mentioned, and no plans to initiate any positions within the next 72 hours. The author wrote this article themselves, and it expresses their own opinions. The author is not receiving compensation for it (other than from Seeking Alpha). The author has no business relationship with any company whose stock is mentioned in this article.