Investment Summary
Digital Ally (NASDAQ:DGLY) is a company that used to be loved by Wall Street. On June 12, 2008, when the stock closed at $8.97 per share, Dawson James Securities was recommending it as a strong buy with a target of $17.50 per share. You can access their report here.
Fast forward to the fourth quarter of 2010 – the stock is despised by the investment community, and investors can pick up shares for as little as $1.60 per share. While the target price of $17.50 might be unrealistic, I believe that the price of $8 to $10 per share within the next few years is not outrageous. Based on my tour of the company and conversations with several members of the management team, it is obvious that the reason they are accumulating stock is because they believe it is headed much higher.
Business Description
Digital Ally produces digital video imaging and storage products for use in law enforcement and security applications. The company's products are an in-car digital video/audio recorder built into a rearview mirror; a weather-resistant mobile digital video recording system for use on motorcycles, ATVs and boats; a miniature digital video system designed to be worn on an individual's body; and a digital video/audio recorder built into a flashlight for use by law enforcement agencies and other security organizations.
The following is a YouTube video describing the company's products and how they benefit customers:
History
Digital Ally was formerly known as Trophy Tech Corporation, which was founded by the younger brother of Stan Ross, the current CEO of Digital Ally. At that point, Ross was only an investor in the company. The company's principal product, a digital video recording system, was originally created for use in the bow hunting industry. The business model that was in place was ineffective, and Ross's brother was more interested in hunting than in running a business, so he eventually asked him to take over the leadership position.
In 2004, the company changed its business plan to adapt its digital video recording system for use in the law enforcement and security markets. During the transition process, Ross consulted his friend Kenneth L. McCoy, current vice president of sales and marketing, on whether the newly designed in-car video cameras would be of any interest to the law enforcement industry. Because McCoy had been selling various products to the law enforcement industry, he believed that because Digital Ally's in-car video cameras were superior, less expensive, and more compact than the competing products, they were going to be a huge success. Soon after, McCoy decided to join Digital Ally full time. Because of his extensive contacts in the industry, he hired experienced sales professionals who either had worked for him or who he knew were some of the best. Because these sales professionals already had established relationships with contacts in the law enforcement industry, Digital Ally was able to penetrate the market and grow sales quickly.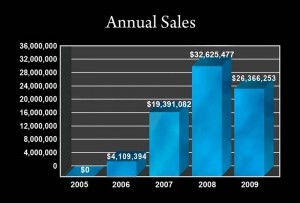 Digital Ally Advantage
Digital Ally's biggest advantage is that it can manufacture and sell its products more cheaply than most of its competitors and at the same time deliver superior quality. The reason why the company can do that is because of its internal sales force. The majority of its competitors use third party distributors to sell their products to the end user, where Digital Ally, through its well-connected sales force, goes directly to the customer. This advantage allows the company to be competitive on price and, at the same time, enjoy high margins.
Why is Digital Ally's stock so cheap?
Ever since the company changed its business plan in 2004 and started shipping products in 2006, it grew revenues every single quarter from the first quarter of 2006 to the second quarter of 2008. During this time, Wall Street cheered the company, and NASDAQ even gave Digital Ally an award for its fabulous stock market performance. Analysts were predicting record sales, assigning the stock a target price as high as $17.50 per share. In June 2008, the total number of analysts following the company was 24. Two of them had a neutral rating and 22 had a buy rating on Digital Ally stock.
Then, when the company reported performance for the third quarter of 2008, revenues were down for the first time. From that point, investors experienced mostly frustration and pain. On May 16, 2008, the stock closed at $10.64 per share, and on March 27, 2009, it closed at $1.62 per share. Today, it is still trading around this price, and only one analyst continues to follow the company.
What happened? During the third quarter 2008 conference call, the management explained that the U.S. economic recession forced many law enforcement agencies to delay near-term purchases of equipment. When fourth quarter 2008 results were reported, investors got hit with more bad news. Revenues went down so much that the company even reported an operating loss. During the conference call, the management explained that the bad quarter's results were caused partly by the economy and partly by problems associated with delivering a new product to market.
Up to this point, the company predominantly relied on sales from the DVM-500, and in 2008, it prepared to introduce its new product, the DVM-750, which included more features than the DVM-500. The head of the R&D department gave the management a time frame of when the DVM-750 was going to be ready for shipment and the management marketed the new product accordingly. Unfortunately, the DVM-750 was not developed on time. Many customers, instead of purchasing the DVM-500, chose to wait for the DVM-750, causing sales to drop significantly. When I spoke with the CEO, he said they did it to themselves and they should have never marketed a new product until it was ready. The head of the R&D department was fired for misleading the management and causing investors to lose a significant amount of money.
During the first half of 2009, the company worked on recovering from the punch it received in the second half of 2008. This included hiring Steven Phillips as the vice president of engineering. For the previous 11 years, Phillips held a variety of engineering and management positions with Garmin International (NASDAQ:GRMN).
By the third quarter of 2009, the company regained its profitability and things continued to improve in the fourth quarter of 2009. The stock price rose as high as $3 per share to reflect these improvements. During the fourth quarter of 2009, the management was happy to put 2009 behind them and was excited about the outlook for 2010.
During the first quarter of 2010, the management told investors that 2010 was going to be a record year for Digital Ally because the company experienced an increase in inquiries and bid activity from international customers in the fourth quarter of 2009. Even though the international orders had not come through by the second quarter of 2010, the management reiterated that the company was still going to have a record year.
During the third quarter of 2010, the management disappointed investors again. International orders still hadn't come through. Instead of continuing to paint 2010 as a record year, the management did a 180-degree turn and announced that the company was going to institute a vigorous cost-cutting program with the goal of achieving positive cash flow based solely on its domestic business. For now, expectations about new international business were put on the back burner.
By now, the majority investors were out of patience. Here are some comments from investors on the Yahoo message board:
"How anyone can remain long this stock is beyond me. Management is not getting it done here."

"I gave up on this company months ago. First, they weren't going to make projections because of what happened the previous year. Then they come out and say this is going to be their best year ever. And now it's crap. It's all a joke."

"The BOD is out of control…no accountability."

"The reason DGLY is trading at these levels is because management has not executed. Until this management team delivers on its forward projections, investors will continue to take a 'wait and see' approach. Lack of investor interest has driven the stock price lower."

"I don't believe anything coming from this management team any longer. Serial failures."

"Not sure I'd believe this management team if they told me the sky was blue!"
Why Do I Think Investing in Digital Ally Is Going to Be Profitable?
There is so much negativity priced into this stock that any positive event is likely to propel this stock much higher.
The company's products are better and cheaper than its competitors. I personally spoke with several customers who confirmed this. The domestic market for in-car video systems is still growing. At the beginning of 2008, the company had 1,700 law enforcement agencies as customers. Today, it is around 4,000. In 2005, the company had no presence in the market, and today it has 15 percent market share (per the CEO). It is not easy to break into the law enforcement market, and Digital Ally was able to because of its superior product and well-connected sales force.
In the early days, because the company was not well known, it was only able to sell to small law enforcement agencies, but now that its brand has been established, it is able to sell to larger agencies. Additionally, the company does not yet have a large presence in California and in the East Coast states.
Because of its successful products, international customers started to notice Digital Ally. The company has already shipped products to other countries such as Turkey. Since the beginning of 2009, it hired an international sales manager and a salesperson to cover Europe and the Middle East and appointed international distribution agents. In the fourth quarter of 2009, 36 agents represented Digital Ally in various countries outside the United States.
Once the promised international sales start being shipped, the contribution to revenues will be significant. I do not believe that the management intentionally wanted to mislead investors about 2010 being a record year. Based on my personal visit to the company, I believe that they truly thought that these orders were going to be shipped. Although some orders were placed, the company has a policy of not shipping international orders until payment is received, because once, it had to wait 12 months to collect on an international order.
The nature of international orders is that they are not as predictable as domestic orders, but, when they come, they tend to be large. For example, one order from Turkey was over $3 million, which is half of the company's domestic business in one quarter. Another order from South America that hasn't shipped yet is around the same amount. Based on my conversation with Ken McCoy, vice president of sales and marketing, the international orders that were supposed to ship in 2010 were not canceled – they were delayed due to funding issues caused by political and social unrest in certain parts of the countries involved.
The company has also other promising products that can impact future revenues tremendously. For example, the Laser Ally Speed Gun, a hand-held speed detector, is a new product that the company started shipping recently. It is the only product on the market that cannot be jammed. It is being sold to the same customers as the in-car video systems.
Another product, the DVM-250, is a rearview mirror based digital audio and video recording system with many but not all of the features of the DVM-500 and the DVM-750. The first shipment is expected to occur in January 2011. This product will be sold for use in school buses, taxis, and mass transit vehicles. The market potential for the DVM-250 is promising.
Valuation
The difficulty in predicting Digital Ally's future revenues creates a challenge when it comes to valuing the company. With that being said, you do not need to know exactly what something is worth as long as you know you are buying it for less than what it is worth. In other words, Digital Ally is very cheap at the current price because the market does not believe that it will ever grow revenues from international sales or from the sales of other products. When Digital Ally proves the market wrong, the stock is likely to move much higher than the current price.
While future sales are difficult to forecast, the domestic business is stable. Based on the management's comments, the domestic business for in-car video systems is a $2 million per month or $24 million per year business. Knowing this, we can estimate what the domestic business is worth. In 2009, the company's revenues were $26 million, but the bottom line was negative because of heavy investments in international business that did not bring meaningful increases in revenues. In 2007 and 2008, the company was profitable on $19 and $33 million in revenues, respectively. Currently, the management's goal is to bring the company back to profitability without relying on international business. Based on my recent phone conversation with the CEO, he is very happy with the current progress towards profitability just on the domestic business.
Assuming that the company can operate with a cost structure similar to what was in place in 2007 and 2008, it is not unreasonable to assume that it can achieve a 9 percent net profit margin. With $24 million in revenues, this translates into $2.2 million of net income. Applying a conservative multiple of 12 would mean that Digital Ally's domestic business is worth $26 million. This value, of course, ignores any revenue potential from additional products such as the DVM-250, the Laser Ally Speed Gun, and any international orders that could be just around the corner. Because the current market capitalization of Digital Ally is around $26 million, none of the upside is priced into the stock price.
Conclusion
When Digital Ally finally gets back on track and starts showing a positive trend in revenues and operating profits, investors will quickly forget why they hated the company, and the stock price will follow. It might take several good quarters to see any meaningful stock price recovery as investors are skeptical, but after studying and visiting the company, I believe that Digital Ally will be able to achieve this. Also, seeing several insiders accumulating stock confirms my belief.
Disclosure: I, or persons whose accounts I manage, own shares of Digital Ally (DGLY). This report is not a solicitation to buy or sell securities. Neither Mariusz Skonieczny nor Classic Value Investors, LLC, is responsible for any losses resulting from purchasing or disposing shares of Digital Ally (DGLY). You are advised to consult your financial advisor or conduct the due diligence yourself.