Shares of ENGlobal (NASDAQ:ENG) have given shareholders' a nice run over the last twelve months. Since making my first argument in June 2013 for why ENGlobal was a high reward growth play, its shares increased as much as 355% to $4.22. After the slight pull back, you can see EnGlobal has still maintained a market valuation 1.5x higher than its share price one year ago.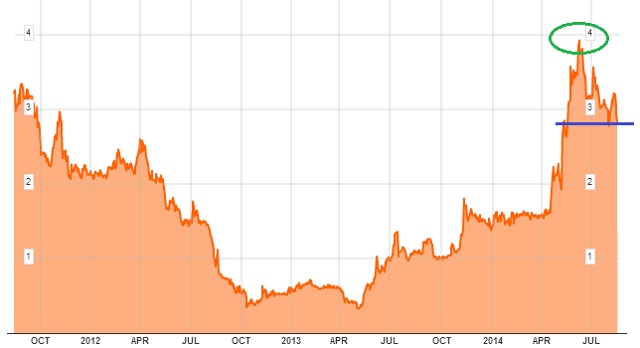 Despite ENGlobal's shares were trading at an extreme discount, management played a major role in turning its business around. Its margins have continuously experienced favorable growth QoQ, and although total revenues on a TTM basis are current slightly below expectation, cost cutting measures are just beginning to unlock EPS growth potential. Patient investors have clearly been rewarded up to this point, but the run is not yet over. ENGlobal's fundamentals are sound and the growth opportune at stake remains attractive. Its margins are continuing to improve, and as its earnings normalize going forward, investors will be granted exposure to a wide economic moat. This will reduce the volatility and create stabilization for its future cash flows. This article provides an update on ENGlobal's operations and addresses the specific factors that will continue to contribute to its margin and EPS growth. And with the recent pullback shares have experience, investors need to take into consideration ENGlobal's valuation and understand the technical indicators that have changed in the last few trading sessions.
The Business
ENGlobal was founded in 1985, and later incorporated in the State of Nevada in June of 1994. ENGlobal operates as a specialty engineering services firm that concentrates on on automation solutions and select EPMC projects for primarily the energy sector. Within the energy sector, the specific markets ENGlobal serves are Upstream, Midstream, Downstream, Pulp & Paper, Alternative Energy, and the Government. In terms of geographical placement, you'll find the majority of its 1,700 employees scattered across 15 offices in six different states. These states include Texas, Louisiana, Oklahoma, Colorado, Alabama, and Illinois. As mentioned in my previous piece, the easiest way to understand ENGlobal's business is to break its operations down into two segments including:
1. Engineering & Construction
2. Automation
The Engineering & Construction Segment incorporates all the services related to the development, management and execution of projects requiring professional engineering to midstream ad downstream sectors throughout the United States. The services offered via this segment cover a wide range of different application, but for reference, the core services include, conceptual studies, project definition, cost estimation, engineering design, environment design, environmental compliance, material procurement, project and construction management, and facility inspection.
For reporting purposes, ENGlobal operates the construction and engineering segment of its business through two subsidiaries, which are ENGlobal U.S., Inc. and ENGlobal Government Services, Inc. The ENGlobal U.S. subsidiary directs more focus to the oil & gas industry, chemical and petrochemical manufacturers, utility companies, as well as alternative energy developers. This subsidiary also engages in business restructuring projects and plant asset liquidation services for its clients. Although the clients served by this business segment comprise a niche market making this segment highly advantageous for ENGlobal, it's important to recognize the ongoing projects within this segment are extremely capital intensive. And as mentioned in my previous article, the capital intensive nature has brought about internal budgeting problems in the past. However, based on the current status of uncompleted contracts, it appears ENGlobal has been making a strong effort to eliminate this issue going forward.

(Source: ENGlobal's 10-Q for the period ending June 28, 2014 from sec.gov)
This table reflects the six month change in ENGlobal's net costs and estimated earnings in excess of billings on uncompleted contracts. It's easy to tell this figure is improving given the net cost figure for the period ending June 28, 2014 increased to ($5,551,000) in just six month. However, it's more important to realize that there was a higher amount of costs incurred on uncompleted contract during this same period. This indicates that ENGlobal is increasing its turnover rate and has been able to bill more clients on completed projects than it previously was. Going forward, investors should expect to see improvements similar in size, and if some unforeseen reason uncompleted contracts were to increase, investors will need to step back a reevaluate what's going on. The ENGlobal Government Services, Inc. subsidiary provides automated fuel handling systems and maintenance services to branches of the U.S. military and public sector entities. The customer base feeding off this subsidiary includes government agencies, refineries, petrochemical and process industry customers around the world.
The Automation Segment provides services pertaining to the design, fabrication as well as the implementation of process distributed control systems, analyzer systems, advanced automation, information technology, electrical and heat tracing projects primarily to the upstream and downstream sectors throughout the United States. Additionally, this segment cater to specific projects for the needs of its customers in the Middle East and Central Asia. Based on ENGlobal's historical average, revenues from this segment typically only make up about 1/4 of total revenues. And while this held true around the time I published my first article, there has been several changes to its business that have significantly increased the segments contribution margin towards total revenues. Let's take a look: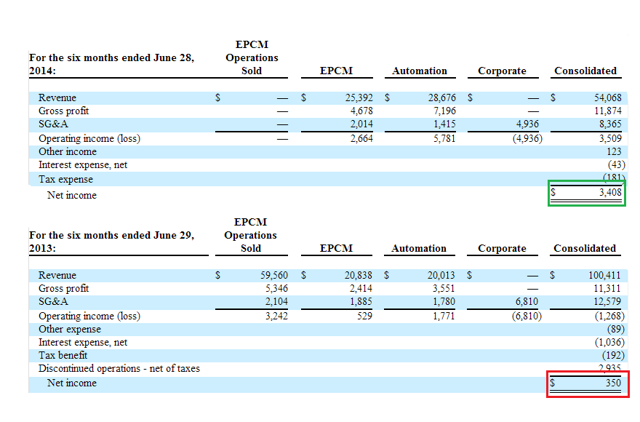 (Source: ENGlobal's 10-Q for the period ending June 28, 2014 from sec.gov)
The table above provides a YoY comparison of ENGlobal's financial performance for the first six months of 2014. In aggregate, ENGlobal's net income experienced a sizable increase YoY, but more importantly, the automation segment generates over 2x more operating income than the construction and engineering segment, which is classified on the table as EPCM. The primary reason ENGlobal's automation segment is now commanding a higher proportion of total revenues is due to the fact ENGlobal choose to liquidate a small portion of its operations. Going forward, ENGlobal's automation segment will routinely carry a sizable portion of total revenues, which serves as a growth catalysts for shareholders' given the wide range of expansion opportunities within this business segment.
Internal Changes Are For The Better
As we saw with the YoY change in ENGlobal's revenue streams, internal changes exhibit a large influence over ENGlobal's future performance. In the past, sudden changes have created a great deal of uncertainty for ENGlobal's investors, but the notable value management is just starting to add for shareholders' should help alleviate some of he main concerns long investors have had over the last few years. The specific changes implemented by management include, adjustments to its cost structure and internal account policies that heavily influence the timing of cash flows. First, let's start with ENGlobal's income from continuing operations in 2013.

(Source: ENGlobal's 10-Q for the period ending June 28, 2014 from sec.gov)
Prior to discontinuing a portion of the construction and engineering segment, the automation segment was not able to generate a positive level of net operating income. If it were not for the $3,242,000 in operating income from discontinued operations, the loss in operating income for the first six months of 2013 would have been 3x what the final figure came out to. Management implemented a handful of changes that took effect in the second half of 2013, which is why the performance of the automation segment tells a different story for the same six months in 2014. Below, you will see net operating income increased to $3,509,000 while total operating revenues saw a much smaller increase. This can be attributed to internal cost structure changes; specifically the policies surrounding the allocation of capital.

(Source: ENGlobal's 10-Q for the period ending June 28, 2014 from sec.gov)
As part of ENGlobal's working capital policy, it utilizes short- and long-term financing arrangements with outside companies to effectively use excess capital and ensure that it's not wasted. However, the notes receivable outstanding on the balance sheet can quickly accumulate a large sum if management does not use proper controls. Historically, ENGlobal has kept a relatively large amount of notes outstanding, however, looking below you will see the figure is only a fraction of what it was at the end of 2013.

(Source: ENGlobal's 10-Q for the period ending June 28, 2014 from sec.gov)
ENGlobal's Attractive FCF Yield Boosts Equity Value
ENGlobal's rise in market value well exceeded the $2.56 price target set fourth in my previous article. The models input's were conservative in nature, but consequently, its 52-week high at $4.22 was a little steep for comfort given ENGlobal's current FCF yield at the time. Here's an overview of my previous model: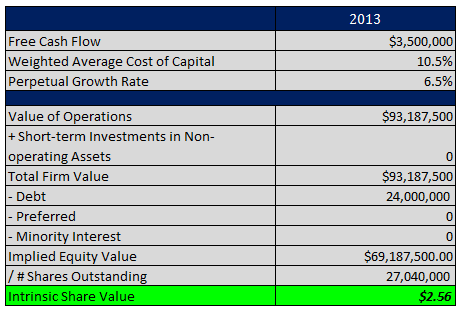 The key model inputs that provide room for the largest variation include the FCF estimate, weighted average cost of capital (OTC:WACC), and the perpetual growth rate. The perpetual growth rate used may seem slightly high, but not for a small-cap growth undergoing margin expansion. Going forward, it's appropriate to revise the perpetual growth rate since ENGlobal's now capable of sustaining higher margins and producing a positive economic profit for shareholders. Additionally, the changes in ENGlobal's cost structure and financing agreements do not entail as large of a financing cost as before. ENGlobal's capital structure has remained constant, but the costs associated with financing its operations through debt have changed. Just over a year ago, ENGlobal's WACC was approximately 10.5%, and now with barely any debt on the balance sheet, its current WACC is only 6.2%. To compute this, I used ENGlobal's current capital structure, which consists of 99.6% and 0.4% of equity and debt, respectively. Next, I multiplied the percentage of each financing medium by their respective cost components, which include ENGlobal's cost of equity at 6.2% and the 1.9% after-tax cost of debt. See table below for reference.

In computing the value of operations, the spread between the WACC and perpetual growth rate is the denominator below the FCF estimated projected one year forward with the perpetual growth rate as the compounding factor. Given the consensus estimate for ENGlobal's FY 2014 & 2015 FCF along with the revised set of inputs, the true valuation of ENGlobal's shares stands significantly than what you can purchase its shares for in the market today.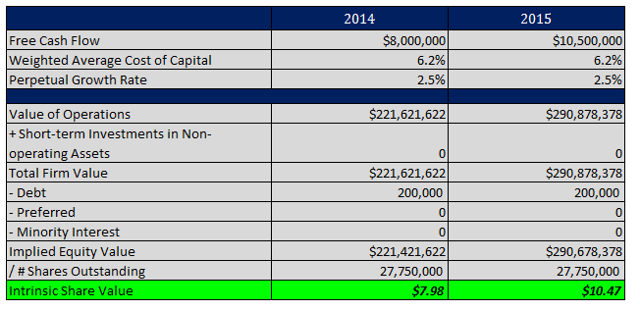 In regards to the model's inputs, the only different in the intrinsic share value estimate for FY 2014 & 2015 is the FCF estimate. Notice for FY 2014, I've approximated $8mm in FCF by year end. This estimate takes into account the current FCF ENGlobal has generated so far this year as well as the level of FCF it generated on a TTM basis. Even though FY 2013 FCF was $9.8mm, I've used an estimate slightly lower in effort to provide conservative estimates and due to the fact a portion of the FCF generated in 2013 was from discontinued operations. As a result, the model projects the intrinsic share price estimate to be right under $8 by year end, which equates to an implied upside of more than 200% from its current market value.
Buy The Dip
ENGlobal's recent performance surely commands a higher valuation, but today's market makes it increasingly difficult to determine a safe entry point. Entering at the wrong time could tie up capital in a short-term loss, while timing it right, increases the odds of seeing a favorable short-term profit. ENG reached its 52-week high at $4.22 per share in June of this year. Since, ENGlobal's shares have experienced a slight pullback and continued to trade downwards as short-interest subsequently moved in the opposite direction. By market close Friday, August 15th, ENG shares fell another 3.58%, but more importantly, it closed above its intra-day low after bouncing off a major support line.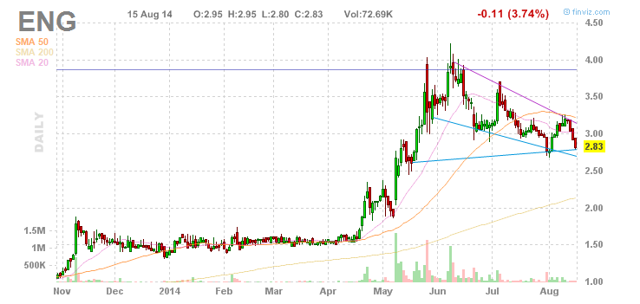 Above, you can see ENGlobal's developing strong support in the $2.70-$285 range. The likelihood of further downside will continue to diminish in upcoming weeks as the daily volume traded continues to normalize below its TTM average. Stop loss orders around the $2.50 mark serve as an excellent risk management tool for investors who wish to take a position in the next several weeks.
Final Thoughts
ENG is a strong company with the ability to turn a profit over. Management has strategically restructured internal policies and continues to provide their capability of being able to add value to the firm. ENGlobal's presents an attractive, asymmetric risk to reward profile for investors with an opportunistic mindset. ENGlobal's margin expansion along with internal cost cutting measures will enhance the value added for investors, while the large reduction in senior debt on its balance sheet now provides investors with very low risk capital structure. Consequently, margin expansion will also translate into a higher ROIC, and with a WACC of only 6.2%, investors are positioned to see a lofty economic spread in coming years.
Disclosure: The author is long IEC. The author wrote this article themselves, and it expresses their own opinions. The author is not receiving compensation for it (other than from Seeking Alpha). The author has no business relationship with any company whose stock is mentioned in this article.
Editor's Note: This article covers one or more stocks trading at less than $1 per share and/or with less than a $100 million market cap. Please be aware of the risks associated with these stocks.