Lipocine (NASDAQ:LPCN) is a specialty pharmaceutical company that has an oral drug delivery technology for products that affect men's and women's health. The technology is designed to improve patient compliance and safety through orally available products, while at the same time increasing the bioavailability of drugs that are poorly absorbed through oral administration and do not reach a sufficient threshold in the circulation.
The company is currently developing three product candidates that are designed to enhance the pharmacokinetic parameters of the drugs, facilitate lower dosing requirements, reduce side effects, and limit gastrointestinal interactions that would otherwise decrease the effectiveness of the compounds.
Below we provide an overview of the two therapeutic areas that Lipocine is focused on, testosterone replacement therapy (TRT) and prevention of preterm birth, along with details about the product candidates, and our valuation and recommendation.
Testosterone Replacement Therapy
…An overview of testosterone…
Testosterone is the primary circulating sex hormone in males and performs a range of functions, such as playing a key role in the development of the testes and prostate, as well as the secondary sexual characteristics including muscle growth, bone mass, and growth of body hair. In addition, proper testosterone levels are necessary for overall health and well-being as well as for the prevention of osteoporosis (Tuck et al., 2009).
After being synthesized in the testes (males) or ovaries (females), testosterone circulates through the body either bound to sex hormone binding globulin (~60%), loosely bound to albumin (the main protein of human blood plasma, ~40%), or as a free molecule (~1%). Testosterone enters cells where it can bind to the androgen receptor as a free molecule or after being converted to 5α-hydroxytestosterone. Binding to the androgen receptor causes the complex to move into the cell nucleus, where it can bind directly to DNA and alter gene expression.
Testosterone levels are known to decrease with age; however, the clinical significance of this decrease and whether to begin aging men on testosterone replacement therapy is still being debated. The American Society of Andrology states that, "Testosterone replacement therapy in aging men is indicated when both clinical symptoms and signs suggestive of androgen deficiency and decreased testosterone levels are present" (ASA, 2006). In other words, they do not believe a simple blood test is adequate to determine who should receive TRT. Instead, the ASA believes that only patients who have low testosterone levels (usually defined as <300 ng/dl) coupled with other symptoms of low testosterone should receive TRT. However, the American Association of Clinical Endocrinologists states that the age-related decline in free testosterone level is no longer considered to be a normal part of aging, and that patients with low testosterone levels should be administered TRT (Guay et al., 2003).
…Hypogonadism…
Hypogonadism is the term for chronically low serum testosterone levels. The effects of this condition include erectile dysfunction, low libido, decreased muscle mass, increased body fat, decreased bone density, decreased vitality, and depression. In addition, low testosterone levels have been implicated as an independent predictor of a number of cardiovascular risk factors including obesity, abnormal lipid levels, hypertension, type 2 diabetes, and systemic inflammation. The condition may occur because of gonadal dysfunction (termed primary hypogonadism), hypothalamic-pituitary dysfunction (termed secondary hypogonadism), or it may be acquired, as in the case of age-related testosterone decline.
Normal testosterone levels are in the range of 300 to 1140 ng/dl; however, naturally occurring testosterone levels exist at low concentrations, with wide ranges of variability within a patient. Automated assays to test for testosterone levels are known to lack specificity and are prone to interlab variability. Thus, in order to diagnose hypogonadism in a male, it is necessary to take multiple morning serum testosterone levels, when they are at their highest (Crawford et al., 2007), in conjunction with a clinical assessment of patient symptoms. Most doctors will only diagnose a patient as having hypogonadism if they present with symptoms that are directly related to more than one low morning serum testosterone level.
Chronically low testosterone levels have been shown to inversely correlate with longevity. An 18 year study published in 2008 examined all cause mortality in relation to endogenous testosterone levels (Laughlin et al., 2008). The study followed approximately 800 men between the ages of 50 and 91 who had serum testosterone measurements at baseline. During an average follow up of 11.8 years, 538 deaths occurred. Men whose total testosterone levels were in the lowest quartile (<241 ng/dl) were 40% more likely to die than those with higher levels. This association was independent of age, adiposity, and lifestyle. In addition, low testosterone predicted increased risk of cardiovascular disease and respiratory disease mortality.
There is a consensus among experts that low testosterone is an undertreated condition, most likely a result of the fact that it is difficult to diagnose, has symptoms similar to other conditions, and natural testosterone has such a large natural variation. A 2008 study involving data collected from the Boston Area Community Health Survey showed that out of men with low testosterone, only 12% of them were receiving TRT (Hall et al., 2008).
…A high prevalence of hypogonadism…
A large study performed in 2006 estimated the prevalence of hypogonadism, defined as total testosterone <300 ng/dl, in men aged ≥ 45 years who visited primary care facilities in the U.S. (Mulligan et al., 2006). Out of the 2,162 patients, 836 were hypogonadal, with 80 of those patients receiving TRT. The crude prevalence rate of hypogonadism was 38.7%. There was a clear correlation between age and incidence of hypogonadism, with every 10-year increase in age resulting in a 17% increased risk of developing hypogonadism, as shown in the following figure.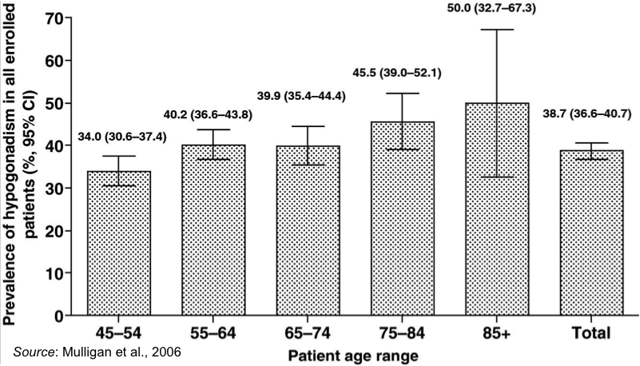 The study also found that an increase in BMI was associated with greater prevalence rates of hypogonadism, along with a history of hypertension, hyperlipidemia, diabetes, and asthma. Based on data showing that approximately 74% of adult men visit a doctor's office annually (Lethbridge-Cejku et al., 2004) and the U.S. census data, it was estimated that approximately 14 million men aged ≥ 45 years visiting a primary care doctor in the U.S. may be hypogonadal.
…Currently available TRTs …
TRTs have been available in the U.S. for over 70 years. They initially were available as subcutaneous injections, followed by the introduction of transdermal patches and most recently topical gels. The total market for TRTs was approximately $2.3 billion in 2013. However, the competition is fierce, with a number of different testosterone products available.
Androgel® (AbbVie Inc.): A gel form of testosterone that is applied to the skin. The product is available as either a 1% or 1.62% formulation and is supplied in a metered dosage pump or a single use packet, with the gel applied to the upper arms and shoulders. This product is the market leader, with sales totaling $1.03 billion in 2013.
Axiron® (Eli Lilly & Co): A gel form of testosterone that is applied to the armpits approved by the FDA in 2010. The product generated total revenues of $178 million in 2013.
Testim® (Auxilium Pharmaceuticals Inc.): A testosterone gel that is supplied in unit-dose tubes that is applied to the shoulders and upper back. Total revenues for Testim® in 2013 were $211 million.
Fortesta® (Endo Internationals plc): A 2% testosterone topical gel that is supplied in a metered pump and applied to the front and inner thighs. Sales of Fortesta® totaled $66 million in 2013.
Delatestryl® (Endo Internationals plc): An injectable form of testosterone supplied as testosterone enanthate that is administered every two to four weeks. Total sales of Delatestryl® are not disclosed.
Androderm® (Actavis plc): A 2 mg or 4 mg testosterone patch that is applied once per day. This product was initially formulated as a 2.5 mg or 5 mg patch, but was changed to the lower dosages in 2011. Total revenues for Androderm® were $95 million in 2013.
Aveed® (Endo Internationals plc): An injectable form of testosterone that is administered at initiation, at 4 weeks, and every 10 weeks thereafter. Aveed® was approved by the FDA in March 2014.
Striant® and Testopel® (Auxilium Pharmaceuticals Inc): Striant® is a testosterone buccal system applied to the gum region twice daily. Testopel® is an implantable testosterone pellet that is designed to deliver testosterone for 3 to 4 months per implantation. Sales of Testopel® totaled $60 million in 2013 while total sales of Striant® were not disclosed.
Natesto™ (Trimel Pharmaceuticals Corp.): An intranasal formulation of testosterone that was approved by the FDA in May 2014.
…Problems with currently available testosterone products…
There is no doubt that testosterone replacement products have been hugely successful, with sales of over $2 billion in 2013. However, there are a number of issues that exist with the use of currently approved testosterone replacement products. The most important of these is the risk of inadvertent transference of testosterone to women and children with the use of testosterone gels. There have been a number of case reports of testosterone transfer from gel-treated males to children that resulted in adverse events including inappropriate enlargement of the genitalia, premature development of pubic hair, increased libido, and aggressive behavior (Ronde, 2008). This danger led the FDA to order a "black box" warning for testosterone gels in 2009.
In addition to transference of testosterone through gels, there is also the issue of skin irritation, inconvenient and time consuming handling instructions, messy application, and a distinctive odor. A report in 2013 showed that adherence to topical TRT was low (Schoenfeld et al., 2013). The study followed 15,435 hypogonadal men who had an initial topical testosterone prescription in 2009 and were followed for 12 months. By 6 months, only 34.7% of patients had continued on medication and by 12 months only 15.4% were still using the medication. Adherence was similar whether the patients were using Androgel® or Testim® and was not affected by the age of the patient.
In 2014, Lipocine initiated a survey amongst 28 leading endocrinologists and urologists asking a simple question: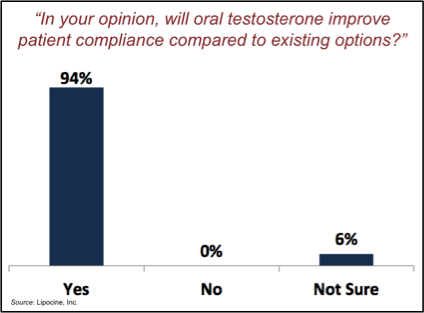 We believe an oral formulation of testosterone would offer many advantages over currently available testosterone formulations, including no risk of transference, no skin irritation, improved compliance potential, non-time consuming administration, and finally, discretion.
…Overcoming oral administration difficulties with the Lip'ral™ technology…
Testosterone has not been available previously through an oral formulation due to its extensive first pass metabolism by the liver. Very little orally ingested testosterone ever makes it to the circulation because of first pass metabolism. An oral formulation of testosterone does exist in the form of testosterone undecanoate (TU), which is testosterone with an eleven-carbon side chain attached to it. It is an ester prodrug of testosterone, an inactive form of the drug that is cleaved by an enzyme in the body to render the pharmacologically active drug.
TU is an established drug as it has been available orally outside the U.S. since the late 1970's, as an injectable outside the U.S. (Nebido®) since the mid 2000's, and was recently approved in the U.S. in the injectable Aveed®. When taken orally, it is more effective in treating hypogonadal males than oral testosterone, however it is still not an optimal treatment. TU is absorbed through the lymphatic system, rather than into the portal vein, thus avoiding first pass hepatic metabolism. However, TU still suffers from a number of issues that make it a less than ideal choice as a TRT, including poor bioavailability and unpredictable serum concentrations.
A number of pharmaceutical agents are unable to be administered orally due to poor water solubility, including testosterone and TU. This poor solubility leads to a number of issues including:
Poor bioavailability: An inability of the drug to reach physiologically relevant doses, which in turn necessitates a higher dose and/or excessive numbers of doses.
Poor pharmacokinetics: High variability in the absorption of a drug may lead to a large variability in the pharmacokinetics of the compound, which in turn may lead to too high or low of a dose and potential safety concerns.
Food effects: A number of compounds that are poorly water soluble may be highly soluble in fats, thus more of the drug may be absorbed when taken concurrent with a high fat meal, while little of the drug would be absorbed when taken on an empty stomach. This could lead to labeling restrictions and problems with patient compliance.
To overcome issues with poorly soluble drugs such as testosterone, Lipocine has developed the Lip'ral™ technology, which is based on lipid compositions that greatly enhances the absorption of water insoluble drugs.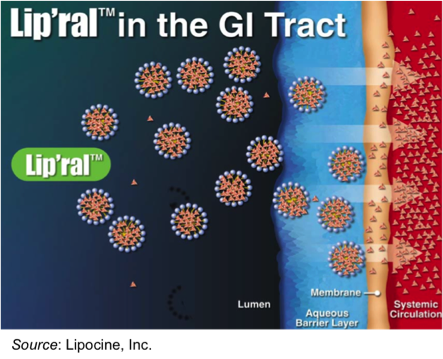 The Lip'ral™ technology is a proprietary composition of bioacceptable lipid excipients that spontaneously form micelles loaded with drug over a range of aqueous dilutions. In addition, the drug continues to stay solubilized upon dilution of the drug solution. The Lip'ral™ technology also increases bioavailability and decreases food effects, thus allowing for more consistent product performance.
LPCN 1021: an orally available TRT
Lipocine is developing LPCN 1021, an oral formulation of TU using the company's Lip'ral™ technology to facilitate steady gastrointestinal solubilization and absorption, resulting in a convenient twice daily dosing.
Lipocine has successfully completed a Phase 2 study that produced results in line with FDA guidelines for approval of TRTs (discussed below). Following the Phase 2 trial, the company presented the results to the FDA along with a Phase 3 protocol in November 2012 and obtained clear guidance on the requirements for the LPCN 1021 NDA filing. The Phase 3 study is currently fully enrolled, with initial results expected in September 2014. Final results are expected in the first half of 2015.
…LPCN 1021 Phase 2 Study…
The Phase 2 study for LPCN 1021 enrolled 84 hypogonadal men across five parallel groups, with 81 subjects completing the study. Four doses were utilized, starting at 75 mg and increasing to 150 mg, 225 mg, and then 300 mg to determine an effective dose for producing serum testosterone levels in a normally occurring range. A summary of the study is provided below.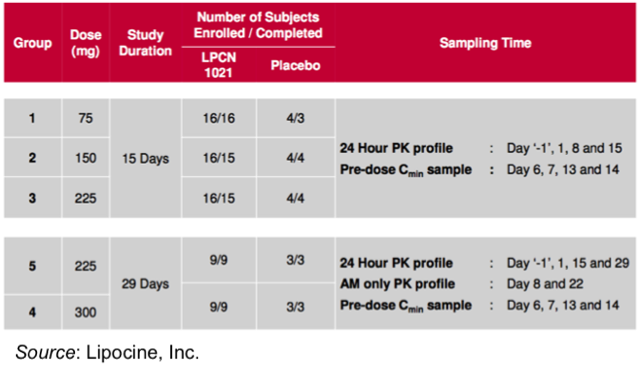 Groups 1, 2, and 3 received 75 mg, 150 mg, and 225 mg, twice a day, respectively. The study lasted for 15 days, with doses being administered 30 minutes after breakfast and dinner. Full pharmacokinetic profiles were taken the day prior to the first dose, and then again on days 1, 8, and 15. Groups 4 and 5 received 300 mg and 225 mg doses, respectively. However, the study for these last two groups lasted 29 days. These doses were also administered 30 minutes after breakfast and dinner. The three patients that enrolled but did not complete the study withdrew because of an adverse event (from the placebo group), non-compliance to protocol (150 mg group), and elevated testosterone level (225 mg group).
The FDA has established a clear set of criteria for approval of a TRT that includes the successful completion of a Phase 3 clinical trial meeting two primary and three secondary pre-defined endpoints. The primary endpoints include 24-hour average serum (Cave) testosterone levels between 300-1140 ng/dl in at least 75% of patients and the lower bound of the 95% confidence interval is at least 65%, meaning that at least 65% of patients' testosterone concentrations are within the normally occurring range.
The secondary endpoints include a maximum serum testosterone level less than 1500 ng/dl in at least 85% of patients, maximum serum (Cmax) testosterone level between 1800-2500 ng/dl in ≤ 5% of patients, and no patients who experience maximum serum testosterone greater than 2500 ng/dl.
The results from the Phase 2 trial showed that the 75 mg and 150 mg doses did not meet the primary endpoints. The 225 mg twice-a-day dose met the primary and secondary endpoints on day 15, however, it failed to meet the lower 95% confidence interval on day 29 (shown below). This could be due to the small number of subjects in that group (n = 9) compared to the number of subjects in the day 15 analysis (n = 24). There were no major clinical adverse events and no changes in liver enzymes. Additional key safety parameters that were examined, the ratio of dihydrotestosterone to testosterone and changes in estradiol, low-density lipoprotein, high-density lipoprotein, and prostate-specific antigen, were within the range of other approved TRTs.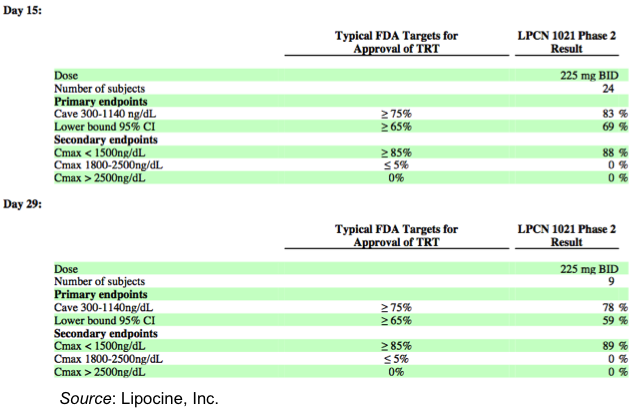 In addition to meeting the FDA approval criteria on day 15 at the 225 mg twice-a-day dose, an analysis of the Phase 2 results showed that Cave and Cmax were highly correlated and that Cave and Cmax can be predicted with a degree of certainty if either one is known. This is shown in the following plot of the data obtained from the Phase 2 study.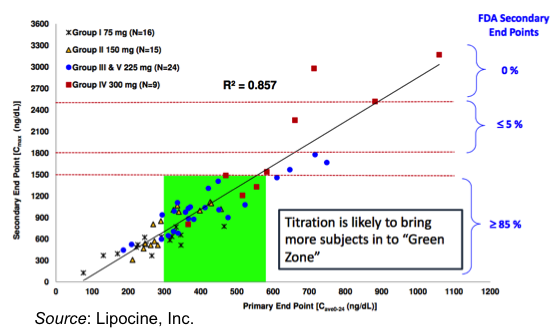 What the preceding graph is indicating is that an acceptable Cmax is likely to be obtained by maintaining Cave levels below 600 ng/dl. In addition, a dose titration step, where a patient's dose is up or down titrated in fixed steps to maintain testosterone levels in the 300-1140 ng/dl range, which is typically done in TRT trials, should improve the probability that the primary and secondary endpoints can be reached in a larger Phase 3 trial. There was no dose titration step performed in the Phase 2 trial.
…Phase 3 trial of LPCN 1021…
Armed with the data from the Phase 2 trial, Lipocine officials met with the FDA where the agency agreed that LPCN would be considered a TRT. In addition, one pivotal Phase 3 trial was deemed necessary with no additional pre-clinical studies required. For long-term safety, the FDA requires one year safety data on 100 subjects be submitted with the NDA.
The Study of Oral Androgen Replacement ("SOAR") pivotal Phase 3 trial has enrolled 315 hypogonadal subjects randomized at 40 clinical sites in a 2:1 ratio, where 210 patients are being treated with LPCN 1021 and 105 patients with Androgel® 1.62% for 52 weeks. LPCN 1021 subjects are being dosed at 225 mg twice daily and then titrated up to 300 mg twice daily or down to 150 mg twice daily based on serum testosterone as measured during weeks 3 and 7 of the trial. Primary and secondary endpoints will be assessed after 13 weeks of treatment, with additional safety parameters assessed after 52 weeks of treatment.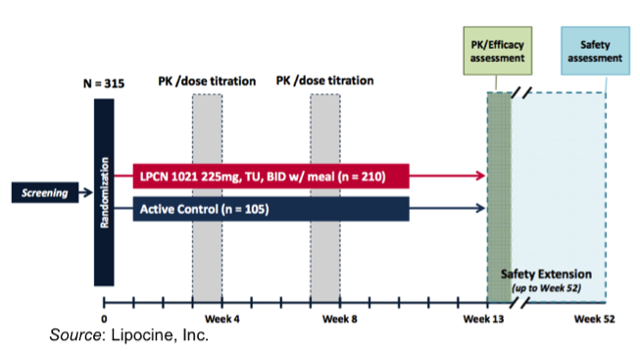 The company announced they had completed enrollment of the SOAR study on April 29, 2014. With a 13-week treatment period and an additional week or so to finish the PK/efficacy assessment that means the top-line data from the study should be available in the third quarter 2014 - we believe September.
…Other oral TRTs under development…
In addition to the large number of TRTs currently available, there are other orally available formulations currently under development.
Rextoro® (Clarus Therapeutics): A softgel capsule that contains TU formulated for absorption via the intestinal lymphatic system and administered twice daily. The drug was tested in two Phase 3 trials, with the first trial showing that a greater number of patients achieved peak testosterone levels than FDA targets. A revised dosing regimen was utilized for the second Phase 3 trial, with Clarus reporting that peak testosterone levels were "closely aligned with, although they did not meet, FDA's targets…" Clarus submitted an NDA for Rextoro® in January 2014 and received a PDUFA data of November 3, 2014. There will be an FDA Advisory Committee meeting to discuss the NDA for Rextoro® on September 18, 2014.
Androxal® (Repros Therapeutics): An orally active, single isomer of clomiphene citrate that has been shown to be effective in treating secondary male hypogonadism. It works by inhibiting the effects of estrogen on the pituitary gland thus stimulating the release of hormones that induce testosterone production. Unlike testosterone administration, it does not adversely affect the testes or fertility. The drug has completed two Phase 3 trials and is currently in head-to-head studies with approved testosterone replacement products. The FDA is requiring that "co-primary efficacy endpoint should show statically significant and clinically relevant differences". The company plans on filing an NDA by the end of 2014.
Oral testosterone undecanoate (SOV Therapeutics): An oral formulation of testosterone that is designed for twice daily oral dosing with food. The drug is currently in the early stages of development.
…Controversy surrounding TRTs…
Four publications, including two in the past year, have negatively impacted the TRT market as they have alleged a higher rate of cardiovascular complications in patients on TRT. These publications were part of the evidence in a petition submitted to the FDA by Drs. Sidney Wolfe and Michael Carome that urged the agency to, among other things, add a "black box" warning about the increased risk of heart attacks and other cardiovascular dangers to the product labels of all testosterone-containing drugs. However, as will be discussed, there is a lot of controversy surrounding these publications and while their results should not be cast aside completely, it is important to understand the shortcomings of each study to keep their results in perspective. The FDA responded to the petition with a rebuke of the four studies cited by Drs. Wolfe and Carome that served as the basis for their requests. We discuss one of these studies in more detail below.
The publication was in the Journal of the American Medical Association, where a national retrospective study was conducted on men with low testosterone (<300 ng/dl) who underwent coronary angiography in the Veterans Affairs (NASDAQ:VA) system between 2005 and 2011 (Vigen et al., 2013).
A total of 8,709 men with testosterone levels <300 ng/dl were included in the study, with 1,223 patients starting testosterone therapy after a median of 531 days following coronary angiography. Of the 1,710 outcome events from the study, 748 men died, 443 had myocardial infarctions (MIs), and 519 had strokes. Of the 7,486 patients not receiving testosterone therapy, 681 died, 420 had MIs, and 486 had strokes. Among the 1,223 patients receiving TRT, 67 died, 23 had MIs, and 33 had strokes. In Cox proportional hazards models adjusting for the presence of coronary artery disease, the authors reported that testosterone therapy used as a time-varying covariate was associated with increased risk of adverse outcomes (hazard ratio, 1.29; 95% CI, 1.04 to 1.58; p = 0.02). Kaplan-Meier survival curves appeared to show that testosterone use was associated with increased risk of death, MI, or stroke, as shown below.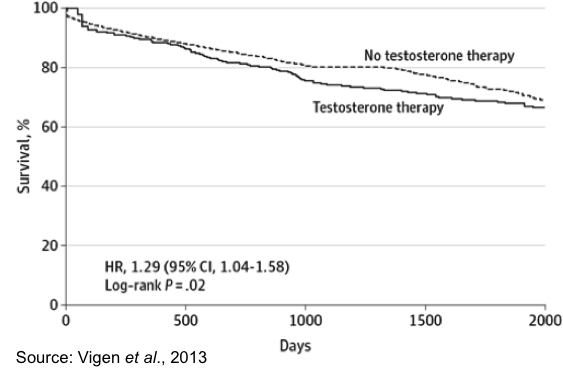 Interestingly, this study was published one year after a study in the Journal of Clinical Endocrinology and Metabolism showed that in a similar cohort of patients (1,031 male veterans aged >40 years with low total testosterone [<250 ng/dl]) there was a decrease in the risk of death associated with testosterone treatment (Shores et al., 2012).
A total of 1,031 patients assessed between January 2001 and December 2002 were included in the study and were followed up through the end of 2005. TRT was initiated in 398 patients. The mortality in testosterone-treated men during the study period was 10.3% compared to 20.7% in untreated men (P<0.0001). After adjusting for co-morbidities including age, body mass index, testosterone level, diabetes, and coronary heart disease, TRT was associated with a significantly decreased risk of death (hazard ratio 0.61; 95% confidence interval 0.42-0.88; P = 0.008).
So what can account for the discrepancy between the Vigen et al. study and the Shores et al. study? A number of groups have raised the following issues with the Vigen paper, which are neatly summarized in a letter to the FDA written by the Androgen Study Group:
The actual rate of adverse events seen in the testosterone therapy group (123 events in 1,223 men at risk = 10.1%) was only half as great as in the untreated group (1,587 events in 7486 men = 21.2%). The authors of the study fail to acknowledge this fact and come to the exact opposite conclusion than one would expect to see based on those numbers by applying complex statistics that included adjustments for more than 50 variables.
A correction to the Vigen et al. article was published in January 2014 for misreporting the primary results as "absolute risk", suggesting the results were based on raw data. The term "absolute risk" was replaced with "Kaplan-Meier estimated cumulative percentages with events", a term that more accurately reflects the highly statistical nature of the results.
A second correction was then published in March 2014 in response to a letter challenging the exclusion of 1,132 men who had suffered adverse events in the non-testosterone therapy group. The study authors revealed they had made a series of errors that included the following: the number of men in the excluded group was changed from 1,132 to 128, the value for a second group was found to be incorrect by more than 900 men, and most astonishingly of all, the "all-male" study group was found to include nearly 10% women!
Based on these revelations, a number of groups have called for the Vigen et al. paper to be retracted due to the data mismanagement and contamination that renders the study no longer credible. In addition, the groups calling for a retraction believe that a significant level of harm was done to the field of TRT due to the level of coverage that the study received.
An objective analysis of the literature would lead one to believe that there is a wealth of information showing that testosterone has protective effects in regards to cardiovascular health, and that it is the studies showing an increased risk of cardiovascular events associated with testosterone therapy that are the outliers. None the less, the FDA's Bone, Reproductive and Urologic Drugs panel will convene with the Drug Safety and Risk Management committee on September 17, 2014 to assess the appropriate indicated population for TRT and the potential for adverse cardiovascular outcomes associated with testosterone drugs.
We advise investors interested in testosterone replacement to keep a close eye on the outcome of this meeting as it may have large ramifications for the testosterone therapy market. As of now, the FDA has not concluded that FDA-approved testosterone treatment increases the risk of stroke, heart attack, or death. In fact, the FDA has approved two additional TRTs (Aveed® and Natesto™) since their investigation into the link between TRTs and cardiovascular events. We do not believe there will be a decidedly negative outcome to the September panel meeting in regards to TRTs.
LPCN 1111 is the next-generation oral product candidate for TRT
LPCN 1111 is a next-generation, novel ester prodrug of testosterone. It is utilized in combination with the Lip'ral™ technology to facilitate solubility and improve systemic absorption. The drug has been studied in a Phase 1 single dose, randomized, open label, crossover study in eight postmenopausal women. Data from the study established that LPCN 1111 has a strong safety profile and pharmacokinetics that should allow for once-daily dosing or provide high average testosterone levels while limiting the supraphysiological levels with a twice a day dosing regimen. This compound represents the first once-a-day, orally active TRT to enter clinical trials and would offer a clearly differentiated product compared to other oral testosterone products currently under development.
Lipocine recently initiated a Phase 2a proof-of-concept clinical study of LPCN 1111 in hypogonadal males. The primary objectives of the study are to determine safety and tolerability along with single and steady state pharmacokinetics of the compound. The study will include 12 individuals aged 18-80 with documented onset of hypogonadism before the age of 65 based on serum testosterone levels <300 ng/dl from two blood draws on two separate days.
Subjects will receive three escalating single doses of LPCN 1111 followed by a 28 day multiple dose selected based on single dose results. Hematology, clinical chemistry, urinalysis, echocardiogram, prostate specific antigen, and adverse events will be monitored as part of the safety assessment. Serum testosterone, dihydrotestosterone, parent ester, and dihydrometabolite of the parent ester will be analyzed by liquid chromatography coupled with mass spectrometry. Results from the Phase 2a study should be available in the second half of 2014 and a Phase 2b study could begin either in the fourth quarter of 2014 or first quarter of 2015.
TRT market analysis
The testosterone therapy replacement market is currently dominated by testosterone gels, with Androgel® the clear leader at over $1 billion in revenue annually. However, an oral dosage testosterone would differentiate itself from gels, patches, and injections due to the convenience, discreteness, and lack of transference.
The recent controversy over TRT has resulted in a decrease in the number of prescriptions written and an overall decline in revenues for testosterone replacement products, with Androgel® even experiencing a decline in sales from 2012 to 2013. We believe the concern is unwarranted, and that the studies that supposedly showed a link between testosterone therapy and an increased risk of cardiovascular disease were flawed. In addition, there is a wealth of data in the literature to suggest that low testosterone is detrimental to a man's overall health.
Based on U.S. Census data, there are approximately 59.5 million men over the age of 45 with the number of those experience low testosterone estimated to be approximately 40%. We count the 74% of men who go to see a primary care physician each year as part of our target population, which equates to approximately 17.6 million men who would be eligible for TRT. Of these, only 10% or so are on TRT.
We have modeled for LPCN 1021 to cost $4,000 per year, which is right in line with other therapies. In addition, we have modeled for LPCN 1021 prescriptions to decrease after LPCN 1111 is approved, with LPCN 1111 priced at a slight premium of $5,000 per year, which would be based on the convenience of once daily dosing. With only a 5% market share, we forecast peak revenues for these products to be $500 million combined.
Prevention of Preterm Birth
In humans, an ordinary pregnancy lasts 37 to 42 weeks, with the average being 40 weeks. A majority of babies born in the U.S. arrive near their due date, plus or minus a week or two. However, for approximately 12% of pregnancies the babies are born prior to 37 weeks gestation, which is the definition of preterm birth. This represents approximately 500,000 babies, or 1 in every 8 infants born in the U.S.
Preterm birth is associated with a wide range of problems, including breathing problems, feeding difficulties, cerebral palsy, developmental delay, vision problems, and hearing impairment. In addition, preterm birth remains the leading cause of infant mortality, accounting for as many as 75% of perinatal deaths (Ananth et al., 2006).
Along with the adverse health implications, preterm birth also has a substantial economic burden. According to the Institute of Medicine, in 2005 the costs associated with preterm birth totaled $26.2 billion. While taking into account special education services and lost productivity cost for the four major disabling conditions associated with preterm birth, the $26.2 billion does not include the cost of medical care beyond early childhood or caretaker costs.
While the exact cause of preterm birth is still unclear, there are a number of known risk factors, including:
Having a previous preterm birth
Carrying more than one baby
Chronic health problems in the mother (diabetes, high blood pressure, and clotting disorders)
Cigarette smoking, alcohol abuse, or illicit drug use during pregnancy
...Hydroxyprogesterone caproate for the prevention of preterm birth…
Currently, hydroxyprogesterone caproate (HPC) is the only FDA approved treatment for the prevention of preterm birth, with other compounds used off-label even though the evidence of their efficacy from randomized controlled trials is lacking. HPC is a synthetic steroid hormone that is an ester derivative of 17α-hydroxyprogesterone formed from caproic acid. The drug was previously marketed by Bristol Myers Squibb under the trade name Delalutin after being approved by the FDA in 1956.
The FDA granted approval to KV Pharmaceutical for Makena® on February 4, 2011 for the prevention of preterm birth in women with a history of preterm delivery and a singlet pregnancy. The approval was based on a multicenter, randomized, vehicle-controlled, double-blind Phase 3 clinical trial conducted in 2003 (Meis et al., 2003). A total of 463 women enrolled in the study to receive either HPC (n=310) or placebo (n=153) at a dose of 250 mg administered weekly by intramuscular injection beginning at 16-20 weeks of gestation and continuing until 36 weeks of gestation or delivery.
In the study, 36.3% of births occurred before 37 weeks gestation in the HPC group, compared to 54.9% in the placebo group (P<0.001). Delivery before 35 weeks of gestation was also less frequent in the HPC group (20.6% vs. 30.7%, P=0.02) with an approximately 40% reduction in the rate of delivery before 32 weeks of gestation in the HPC group (11.4% vs. 19.6%, P=0.02).
Prior to its approval by the FDA, hydroxyprogesterone caproate had been available through off-label use and prepared at pharmacies that compounded the agent into an injectable form at a cost of approximately $15 per injection. With 15 to 20 injections required for a full treatment course that put the cost of the drug at approximately $250-300 for a full-term pregnancy. However, Makena® was approved as an orphan drug, and upon approval KV Pharmaceuticals began charging $1,500 per injection, or approximately $25,000 for a full-term pregnancy. This pricing was heavily criticized, and in April 2011 the company announced they were lowering the price to $690 per injection.
…An oral formulation of HPC…
Lipocine is developing LPCN 1107 as the first oral HPC for the prevention of preterm birth by formulating HPC with the Lip'ral™ technology. An oral formulation of HPC would offer a number of advantages over the current injectable formulation of the drug, including elimination of injection site reaction and pain at the injection site and eliminating weekly trips to the doctor's office for administration of the compound.
LPCN 1107 was evaluated in a Phase 1 study in ten healthy, non-pregnant female volunteers where the study subjects received either one single dose of 400 mg of LPCN 1107 or two doses of LPCN 1107 administered 12 hours apart, followed by a single dose of 250 mg intramuscular HPC, with a one week washout period between each treatment.
Results from the trial showed that there was significant absorption upon oral dosing of LPCN 1107 with a good dose response demonstrated as both Cmax and AUC increased significantly from the single dose to the twice daily dose. The following chart shows that LPCN 1107 steady state 400 mg twice daily exposure was approximately 55% of weekly 250 mg intramuscular HPC.

Lipocine believes that LPCN 1107 could match the HPC exposure from the weekly intramuscular injection at an appropriate oral dose. LPCN 1107 was well tolerated with the only significant treatment related adverse event being abnormal menstrual effects in both the LPCN 1107 and intramuscular arms, which is not an unexpected progestogenic effect in non-pregnant females of child bearing age. The company is currently planning a study in pregnant females to assess the pharmacokinetics and bioavailabilty of LPCN 1107, with plans to launch the trial in the second half of 2014.
Preterm birth market analysis
Approximately 12% of all pregnancies in the U.S. end in preterm birth, with approximately 40% of those having a history of spontaneous preterm birth. This equates to approximately 180,000 pregnancies annually that would be eligible for treatment with HPC.
Prior to the approval of Makena®, HPC was available through compounding pharmacies and cost approximately $250-300 for a full course of treatment. KV Pharmaceuticals originally priced Makena® at $1,500 per injection, but due to a backlash they lowered the price to $690 per injection. At this price level, the cost would be between $11,040 and $13,800 for the 16-20 week treatment course. We believe the backlash over Makena® pricing was due to the undifferentiated aspect of the drug compared to what could be acquired for 1/100th of the cost prior to the approval of Makena®, and was not a function of the effectiveness of the drug.
An orally available HPC would offer a novel treatment option for women at risk for preterm birth, as it would avoid weekly trips to the doctor's office for administration along with potential injection site side effects. We have modeled the drug costing $5,000 per treatment course and with a 25% market share see the drug attaining approximately $250 million in peak revenues.
Intellectual Property
Lipocine has an extensive intellectual property portfolio. As of March 2014, the company owned seven U.S. patents, 16 pending U.S. patent applications, 19 issued foreign patents, 33 pending foreign patent applications, and two pending PCT applications.
Of the total number of patents and patent applications owned by Lipocine, three U.S. patents, 10 pending U.S. patent applications, 15 issued foreign patents, and 11 pending foreign patent applications are related to various aspects of LPCN 1021.
LPCN 1111 is covered by a U.S. patent application with corresponding counterparts filed in five foreign countries and a PCT application that can be filed in other foreign jurisdictions at a later time. The pending U.S. patent application and foreign patent applications, if allowed, would have an expiration date of 2033.
LPCN 1107 is covered by a U.S. patent application with corresponding counterparts filed in 11 foreign countries. The pending U.S. patent application, if allowed, would have an expiration date of 2031 with the foreign patent applications, if issued, having an expiration date of 2032.
Valuation and Recommendation
We are initiating coverage of Lipocine, Inc. with a Buy rating with a price target of $13.50. Our valuation is a probability adjusted discounted free cash flow sum-of-parts built upon the three products currently being evaluated in clinical trials: LPCN 1021 as an oral TRT; LPCN 1111 as a next generation oral TRT that could deliver once daily dosing; and LPCN 1107 as the first oral medication for the prevention of pre-term birth.
…We believe LPCN 1021 has a solid chance of delivering positive Phase 3 results...
LPCN 1021 is currently in a Phase 3 trial that has enrolled 315 hypogonadal subjects randomized 2:1 to receive either 225 mg LPCN 1021 or Androgel® 1.62% for 52 weeks. The Phase 2 data showed that LPCN met all of the FDA criteria for approval of a TRT at the 225 mg dosage on day 15, however it failed to meet one of the criteria on day 29. While some could argue that this does not bode well for the Phase 3 study, there are a couple of points that would suggest otherwise:
Data from the Phase 2 trial showed a clear correlation between Cmax (the maximum concentration of testosterone measured in the blood) and Cave (the 24-hour average serum testosterone level), thus the Phase 3 study can target patients to a Cave in the 300-600 ng/dl range resulting in a high probability that those patients will have Cmax values less than 1500 ng/dl.
Unlike the Phase 3 trial, the Phase 2 trial did not include a dose titration. This is important, especially in light of the correlation between Cmax and Cave. Thus, at the titration portions of the trial the subjects can be targeted toward a specific Cave based on their PK data to get them into the "target zone" of acceptable Cave and Cmax.
The Phase 3 trial has a much higher enrollment number than the Phase 2 trial. With 210 patients being treated with LPCN 1021 there is less likelihood of outliers skewing the data, which is much more likely in a small study, such as the Phase 2 29-day data that had only 9 subjects.
…A sizable market that is currently underserved…
Only 10% of men with low testosterone are currently on TRT. We estimate this population to be approximately 1.8 million individuals. An oral TRT would most likely appeal to a sizable percentage of those currently using testosterone replacement gels for the reasons cited previously, but would also appeal to a number of men who may not be interested in a topical or injectable formulation.
Patient education has helped to drive a large increase in the number of testosterone replacement prescriptions over the past decade, as the number more than tripled from 2001-2011 (Baillargeon et al., 2013). Even with this substantial increase in the number of men taking testosterone, there is still a sizable population that would likely benefit from treatment but is not currently being served. We believe a product such as LPCN 1021 can clearly differentiate itself from a crowded marketplace and would likely find favor amongst physicians and patients.
…Phase 3 data available in the near term…
Lipocine is currently conducting a Phase 3 study with LPCN 1021 with top-line data expected to be reported in September 2014. Having reviewed the Phase 2 data and the Phase 3 study protocol, we estimate a 75% likelihood of success in the Phase 3 trial, which would entail meeting the FDA's two primary and three secondary endpoints for TRTs.
A year long safety study is required before an NDA can be filed with the FDA, which we estimate will occur in the second half of 2015. This would lead to an approval in mid 2016. For our model, we estimate that LPCN 1021 will be priced at $4,000 per year, which is in line with currently approved TRTs. We conservatively model a peak market penetration of 5% that then decreases as LPCN 1111 is introduced into the marketplace. We see peak sales of LPCN of approximately $400 million before the introduction of LPCN 1111.
NPV: Based on these numbers we believe LPCN 1021 is worth $116 million.
…LPCN 1111 offers potential once daily dosing of testosterone…
Patient compliance is a serious issue with testosterone replacement products, as only 14% of patients using testosterone gels are still using the product after one year. This issue isn't limited to just testosterone products as numerous studies have shown that once-daily dosing regimens had the highest rates of patient adherence (Claxton et al., 2001). Thus, the strategy with LPCN 1111 is to formulate a once daily oral dose of testosterone through a proprietary formulation coupled with the Lip'ral technology.
LPCN 1111 is currently in a Phase 2a study with results expected in the second half of 2014. This would lead to a Phase 2b study in late 2014 of the first quarter of 2015. For our model we estimate a Phase 3 study running from 2016-2017, which includes the year long safety follow up, a regulatory filing in 2017, and approval in 2018. We see LPCN 1111 as a replacement for LPCN 1021 and believe that as LPCN 1111 uptake increases there will be a subsequent decrease in LPCN 1021. We model for peak sales of LPCN 1111 to be approximately $500 million, with a conservatively estimated 5% market share. We believe LPCN 1111 would be priced at a slight premium to LPCN 1021 based on once daily dosing, and have modeled for it to cost $5,000 per year. Lastly, as the drug is currently in a Phase 2 trial, we assign a 50% probability of approval.
NPV: Based on these estimates, we believe LPCN 1111 is worth $64 million.
…LPCN 1107 offers a novel treatment option for preventing preterm birth…
We believe an oral form of HPC would be a sensible treatment option and would have rapid uptake. We have modeled a peak market share of 25%. The drug is currently in Phase 1 studies and can most likely be taken straight to a Phase 3 study in 2015. However, depending upon the guidance received from the FDA in regards to what they are interested in seeing in terms of data, both in regards to efficacy and long-term follow up safety data, the Phase 3 study could last anywhere from 2-5 years. For modeling purposes, we are estimating for the Phase 3 study to begin in 2015 and end in 2018, with a regulatory filing in 2019, and approval of the drug in 2020. We have modeled for the drug to cost $5000 per treatment course. As the drug is currently in Phase 1 we have assigned a 25% probability of approval.
NPV: Based on these estimates we believe LPCN 1107 is worth $9 million.
As of June 30, 2014 there were 12.8 million shares outstanding. In addition there are approximately 1.3 million stock options, 0.01 million shares of restricted stock, and 0.02 million warrants outstanding. This brings the fully diluted share count to approximately 14.1 million shares. Adding up the values for LPCN 1021, LPCN 1111, and LPCN 1107 gives us a total value of $190 million, and dividing by the fully diluted share count we arrive at a value of $13.50 per share.
Risks to our thesis
While we believe an investment in Lipocine at the current valuation offers investors the potential for a significant return, there are risks that could force us to re-evaluate our recommendation were they to come to fruition.
LPCN 1021 Phase 3 data does not meet all required endpoints: In order to gain approval as a TRT, the FDA has issued specific guidelines for two primary and three secondary endpoints that must be met in a Phase 3 study. In the Phase 2, LPCN 1021 met all the endpoints at day 15 but failed to meet one of the primary endpoints on day 29. In addition, the Phase 3 study is a 13-week trial, much longer than the 2 and 4 week timepoints from the Phase 2 study. While we cannot discount these risks entirely, we believe the inability to hit all endpoints on day 29 was due to the small number of participants in the study (n=9) and that the titration steps in the Phase 3 trial will mitigate the risk associated with a longer-term study. If LPCN 1021 did not meet all the endpoints this would have a decidedly negative impact on our valuation, as it would likely result in a delay in the regulatory filing and the possibility of having to perform another Phase 3 study.
The FDA concludes there is an increased risk of cardiovascular events in patients on TRTs: On September 17, 2014 the FDA will hold a panel meeting to discuss the link between cardiovascular events and TRTs. Four studies published within the past few years have purported to show a link between the use of testosterone and an increased risk of patients suffering a heart attack or stroke. However, the FDA came out with a highly critical analysis of each of those studies in a response to a petition to have all TRTs carry a "blackbox" warning about the increased risk of cardiovascular events. Thus, we do not believe that the FDA will conclude that TRTs are unsafe. However, it is impossible to predict for certain how the meeting will go and what conclusions the FDA will have. If the FDA were to put any restrictions on the use of TRTs or require a "blackbox" warning about their safety that would significantly harm the entire sector and force us to re-examine the revenue potential for both LPCN 1021 and LPCN 1111.
LPCN 1111 is not effective as a once daily medication: LPCN 1111 is a novel ester formulation of testosterone designed for once daily dosing. We have modeled for the drug to take the place of LPCN 1021 and have the capacity to clearly differentiate itself from other TRTs, including other oral formulations of testosterone that are currently under development. However, were clinical results to show that once daily dosing of LPCN 1111 is ineffective that would force us to significantly reduce future revenues of the drug, which would have a significantly negative impact on our valuation.
Co-authored with Jason Napodano, CFA
Disclosure: The author has no positions in any stocks mentioned, and no plans to initiate any positions within the next 72 hours. The author wrote this article themselves, and it expresses their own opinions. The author is not receiving compensation for it (other than from Seeking Alpha). The author has no business relationship with any company whose stock is mentioned in this article.
Disclosure: I/we have no positions in any stocks mentioned, and no plans to initiate any positions within the next 72 hours.
Business relationship disclosure: I work as a Consultant Analyst for Zacks Investment Research. The article is written by me and is 100% my opinion. I receive compensation from Zacks for writing equity research reports and providing valuation analysis on this company's stock and expect to do so in the future. Zacks receives compensation from the company. Please see the Zacks Disclaimer for further information: http://scr.zacks.com/Disclaimer/default.aspx