We have seen numerous articles published on Seeking Alpha about Salesforce.com (NYSE:CRM). Three stand out in particular: "Salesforce.com may be riskier than it seems" by Paulo Santos, "Salesforce.com: 3 Simple Questions for Wall Street Analysts" by Weighing Machine, and "Salesforce.com - The Underpants Gnomes of Wall Street" by Jay Schembs. These three reads are a must for responsible investors desirous of a better understanding of the risks of owning Salesforce.com. In addition, Michael Blair has done a persistent job in several articles, ensuring that the weaknesses of the bull side thesis for Salesforce.com. remain in the public spotlight.
Mr. Santos uses a metric, the Altman Z-test to show that, absent the high-flying stock price, Salesforce scores deep in the zone where companies are highly likely to file for Chapter 11 bankruptcy. This shows how CRM is overvalued. Weighing Machine brilliantly and in a fun, literary way summarizes the motivation of Wall Street analysts in pushing CRM stock, thus explaining, at least in part, why it is overvalued. Jay Schembs employs a thesis and catalyst approach to form an actionable course for investors to sell or short Salesforce.com.
Salesforce earnings are contentious. The company reports GAAP earnings, the actual earnings of the continuing public shareholders, because it is required to report them by force of law. Salesforce prefers that investors concentrate instead on pro forma results, which remove:
Stock-based compensation
Amortization of purchased intangibles
Amortization of debt discount
Gains/losses on conversion of debt
Income tax effects and adjustments
These are real expenses, borne by shareholders directly on the balance sheet or through dilution of their ownership of the company's future stream of earnings. With Salesforce.com, these are mostly regularly recurring items. Discarding them is worse than foolish. As his second question in the aforementioned article, Weighing Machine properly asks, "Why is adjusted operating profit (excluding stock compensation) the right metric on which to evaluate Salesforce or any other company?" The answer we know is that it is not. Salesforce has reported pro forma profits in quarter after quarter, yet the current consolidated balance sheet shows an accumulated deficit of $440.068 million. Dividends and return of capital through stock buybacks come from GAAP earnings; pro forma gets you nothing. GAAP earnings are the proper measure for an investor to consider.
To add to the earnings confusion, analysts regurgitate the company's pro forma estimates and the news media publishes them. Go to Yahoo Finance, bring up CRM and query analyst estimates. Yahoo reports the average analyst earnings estimate for fiscal 2015 as .51 per share. Salesforce reported it expected to lose GAAP (.49) to (.47) for fiscal 2015 in its May 20, 2014, press release. Are investors confused by this? Surely some are. How can they not be? This confusion contributes to a higher stock price than what would otherwise obtain. What Salesforce and its analyst friends are doing is similar to the behavior of brokers in the dot.com bubble. They publicly touted a stock while bashing the stock in private emails to privileged clients. Two sets of books, if you will, is just plain wrong.
We need an earnings number that gives the most accurate and informative picture of a company's performance. I use GAAP then remove (when Salesforce explicitly reports them) changes to the tax valuation allowance (TVA). My technique delivers a more accurate assessment of the actual quarterly earnings and their underlying trend. Here is my table of important metrics.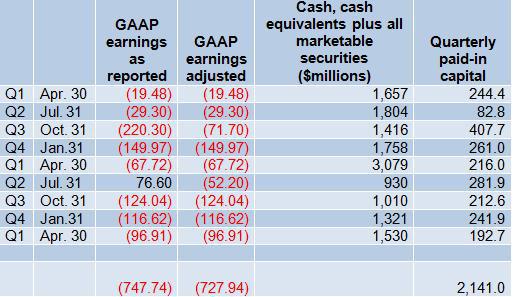 Note: Unless otherwise indicated or hyperlinked, all data in this article is from SEC filings accessed through the Salesforce website.
Over the past nine quarters, on a GAAP basis (adjusted for reported changes in tax valuation allowance), Salesforce lost at least $727.94 million. The loss is greater than what I report if the company further tapped the TVA. No quarter was profitable. The table above clearly shows that the capital contribution of continuing public shareholders supports Salesforce.com. The company is not sustained by its money losing business. The company has projected a further GAAP loss of approximately $201 million over the next three quarters.
Let's take a cursory look at the Salesforce.com business model. Salesforce operates in three main business segments: software as a service (SaaS), infrastructure as a service (IaaS), and platform as a service (PaaS). In all three areas the company faces brutal competition from established titans. IBM (NYSE:IBM), Oracle (NYSE:ORCL) and Microsoft (NASDAQ:MSFT) are active in its main market SAAS. In the IAAS space Amazon (NASDAQ:AMZN) dominates with Google making a massive catch-up effort. In PAAS Salesforce has an 18% market share with Amazon just behind with 17%.
Salesforce business strategy has been an attempt to produce a product which is all things to all people. To this end, it has acquired more than a dozen companies to enhance its original customer relations management software product. These include: Assistly, Prior Knowledge, Radian6, BuddyMedia, Cloudconnect, Pardot, RelateIQ, and the largest purchase ExactTarget. These acquisitions and others, almost all not yet profitable startups, have left a mark on Salesforce balance sheet. At end Q1 2015 there was $3,501 million of goodwill on the balance sheet and several hundred million more of amortizing purchased intangibles. These are huge costs and they contribute to making the Salesforce product more costly to produce than the company is able to charge customers.
There is another problem arising with this business model. Not every current customer wants to pay for each and every product enhancement. This leaves the company charging an outdated insufficient price for its product; or saddles the company with outsized sales and marketing expense derived from attempting to retain or add customers. Salesforce has long intimated that it could significantly improve margins by reducing sales and marketing expenses when it reaches some targeted scale. But so far, as revenues have surpassed an annual run rate of $5 billion, it has failed to demonstrate this.
This leaves the company only one other option: raise prices. The previously hyperlinked article cites Google as recently cutting IAAS and PAAS prices by 68% and 85%, respectively. Salesforces other tough competitors are following suit. So, for Salesforce this appears not to be an option. I and the authors I have cited are in agreement with Jay Schembs thesis that Salesforce is meaningfully overvalued. Now, what is the likely catalyst that will verify our thesis and make shorting Salesforce a sound course of action?
Each Salesforce quarterly earnings report brings the possibility that investors will recognize something which awakens them to the notion that this company is a doubtful investment. Salesforce has announced it will release its Q2 earnings report Aug. 21, 2014. Here are potential catalysts supporting the short Salesforce thesis:
Cash balances are diminished
Shareholders exhaust their patience with dilution
Earnings, revenue or guidance disappoints
In Q1 2014, Salesforce paid down $267.5 million principal on its 0.75% convertible senior notes and spent approximately $186 million to exercise note hedges to obtain and deliver shares to the convertible note holders. Salesforce must pay approximately an additional $550 million or an average $64.7 million per month to the Jan. 15, 2015, expiration date to redeem the remaining notes. Notes redeemed this quarter will diminish corporate cash.
Salesforce has a lumpy annual billing cycle. In fiscal Q1 2015 customers paid down accounts receivable by $676.68 million. In Q2 receivables build again and the company must fund this. Using the average percentage gain in receivables for the last two years as guidance would project use of about $130 million of Salesforce cash for this purpose.
Salesforce has announced a major expansion of its physical plant, including three new data centers in Europe and more in Japan and Canada. It is also taking on a major new expense, moving its headquarters to space in Salesforce Tower in San Francisco, rented from Boston Properties. These initiatives will require substantial cash outlays. Here is a table of my expectations for this quarters change in Salesforce cash balance:

These are my guesstimates primarily based on extrapolation.
During June and December, Salesforce grants stock awards to management and employees. With the decline from $67 per share in Q1 to $51.65 at the Q1 end, Salesforce may feel pressured to grant options on a larger number of shares and at a lower exercise price than in the past to compensate employees. Formerly shareholders could look forward to stock option grants at ever higher strike prices. A lower price grant could spook institutional or other observant shareholders.These are my guesstimates primarily based on extrapolation.
In calendar Q4 2013 and Q1 2014 the 10 largest institutional holders of Salesforce reduced their holdings by 25,509,632 common shares. They reduced their ownership of CRM from 53.23% to 48.02% at end Q1 2014. Chairman and CEO Mark Benioff and other senior officers are also selling. Benioff is currently executing a 10b5-1 plan to sell 20,000 shares every day the market is open. In 2012 he sold 40,000 shares (adjusted for a 4-for-1 stock split) every market day. This selling has taken a toll on Salesforce stock price. The stock has declined 21.26% to $52.75 from $67 per share it touched on Feb. 28, 2014.
Salesforce sold warrants to purchase 26,944,700 shares of common stock when it placed the 0.75% convertible senior notes. These have an exercise price of $29.88 and will expire Jan. 15, 2015, unless exercised. Salesforce will raise $805 million cash from exercise of these warrants. Should the stock fall and they go unexercised, this company will have to raise additional money somewhere else, or face liquidity issues. Salesforce has discussed the hedging of these notes and warrants in numerous SEC filings. The holders of these privately placed securities are presumably sophisticated and surely some of them have hedged their positions by shorting Salesforce stock. Whatever their disposition, there will be a lot more shares coming to market. Salesforce has 185.9 million additional shares reserved for capital commitments or employee compensation.
Salesforce takes a great deal of care in managing expectations about its business. Inevitably there will be a miss of some sort that the company will be unable to assuage. Each quarterly earnings report bears that risk.
In conclusion, Salesforce.com common stock is highly overvalued as there are no GAAP earnings which can sustain its business. Brutal competition makes it difficult to foresee future profitability. Management, institutional investors, and private bankers hedging Salesforce debt have all been aggressive sellers of stock. The coming earnings release brings with it significant risk that investors will open their eyes to the dangers of owning Salesforce stock. I agree with the conclusion of Weighing Machine that $15 is a more appropriate price for Salesforce stock.
There is one caveat to my short Salesforce thesis. This is that Salesforce.com would complement the business of Google, Microsoft, Oracle, IBM, Amazon, SAP (NYSE:SAP) and others. They are all large, well-capitalized, mostly profitable companies. All might be interested in acquiring Salesforce if they could figure out how to make the business profitable. But why buy Salesforce at the current market capitalization of about $34 billion, when there is a good chance it could trade at a quarter of that price soon? I recommend purchase of the January 2015 puts.
Disclosure: The author has no positions in any stocks mentioned, and no plans to initiate any positions within the next 72 hours. The author wrote this article themselves, and it expresses their own opinions. The author is not receiving compensation for it (other than from Seeking Alpha). The author has no business relationship with any company whose stock is mentioned in this article.
Additional disclosure: I am an unpaid consultant to a financial advisor. In conjunction with my guidance, the advisor is short 13,000 shares of Salesforce in client accounts at an average price of $56.97.