The purpose of this article is to compare side-by-side Intel (NASDAQ:INTC) and Qualcomm (NASDAQ:QCOM) as potential investments in the technology industry. I argue that Qualcomm not only has a superior business model to Intel in the mobile chip market but more generally has shown superior financial performance and is a better play on the technology industry going forward. I compare the two firms in terms of their relative business models, valuations, financial performance on a ratio basis, and earnings performance.
Business Model and Prospects
According to Gartner, the number of sales for tablets and mobile phones collectively exceed sales of personal computers by a significant margin. Moreover, the below table demonstrates that sales for personal computers are expected to decline significantly into the future - it is forecasted that by 2017 tablet sales will eclipse that of personal computers.

Source: Gartner (April 2013)
Given the above, Intel still remains highly dependent on sales from the personal computer industry to generate revenue, and this has negatively impacted the firm. For 2013, we can see that the PC Client Group (PCCG) still accounted for 63% of Intel's revenues. On the other hand, Qualcomm has greatly eclipsed Intel in this sphere, with major platforms such as Android being highly dependent on Qualcomm technology. Notably, Samsung's flagship Galaxy S5 version currently utilizes the Snapdragon 801 chip.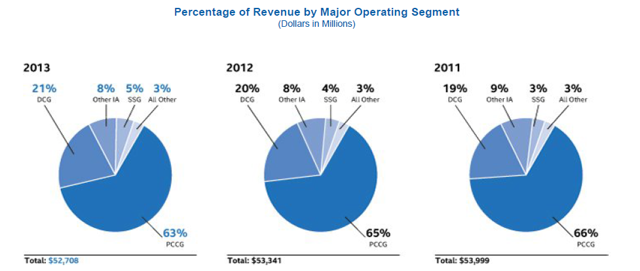 Source: Intel Annual Report (2013)
The reportable segments of QCT (Qualcomm CDMA Technologies), QTL (Qualcomm Technology Licensing) and QWI (Qualcomm Wireless and Internet) have for the most part seen year-on-year increases in revenue. Despite ongoing attempts by some of Qualcomm's largest customers such as Samsung (OTC:SSNLF) to take the route of Apple (NASDAQ:AAPL) and effectively manufacture their own processors among other technologies, demand for Qualcomm's products remain strong. It is my opinion that the quality of Qualcomm's mobile technologies will continue to outlive any efforts by mobile manufacturers to produce the same in-house.

Source: Qualcomm Annual Report (2013)
The firm has proven itself to be a leader in the continued growth of 3G and 4G mobile technologies. The firm's continued investment in specialized technologies such as the OFDMA-based standard 4G LTE along with further expansion of 3G in emerging markets such as China means that competitors face significant barriers to entry to be able to compete with Qualcomm in this market.
Valuations
Based on an analysis of the firm's P/E ratios, both Intel and Qualcomm are expected to have significant upside. When comparing Intel and Qualcomm's P/E ratios of 16.8 and 15.5 respectively to the technology industry's ratio of 25.7, we see that Qualcomm has a greater upside of 65%.

Source: CNBC and Author's Calculations
Additionally, compared to the S&P 500 P/E ratio of 22.10, we see that Qualcomm has an upside of 42% compared to Intel's upside of 31%.

Source: CNBC and Author's Calculations
Given Qualcomm's superior performance in terms of financial metrics as illustrated below, it is my opinion that Qualcomm is significantly undervalued as an investment.
Financial Ratio Analysis
In comparing Intel and Qualcomm on various financial ratios encompassing that of activity, liquidity, profitability and solvency, we can see that Qualcomm outperforms Intel on virtually every measure. The firm has succeeded in delivering vastly higher profit margins, has no long-term debt and overall has a higher inventory turnover than Intel.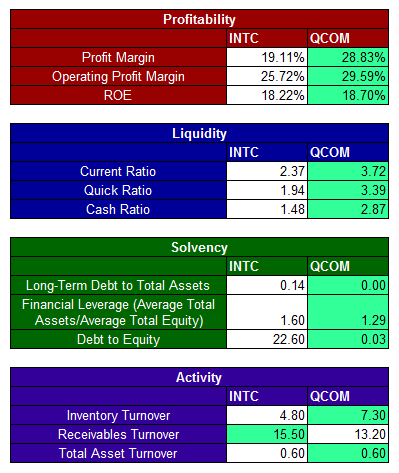 Sources: Yahoo Finance, Bloomberg Businessweek and Author's Calculations
Earnings
We can see that on a year-on-year basis, Qualcomm has shown consistently steady increases in EPS growth whereas Intel's rate of EPS growth since 2012 has been declining. In addition, analysts forecast only a 1.4% growth rate in EPS for Intel, whereas a growth rate of 18.6% is forecasted for Qualcomm.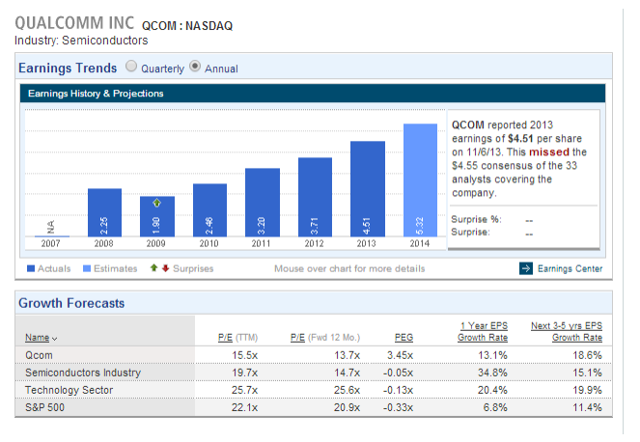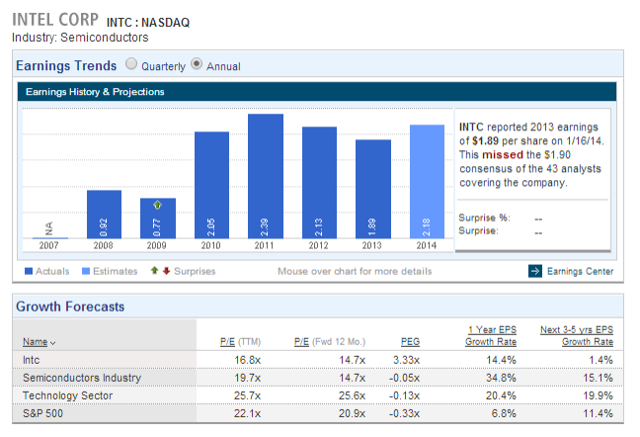 Sources: CNBC
In conclusion, it is my opinion that Qualcomm has a much more dynamic business model than Intel, and is ideally placed to capitalize on the ongoing revolution in the smartphone and tablet markets. Additionally, the firm appears to be trading at a very attractive valuation, especially when one considers its track record of high-quality financial performance.
Disclosure: The author has no positions in any stocks mentioned, and no plans to initiate any positions within the next 72 hours. The author wrote this article themselves, and it expresses their own opinions. The author is not receiving compensation for it (other than from Seeking Alpha). The author has no business relationship with any company whose stock is mentioned in this article.