Social media is a fast growing sector, led of course by the titans in the industry Facebook (NASDAQ:FB), Twitter (NYSE:TWTR) and Linked-in (LNKD). These stocks have seen meteoric rises, falls, and increases time and again. There is certainly volatility in the space, but they are real companies, with real business models, relying on user traffic to primarily generate advertisement revenue. Some have started selling digital goods and currencies to be used on their sites or offer premium subscription services.
The social media sector was rocked when Fed Chair Janet Yellen opined that social media stocks were overvalued. I respectfully disagree, madam Chair. While Facebook is certainly a leader in this field, there are smaller companies that may be worth investing in that are demonstrating significant growth. What are the keys to look for? First, user growth. Second, revenues, if any, as well as revenue growth. Finally, examining the innovation the companies are offering which can help predict the potential movement of the company's user growth, revenues and share price. Through my review of the smaller social media companies, I have identified one company that I believe to be undervalued given its growth potential, as evidenced by its innovation and recent performance. This company is MeetMe (NASDAQ:MEET).
Who is MeetMe?
According to the Yahoo Finance description, MeetMe "makes meeting new people on the Web and on mobile platforms, including on iPhone, Android, iPad, and other tablets, which facilitate interactions among users and encourages users to connect with each other; and monetizes through advertising, virtual currency, and paid subscriptions. The company operates MeetMe.com that provides users with access to an expansive, multilingual menu of resources, which promote social interaction, information sharing, and other topics of interest to users. It also offers online marketing capabilities, which enable marketers to display their advertisements in various formats and in various locations on the Website."
How the company makes money
Clearly MeetMe is a competitor, albeit a small one, of Facebook. But it doesn't stop there. MeetMe fancies itself to be "the online bar" or the "digital coffee house" where you can meet new chat partners through its innovative new approaches to connecting members. I'll discuss this more in a moment. In this sense it competes with many online dating sites like okcupid.com or tinder.com. Its niche fits between the friendship of Facebook, the networking of Linkedin and the ability to meet chat and dating partners of dating apps (figure 1). The company does offer a premium subscription, known as MeetMe plus for $9.99 a month (a discount is offered for bulk purchases) which offers a variety of benefits, including free monthly "credits" (which are also available for purchase for non-premium members).
Figure 1. Where MeetMe Fits Into The Social Media Space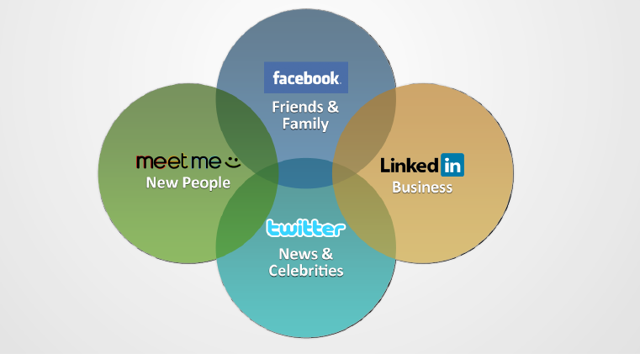 source: MeetMe website
These credits can be used to feature a member's portfolio on other member's home pages, which significantly increases exposure and profile views. What is interesting is members can see who views their portfolio, much like recognizing someone "checking them out" in a bar scene. Credits can allow browsing in secret, and finding out who is examining one's photos. Further, the company has a 'match' feature, where members can view locals and rate them with a yes or no. If the 'yes' rated member also says 'yes', a match is made, which can facilitate these members having an online conversation. Credits can allow members to show up first when individuals use this match feature, increasing their exposure. Finally, the company derives a bulk of revenues from advertisements. In order to increase revenues, the company needs to up its membership and daily average users. But in order to engage members and keep them coming back, MeetMe needs to innovate. And it has been innovating, specifically to drive users to chat (figure 2).
Figure 2. MeetMe's Features Centralize on Driving Chat to Engage Users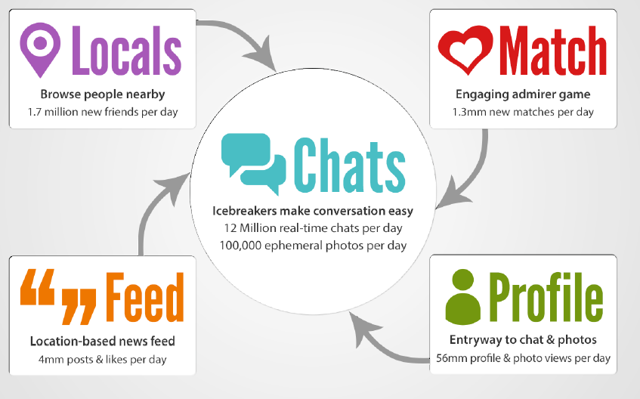 source: MeetMe investor presentation
MeetMe's innovation to engage users
I want to be clear. MeetMe's approach to innovation has focused on improving its chat features to meet new people and make new friends. In turn, this drives user engagement and leads to the potential for more sales of its premium services or credits, and can increase advertisement exposure. MeetMe began a huge overhaul effort in its chat features in its first quarter. It began with users being able to send photos over the chat feature. Before this began in April, users had to use alternate apps or email to share photos, beyond those posted on user's profiles. This change was unique. According to the company "the new ephemeral photo-sharing feature in chat allows users to send transient photos that disappear after 3-10 seconds of being viewed. Additional enhancements include real-time typing indicators, real-time message-read status indicators, and the automatic real-time addition of new messages within conversations (where previously users had to refresh the conversation manually)." This led to overall photo posting volume on the site increasing by 26% in just one week. After the launch over 100,000 ephemeral photos were being shared daily. Two weeks following the news release (link above) chats sent per day in MeetMe's mobile apps were up by 31% relative to the expected average.
This change helped drive a higher daily average user number as evidenced in the Q1 earnings. The Q1 earnings report showed there were more users and more revenues year-over-year. Revenue was $9.5 million, up 22% from the first quarter of 2013. It saw mobile revenue of $4.7 million, up 144% from the 2013 quarter. In fact, mobile average revenue per user (ARPU) was $1.92, up 134% from $0.82 in the first quarter of 2013. Mobile average revenue per daily active user (ARPDAU) was $0.068, up 145% from $0.028 in the first quarter of 2013. According to CEO Geoff Cook on the Q1 conference call:
"The early data also suggest these [chat] releases are having a positive impact on DAU, since the launch of ephemeral photos our mobile Daily Average Users (DAU) has averaged approximately 852,000 users an increase of 10% versus the Q1 average this suggest early signs of the success of our strategy to grow DAU through innovation and chat."
New features drive user growth
To further drive chat in Q2, the company launched so-called icebreakers for the iPhone app. This new feature offers over 400 icebreakers in eight different categories to engage other users in potential chat. Users can select an icebreaker statement of their choice and initiate a chat, rather than having to come up with something to say on their own. Talk about convenience.
Shortly thereafter, the Friend Suggestions feature was launched on its iPhone application. The feature, "previously available on the web platform, surfaces a 'People You Might Like' section within the news feed and friends sections, with the goal of driving more friend requests, new friendships, and ultimately, new chat conversations". But is it having any impact that is are these chat improvements and friend suggestions having an impact? ABSOLUTELY.
For the first time in the company's history, MeetMe saw over 900,000 mobile daily users just a few weeks after the launch of these new features. Further, in the release of the new record user growth, it was stated that chat volume was up 60% since April 2014. That is incredible growth. Two weeks later in June, we learned that chats had eclipsed 15 million in one day, a massive milestone for the company. Prior to the chat upgrades, fewer than 10 million chats were being sent daily. This means that since the chat features were upgraded and the new friend suggestions were implemented, chat volume grew over 50% in two months.
In July, an overhaul of the new friend and new match notifications was conducted. Ok, so what? Well this move drove users to the chat experience in the MeetMe mobile applications because the notifications of new friends and new matches are now being directly sent via user-to-user conversations, which has helped drive new conversations.
But have these moves continued to improve user growth? YES. Two weeks after the launch of the new notification overhaul in chat, for the first time in the company's history, MeetMe saw over one million unique daily average users. This means that since April when the major overhauls began, user growth jumped from 800,000 on a good day to over 1,000,000, which represents a 25% growth in just three months. The CEO Geoff Cook highlights the growth best.
"It took us seven years to reach 800,000 mobile daily active users. It took us another 19 months to [eclipse] 900,000 users, and then just six more weeks to reach one million users."
That growth should catch the eye of anyone who follows social media stocks.
But is user growth translating to revenue growth?
Ok this is the million dollar question. I have highlighted the importance of driving user growth and engaging new users with innovative and exciting features to keep them coming back. I think my analysis has indicated thus far that MeetMe has achieved this goal. But are they translating the user growth to revenue generation? Well in my opinion the second quarter was strong, but I am expecting even more growth in future quarters as the company rolls out new features (outlined below). So how was the quarter strong?
Well, total revenue rose to $10.7 million, which was up 13% from the second quarter of 2013. This was strong growth, but I was expecting more and think that we will see real growth in the coming quarters. However, where I am really excited is in examining the mobile growth. Mobile revenue was $5.6 million, which was up a whopping 114% from the second quarter of 2013. Mobile revenue outpaced web based revenue. This quarter, it represented nearly 53% of total revenue, the highest proportion in MeetMe's history. But is there growth in the revenue from mobile revenues? YES, and it has been growing every quarter (figure 3).
Figure 3. Growth in MeetMe's Mobile Average Revenue Per User, Last Five Quarters.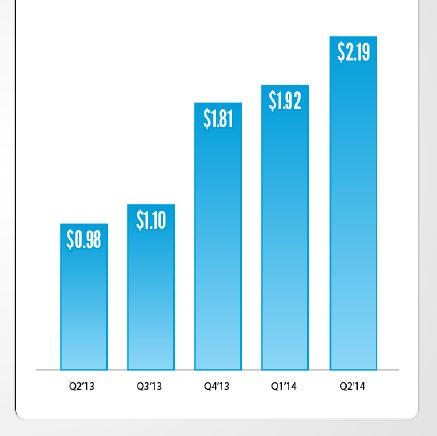 source: MeetMe investor presentation
Mobile ARPU was $2.19, up 123% from $0.98 in the second quarter of 2013, and exceeded web ARPU of $1.28. Further, mobile ARPDAU was $0.074, up 100% from $0.037 in the second quarter of 2013. It should be noted that MeetMe's mobile ARPU actually outpaces Facebook's ARPU (figure 4).
Figure 4. Comparison of MeetMe Vs. Facebook Mobile Average Revenue Per User, Second Quarter 2014.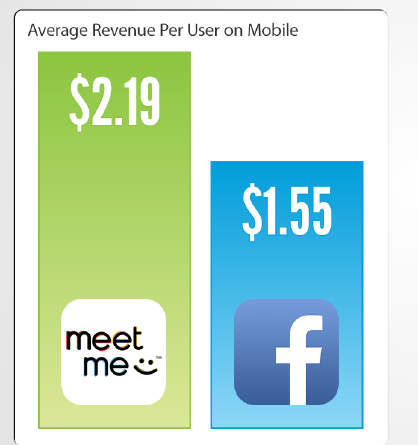 source: MeetMe investor presentation
Overall, adjusted EBITDA was $740,400 compared to $384,000 in the comparable 2013 quarter - nearly 100% growth. And the company is moving in the right direction, that is, it is approaching profitability. While it is still losing money, I think the trajectory is what matters here. MeetMe reported a net loss of $1.4 million compared to a net loss of $2.1 million for the second quarter of 2013. Further, the company now has cash and cash equivalents of $5.8 million at the end of the quarter, but also just raised $10.5 million from a secondary offering. While the offering is dilutive, which can harm shareholder value, for the long-term, with the growth the company is achieving, having this cash allows the company to focus on its expansion efforts.
More innovation on the way
Just last week, MeetMe launched a new feature to further drive chat called "hit me up". This feature allows users to instantly engage in conversation, as opposed to finding users nearby or through the match feature. This feature is available for both the iPhone and Android app. It lets users indicate that they are available to chat at the present moment. Users who are viewing the hit me up feature can filter potential chat partners by age, gender, and location for maximum convenience to target ideal chat partners. What is interesting is that you have to sign up for hit me up after each hour to indicate being available to chat. This subsequently should drive users to be engaged in the app more often, specifically those looking to chat with new partners. Finally, the new friend suggestions feature, which led to an instant 30% increase in friends request on iPhone, is now available for the Android app.
Risks
As with any company there are risks involved. Just because the company is increasing its potential market by increasing its daily average users does not necessarily mean this will translate into more revenues and more earnings. Currently the company is losing money, although the trajectory is moving toward profit. There is also no guarantee that another competitor will not out-innovate MeetMe and there is no guarantee that other companies/apps will not better serve the competitive market of social media users. Further, despite MeetMe's history of driving new user engagement and keeping them coming back, not all changes may be a win. Some changes may not be accepted by users and could alienate said users. Finally, while the company is growing at a healthy clip, there are no guarantees that a larger app (such as Facebook) will not target this company. In an ideal world, MeetMe is a takeover target, but its revenues are but a drop in the bucket for Facebook. While a takeover is not necessarily a risk to owning shares, being a target for direct competition is.
Conclusion
I do not agree with the premise that social media stocks are all overvalued. Social media relies on driving user engagement, and profiting from user time spent on the site. That said, MeetMe is growing users at an incredible rate, and revenues are beginning to follow-suit. Further, its mobile revenue growth is heading significantly higher. While it is not quite exponential, over the last five quarters it has been an incredibly strong positive trend. The company is successfully innovating and its mobile ARPU is outpacing even Facebook's. However, even though MeetMe is unlocking extreme value for its app users, shareholders have watched the stock drop from nearly $3.50 in the spring, down to the present price of $2.20, or a loss of 37% in the months where the company is growing users and revenues. To me, this divergence is a paradox, and while valuing social media companies is difficult, it is my opinion that shares are severely undervalued given the positive trajectory and growth the company is producing. That said, I think there is incredible upside in this stock, with a very limited downside.
Disclosure: The author is long FB. The author wrote this article themselves, and it expresses their own opinions. The author is not receiving compensation for it (other than from Seeking Alpha). The author has no business relationship with any company whose stock is mentioned in this article.