Mondelez (NASDAQ:MDLZ), the proud owner of some of the world's most-recognizable brands in the packaged food industry such as Oreo and Cadbury, has seen some volatility in its stock price but managed to produce a price gain of 11.29% in the last year. MDLZ is well positioned to sustain its growth. Seventy-five percent of its product portfolio is fast-growing snacks. MDLZ has an innovative platform that has proven its ability to produce its world-favorite snack brands. Its presence in both developed and emerging economies gives it a strong footing in the global food industry.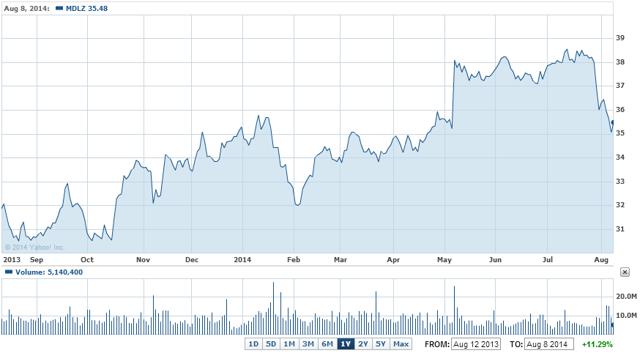 MDLZ is working on a multi-dimensional strategy for growth. MDLZ is focusing on global snack demand to capture the growth presented. Another area MDLZ is focusing on is margin expansion and cost reduction by bringing efficiency across all areas of its business. MDLZ is working to simplify the business processes to make them more efficient and leaner to facilitate fast decision making. MDLZ's continued investment in human resources, new brands, and capabilities make it a good investment.
Evolving to Win Through Pure Play
MDLZ has taken a bold step towards creating the world's leading pure-play coffee company in order to become a strong competitor to the coffee market leader Nestle SA (OTCPK:NSRGY). This is likely to bring more focus on its snacks business. MDLZ and its competitor, D.E. Master Blender 1753 (OTC:DEMBF) are working on merging their coffee segments that are expected to produce competitive strength and synergies to deliver growth in the coffee business. Both companies are a strategic fit with their complementary brands and technological infrastructure. The combined companies will be able to capture the growth opportunities available around the globe and will be able to benefit from increased focus on operations, investments and scale.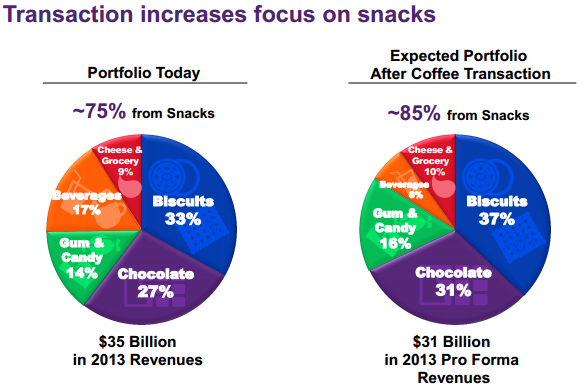 Source: Company investor presentation
The new company is named Jacobs Douwe Egberts (JDE) and will be based in the Netherlands and will be a market leader in more than 25 countries. The new company will have it's a strong presence in the emerging markets and capitalize on the strong growth prospects. MDLZ is aiming to capture the opportunities in the huge $81 billion global coffee market. The combined coffee company is expected to produce $7 billion in annual revenues and an EBITDA margin in the high teens.
Another Step towards Focus
MDLZ is working to bring growth to its top and bottom lines. One of the ways MDLZ is achieving this goal is by bringing more focus to its business to better exploit the available opportunities and bring gains in efficiency to bring costs down. MDLZ is stepping up its efforts to deliver best-in-class costs.
Last month in July, the company announced it would create a standalone European cheese and grocery business that is expected to allow more focus on its fast-growing snack business. MDLZ owns 53 brands in its snack and refreshment business. These brands are valuable to MDLZ as each produced about $100 million or more in revenues in financial year 2013. This separate segment would have a separate sales team that would employ more focused selling efforts rather selling a wider range of products. MDLZ is expected to reap the benefit of improved growth strategy execution and a strategy to optimize its operations in Europe.
Reengineering the Supply Chain to Expand Margins
MDLZ is employing a lot of effort into reengineering its supply chain. In three years Mondelez hopes to achieve $3 billion in gross productive cost savings, $1.5 billion in net productivity cost savings and $1 billion cash flow. In order to pursue this plan, MDLZ is on track to opening its Mexico facility in the fourth quarter of the current financial year. MDLZ is working on important projects in the emerging markets of India, China, Russia, and the Czech Republic. MDLZ has also reduced its supply chain staff by 3,000.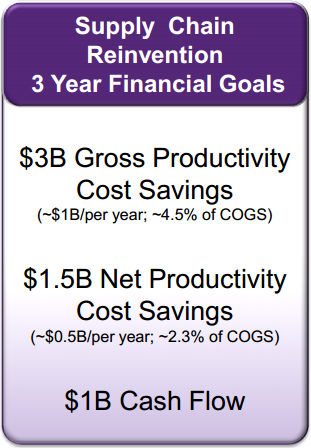 Source: Company investor presentation
Rewarding Shareholders
MDLZ has a history of rewarding its shareholders with a decent dividend stream. MDLZ's plan to repurchase its shares worth $7.7 billion up until 2016 has $4.5 billion to be used for repurchase. MDLZ expects to repurchase shares using $1 billion to $2 billion each year. MDLZ also expects to payout a modest dividend worth nearly $1 billion per year that would increase over time. MDLZ is expected to maintain a minimum payout ratio of 30%. This makes MDLZ an attractive investment for investors who like a dividend cash stream from their investment.
Valuation Presents an Upside
MDLZ's consensus price estimate shows a decent upside. Target prices provided by 16 brokers have a mean value of $39.94 with an upside of 12.5% on its current price of $35.50. The median target price is $41 presenting a positive potential of 15.5%. The highest price estimate offers an expected price gain of 27% and the most pessimistic price estimate has a downward potential of -13%. The positive upward potential estimated on the basis of the consensus target price makes MDLZ a good investment opportunity at its current price level.

Relative Valuation Indicates Undervaluation
MDLZ's P/E ratio is 20.99 times which is lower than the industry and sector P/E showing a relative undervaluation. Using the PEG ratio after scaling the P/E ratio with the growth potential further explains the company's situation. Here MDLZ is undervalued compared to the industry, the sector and S&P 500.Hence these price multiples show an upward potential at the current price and make the share price attractive.

Conclusion
Mondelez is a stable company that has a long history of growth and stable operations. It owns some of the most-recognized food brands that provide evidence of its innovative capabilities. It is operating in both developed and emerging markets giving its global business a strong foundation. MDLZ is bringing focus to its business that is likely to bring growth in its top and bottom lines and margin expansion. The dividends and share repurchases along with the attractive valuation shows an upward potential makes Mondelez a good long-term investment.
Disclosure: The author has no positions in any stocks mentioned, and no plans to initiate any positions within the next 72 hours. The author wrote this article themselves, and it expresses their own opinions. The author is not receiving compensation for it (other than from Seeking Alpha). The author has no business relationship with any company whose stock is mentioned in this article.
Editor's Note: This article discusses one or more securities that do not trade on a major U.S. exchange. Please be aware of the risks associated with these stocks.