Yesterday I began building client positions in the shares of Liberty Capital (LCAPA). Not all client positions were purchased, but I expect to complete the buys within a few days. LCAPA is somewhat thinly traded and its shares are tied closely to those of Sirius XM (NASDAQ:SIRI), making trading a bit tricky.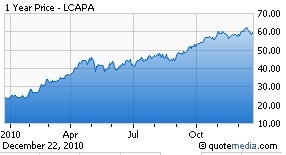 LCAPA is the investment vehicle of legendary cable and media investor John Malone. Malone controls a private company called Liberty Media which has interests in assets including QVC, Discovery Communications (NASDAQ:DISCA), Starz Encore, Sirius, and Liberty Global (the largest cable company outside the US). Historically, Malone has used tracking stocks to reflect the values of different portions of his media empire. Right now, there is a tracking stock that predominately reflects QVC Liberty Interactive – LINTA) and Starz Encore (Liberty Starz). The third tracking stock presently is LCAPA.
LCAPA is a collection of investments made by Malone over many years. Most of the assets tracked by LCAPA are publicly traded securities. The largest by far is a 40% stake in SIRI that accounts for over half of LCAPA's asset value. Malone made a perfectly timed investment in SIRI at the bottom of the financial crisis, providing financing to keep SIRI out of bankruptcy in exchange for 40% of the company. After SIRI repaid the loan with interest, LCAPA essentially got 40% for SIRI for nothing. Today, that investment is worth almost $4 billion, or more than $45 per LCAPA share.
SIRI has staged a strong turnaround over the past year as domestic auto sales have begun to improve and cost synergies related to the merger of Sirius and XM have taken hold. SIRI is now producing free cash flow and enjoying renewed subscriber growth and expanding margins. Assuming the US economy continues its recovery, auto sales should grow and SIRI is set up for a strong 2011. Each penny move in SIRI shares is worth 25-30 cents in LCAPA. I think SIRI can approach $1.75, possibly $2.00 in 2011, providing plenty of upside for LCAPA.
Other LCAPA holdings include stakes in Time Warner (NYSE:TWX), Sprint (NYSE:S), Motorola (MOT), Viacom (NYSE:VIA), Live Nation (NYSE:LYV), and CenturyLink (NYSE:CTL). Significant privately held assets include the Atlanta Braves baseball team, a stake in satellite company TruePosition, and an annual fee paid by CNBC.
Add it all together, and subtract LCAPA's modest level of debt, and net asset value is around $85 per share. LCAPA trades at just $60, about a 30% discount. Tracking stocks always trade at discounts because shareholders do not have a direct claim on the assets. In addition, LCAPA trades at a complexity discount due to its many holdings and Malone's history of moving assets around and making new investments. Finally, the significant weighting of SIRI is LCAPA's asset mix leads to a discount.
The discount has narrowed somewhat in the past year as SIRI's turnaround has become more secure. I think further narrowing can occur in 2011 as SIRI continues to perform well, and a March 2012 date approaches that will free LCAPA and SIRI to restructure their relationship such that LCAPA shareholders may get a direct stake in SIRI. This would narrow or eliminate most of the discount. I also expect further upside from most of LCAPA's other investments.
The bottom line is that LCAPA's net asset value should continue to grow while the discount to net asset value narrows providing two ways to make money on the shares. I believe LCAPA can reach $80 in 2011, providing upside of over 30%.
Disclosure: LCAPA is widely held by clients of Northlake Capital Management, LLC including in Steve Birenberg's personal accounts. LCAPA, TWX, S, VIA, and LYV are net long positions in the Entermedia Funds. SIRI is a net short position in the Entermedia Funds as a partial hedge against LCAPA. Steve Birenberg is co-portfolio manager of Entermedia, owns a stake in the Funds' investment management company, and has personal monies invested in the Funds.