Everyone knows that there is an inverse relationship between the price of an existing bond (long-term Treasury bonds, tracked by the eponymous ETF, iShares 20+ Year Treasury Bond ETF (NYSEARCA:TLT), are an actively traded example) and the level of interest rates. "As interest rates rise, bond prices fall," is as burnt into finance students' brains as much as quotes from Hamlet are to those of thespians.
The situation is more nuanced with utility shares, however. Sure, the Utilities Select Sector SPDR ETF's (NYSEARCA:XLU) current yield of 3.57% handsomely doubles that of the SPDR S&P 500 Trust ETF (NYSEARCA:SPY). But unlike the fixed payment of their Treasury bond cousins, the dividends paid by component stocks of XLU can increase over time (or decrease) as economic conditions and profitability vary.
So, what can we say about the prospective performance for XLU given prospects of higher interest rates (as the Fed ratchets down QE) and the economic recovery gains steam (which would increase payouts)? The former would push XLU lower; the latter would make it more attractive and likely to appreciate in value. Does one feature dominate the other?
To help answer this question, in this and future articles we will look at the effect rising rates have had on the performance of utility stocks over that span. We will use long term interest rates as our focus, since we assume shareholders in these stocks are in for an equally long term.
Since 1990, there have been four periods of sustained increases in long-term rates: admittedly a judgment call, but a glance here should make it clear we have chosen four periods where interest rates rose significantly and over a period of a year or more.
The chart below shows the Dow Jones Utility Index performance over these four intervals. It might help to click on it and enlarge it in a separate window while you read the text which follows.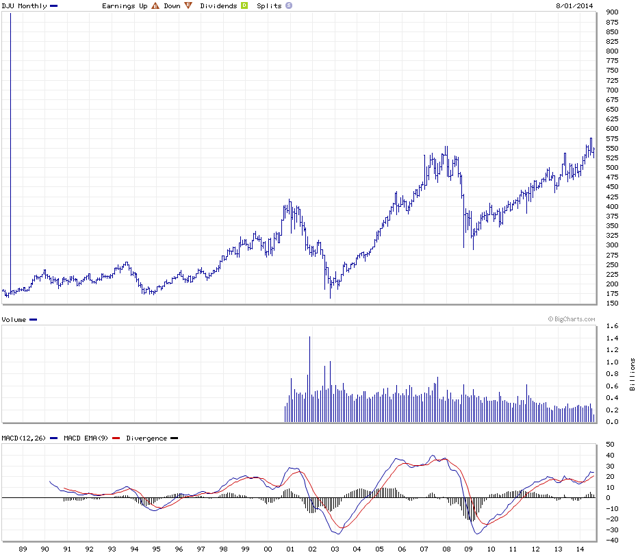 Source: Yahoo Finance
October 1993-November 1994: During this 13-month period, long-term rates rose from just below 6% to a tad over 8%. The utilities fell as well, a hefty 33% over this span.
October 1998-January 2000: A 15-month span which saw rates rise from 4.7% to 6.7%. The best description of utilities over this span is volatile; they made little net progress.
December 2008-April 2010: A 17-month span of great economic and political turmoil, over which rates rose from 2.5% to almost 5%. Again, the verdict is much the same: a lot of volatility but little net gain unless you were lucky enough to pick the exact bottom that fateful winter.
Finally, the most recent example, July 2012 to January of this year. For the third time, utility stocks showed little net progress, a solid rally in the middle of the span wiped out by weakness at the end of last year.
What conclusion can investors draw from these four examples? It was a bumpy ride, and in one case the selloff was very sharp. Rising interest rates give utility shares a very strong headwind and make capital appreciation difficult or impossible to come by. Economic conditions don't seem to be a factor: the first two periods were economic booms; the latter two saw financial crises in Europe and America, amidst slow growth.
One common feature though: all four of the periods were followed by substantial increases in utility prices. It appears that once the rise in interest rates appears to slacken, investors snap up those high yields while they can. Against the advice of many Seeking Alpha writers (including myself) who thought interest rates would soar in 2014, those savvy XLU buyers around Christmas of last year boast capital gains of 11%, far better than the 6% or so on broader ETFs like SPY.
The consensus looking forward is that improving economic growth and the end of QE by the Fed will push interest rates higher over the next few quarters. (We may be wrong, but we stick to our guns!) In that case, it appears to be too late to buy XLU: the big run-up this spring has already baked in the weakness we saw in 2014's earlier GDP figures. I suggest avoiding the shares, as they present a lose/lose proposition: substantial volatility with the possibility of further price weakness.
Disclosure: The author is long IHI, XLK. The author wrote this article themselves, and it expresses their own opinions. The author is not receiving compensation for it (other than from Seeking Alpha). The author has no business relationship with any company whose stock is mentioned in this article.
Additional disclosure: I own some utility shares (AT&T (NYSE:T), Verizon (NYSE:VZ)) through the Technology Select Sector SPDR ETF (NYSEARCA:XLK).