Brocade Represents a Good Opportunity
Brocade Communications Systems Inc (NASDAQ:BRCD) reports its earnings after the close on 21 August 2014. The company's fiscal year ends in October, so this is the third quarter report. Let's take a look at how the company's financials stack up going into the report.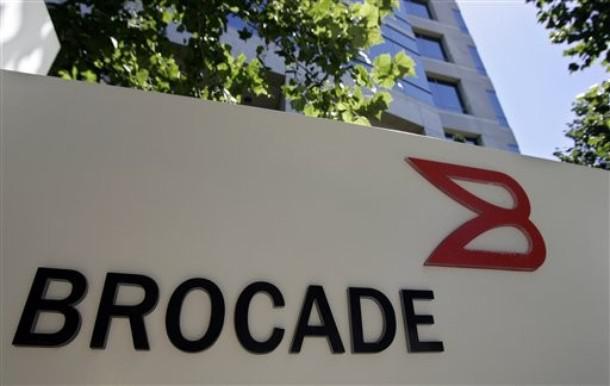 Earnings Forecasts
Going into the earnings report, the consensus earnings per share forecast is for BRCD to earn $0.16 per share, with a high of $0.17 and a low of $0.15. Revenue is forecast to come in at $534.71 million.
Brocade has beaten analyst forecasts for both earnings and revenue in each of the past four quarters, usually by several pennies per share in earnings, though in the second quarter they just barely beat the earnings forecast by less than a penny.
Last quarter, Brocade reported revenues of $536.91 and earnings of $0.19 per share. This beat analyst forecasts of $532.22 million and $0.1857.
There is a consensus Hold recommendation on the stock, with 17 analysts having that as their rating, 1 Buy, 6 Outperform, 4 Underperform and 1 Sell.
Looking forward, the forecast for the fourth quarter ending in October and to be reported in November 2014 is for earnings of $0.19. Consensus forecasts for the full fiscal year ending then are for revenues of $2.2 billion and earnings of $0.8404.
Relative Valuation
Brocade is in the Data Storage industry of the Technology Sector. It looks fairly valued based upon several key measures.
With a price/earnings ratio of 17.0, Brocade has a lower multiple than peers EMC Corp. (EMC), Western Digital (NYSE:WDC), SanDisk (SNDK), NetApp inc. (NASDAQ:NTAP), and Teradata Corp. (NYSE:TDC), which are at 24.2, 23.5, 19.2 22.6, and 19.1, respectively. It only tops Seagate Technology PLC (NASDAQ:STX), which is at 13. The industry average according to Morningstar is 21.0, and the overall S&P 500 is slightly over 19.
Brocade also is cheap on a price/book ratio at 1.7, coming in under all of those peers. The average for the industry is 3.0.
In terms of price/sales, Brocade at 1.9 also has an edge on the others, with only Western Digital (1.6) and Seagate (1.5) having better numbers. The industry average is 2.1.
Brocade's net income growth has been impressive over the past few years, averaging 21.4% versus its peers' 6.1. That is a sign of an efficient company. However, Brocade has been lagging in revenue growth, averaging 2.1% growth versus its peers' 9.9%. Thus, the revenue side is where analysts will be looking to see if Brocade can pick up the pace a bit.
Brocade is a mid-sized player in the data storage field, with a market cap of $3.995 billion. That is smaller than all of the other companies just mentioned. Combining that with its attractive valuation, Brocade thus has been the subject of takeover chatter for years. In fact, the takeover rumors are so persistent that they almost have become amusing. However, there are no current rumblings, and nothing ever has come of it. A major reason for the lack of any takeover activity is that Brocade does business with many potential suitors that are competitors of each other, so if any of them bought Brocade, Brocade would abruptly lose business from the others, making it less valuable to the acquirer.
Soros Fund Management closed out its sizable stake in Brocade during the second quarter, and they are unlikely to have done that if there was anything credible going on in that regard.
Brocade's value also is enhanced by the fact that it just instituted a $0.035 dividend for the first time in June, giving it a dividend yield of 1.5%. The next ex-dividend date should be in early September. At the moment, among the top data storage devices stocks, only Seagate, NetApp, and Western Digital offer higher yields.
What Makes Brocade Particularly Interesting
Brocade is executing well, beating earnings estimates with regularity, it just instituted a dividend, and its data center business is creating growth opportunities around the world. There are many positive things going on with Brocade at the moment.
Brocade's recent partnership with equipment provider Ciena (NASDAQ:CIEN) in early May 2014 may already have started bearing fruit. The two companies are jointly developing a network-sharing solution allowing service providers to make better use of the cloud. Their first product rolled out in mid-May. Brocade also partnered with Aruba Networks (NASDAQ:ARUN) last year to challenge Cisco Systems (NASDAQ:CSCO) directly in the campus networks arena.
Brocade has been focusing on its Ethernet switch strategy. There is a lot of potential for data center growth overseas, especially in Asia, Eastern Europe and South America. CEO Lloyd Carney talked about this during the last conference call:
"I mean as these countries are building out their data center infrastructure, mimicking what we did here in the west, and they're building out large SAN infrastructures and we're seeing some of the largest SAN infrastructures in the history of the company that we're looking at right now in some of these BRIC countries."
The company also has been rolling out some exciting new product offerings that should help Brocade to maintain its growth in the months ahead. These include its first 10-gigabit virtual router for carrier-class networks and OpenFlow 1.3 support. Other new initiatives include multi-tenancy and 100-gigabit connectivity on its Ethernet fabric products, its Vyatta NFV platform, and new software networking products. Brocade also is working on ways to eliminate network congestion, and is working with a large mobile carrier to generate new, more efficient ways of delivering sales content.
Brocade should be able to pick up meaningful new business in the networking industry with these new products and alliances, especially with Cisco Systems appearing to stumble. Brocade is in the right place at the right time with Cisco having to lay people off. These new products and initiatives also should broaden Brocade's appeal within its core business.
Brocade's cash flow is solid, with the company making over half of its 2014 cash flow target during the first half of the year, and with the second half of the fiscal year typically being the stronger period. Thus, financially it has a free hand to take advantage of opportunities coming its way.
Why Brocade May Be a Good Pickup Before Earnings
Brocade thus looks interesting from a value perspective and because it appears to be executing well, with enticing opportunities both at home and abroad. But its stock price also may do well for additional reasons.
Short interest in Brocade has spiked this summer. This has contributed to a drop in the share price from its 52-week high of $10.96 on 2 April 2014 to a low of $7.72 on 8 May and a tepid recovery so far to its current $9.33. Despite that, the stock currently is holding just above its 200-day moving average.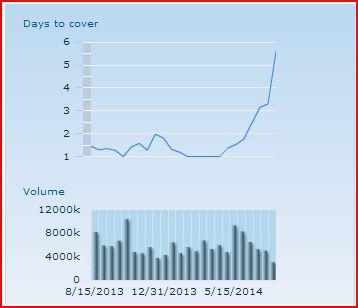 Source: Nasdaq.com
In fact, days to cover has risen from 1.0 to 5.5 in the past few months.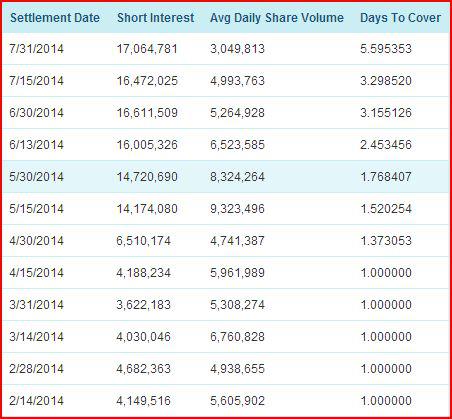 Source: Nasdaq.com
The growth in short positions is puzzling. It may have been in response to the Soros exit from its position -- word of that type of thing can leak out well in advance. However, there has not been any particularly bad news coming out of Brocade this summer, and shorts may be a bit complacent. There also should be a natural tendency for the shorts to cover before the next ex-dividend date in September if the company reports good results again. The stock's chart is not looking particularly bearish.
For comparisons sake, this is how Brocade has responded recently after past earnings: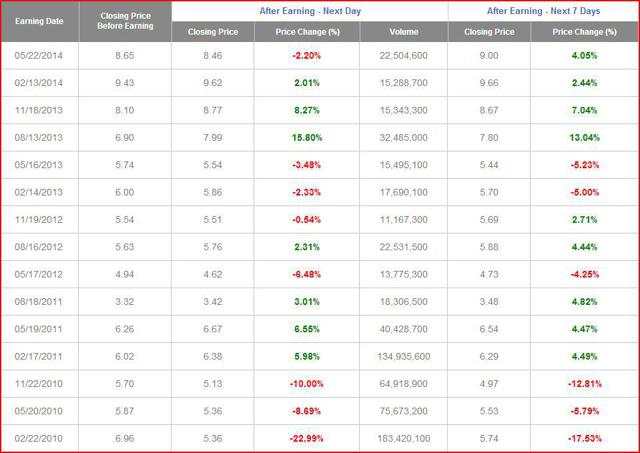 Source: Stocksearnings.com
With the stock price up after three of the last four earnings reports the next day, and four out of four times after a week, the potential for a bounce after this earnings report is a good possibility. For a stock that normally trades at a 1-2 days to cover to spike up to 5.5 days to cover, well, that is a big jump, especially in the absence of any hard news.
Some of those shorts may get itchy fingers either right before the earnings report, or right afterwards if the numbers are good. It would not take much to set off a short squeeze with five days to cover unless the company reports poor earnings. If the earnings are average or slightly weaker than expected and the stock weakens a bit, those shorts might take that opportunity to "buy the news." So, Brocade's stock is setting up nicely for this report.
Conclusion
Brocade is a good value relative to its peers and may also be a good pickup going into or shortly after its earnings report after the close on 21 August 2014.
Disclosure: The author has no positions in any stocks mentioned, and no plans to initiate any positions within the next 72 hours. The author wrote this article themselves, and it expresses their own opinions. The author is not receiving compensation for it (other than from Seeking Alpha). The author has no business relationship with any company whose stock is mentioned in this article.