A long-time advantage that Apple's (NASDAQ:AAPL) iOS held over Google's (NASDAQ:GOOG) (NASDAQ:GOOGL) Android was the relative lack of fragmentation seen in the iEcosystem. Essentially, the diverse group of Android smartphone manufacturers meant that there were significant percentages of users still relying on older versions of Android, while most iPhone users were running the most current release. A recent article from Gigaom, however, suggests that the fragmentation issue has been largely solved. While the article attacks the question from the perspective of an app developer, as an investor, this is a significant advance for Google, and one that adds to the continuing argument for keeping Google shares as a core technology holding.
Fragmentation
One of the challenges faced by app developers is the reality that different smartphones running different OSs require slight modifications to the app. This has historically been a much bigger problem on Android, largely because smartphones from outside manufacturers like Samsung (OTC:SSNLF), essentially ran the version that came pre-installed. One of the selling points of Motorola products has been that they can get OS updates, making them more current than Android smartphones from competitors. The chart below from the Android developer's portal shows data collected for a 7-day period ended August 12, 2014: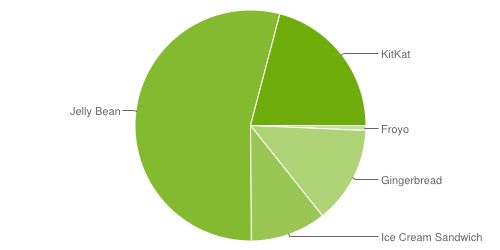 Source: Google Developer's Portal
Eddie Vassallo, CEO of the UK-based app developer Entropy, recounts how people in his field used to lament many of the problems cause by the breadth of Android options in the mainstream:
· A splintered, "lowest common denominator" experience that forced developers to use outdated SDKs, APIs and tools to ensure the widest possible handset and OS compliance.

· A design and testing minefield with hundreds of device screen sizes, OS versions, hardware features, input gestures and just about every other testing scenario you could imagine.

· A dramatically reduced target audience for your app, because only a small percentage of Android users were capable of accessing certain apps on certain devices.
The good news, however, is that Vassallo admits that the fragmentation problem is now a "myth." The reason is that Google is moving more and more of the "behind the scenes" support for Android apps to Google Play Services and out of Android itself. When you look at the percentage of Android users running the current version of Google Play Services, it is more in line with the percentage of iPhone users running the most current version of iOS. Interesting, Vassallo, a self-proclaimed Apple fan, noted that he is seeing more and more people and projects switching to Android.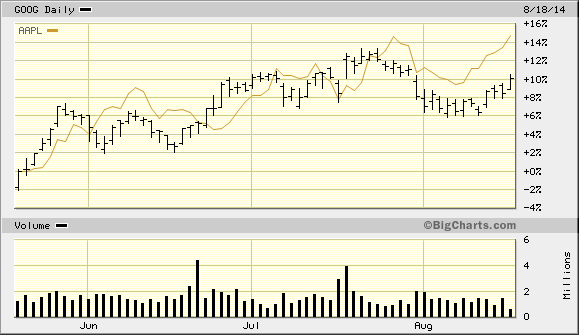 Implications for Google
With Google's monster market share on the OS side, IDC has global market share approaching 85% as of the second quarter statistics, making app development appealing is critical. This is especially true when one remembers that Android is a free platform upon which third-party UIs are commonly built. If Google can entice developers to focus on Android projects as being preferable to iOS, this has the potential to drive market share even further, even in the premium end of the market that is important for revenue recognition.
As Google is celebrating its 10-year anniversary, the company has become the very definition of what technology and innovation is and is meant to be. With a P/E just north of 30, there is an argument to be made that the stock is a little pricey. However, given the breadth of the company's ambition, it remains the must-own name in the sector. At current levels, the stock has remaining upside and remains a buy.
Disclosure: The author has no positions in any stocks mentioned, and no plans to initiate any positions within the next 72 hours.
The author wrote this article themselves, and it expresses their own opinions. The author is not receiving compensation for it (other than from Seeking Alpha). The author has no business relationship with any company whose stock is mentioned in this article.