Shares of SeaWorld Entertainment Inc. (NYSE:SEAS) have fallen sharply following the company's disappointing second-quarter earnings report. SEAS shares are down nearly 50% since hitting an all-time high of $35.30 on February 26, 2014.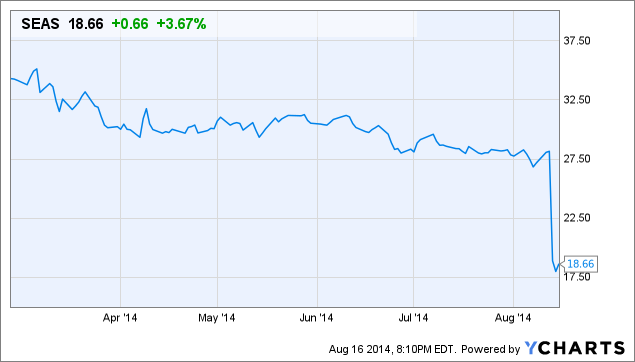 SEAS data by YCharts
Earnings Report
SEAS reported a second-quarter profit of 43 cents per share and revenue of $405.2 million. Expectations were for 59 cents per share and revenue of $445 million. SEAS also said that attendance at its parks increased 0.3% compared to the same period a year ago. SEAS said that weak results were due to "demand pressures related to a recent media attention surrounding proposed legislation in the state of California." Potential legislation in California is part of the larger story which has surfaced since the documentary "Blackfish" was released.
Blackfish Pressure To Abate Over Time
While it is not currently clear how long SEAS will continue to face headwinds from "Blackfish", I firmly believe the negative pressures will abate over time. History has shown that companies facing short-term crisis, such as multi-billion dollar lawsuits filed against big tobacco companies in the 1990s, BP's Deepwater Horizon oil spill, Toyota's massive recall problems in 2010, Royal Caribbian's 2013 fire, and most recently Target's massive data breach, have been able to recover strongly given time (this recovery is still in progress). I believe "Blackfish" will prove a similarly transitory headwind. SEAS recently announced plans to upgrade its killer whale habitats, a plan which over time is going to cost "several hundred million dollars." SEAS is also pledging $10 million in matching funds for killer whale research. These moves will not satisfy SEAS most vocal critics, but could go a long way in bringing back marginal customers who likely decided to visit other theme parks over the past few months.
3 Reasons To Buy SeaWorld
1. Share Buyback
As part of its second-quarter earnings release, SEAS announced a new $250 million share repurchase program effective January 1, 2015. This news was overshadowed by the earnings short fall and subsequent fall in SEAS shares. Given SEAS current market cap of $1.7 billion, the new buyback amounts to more than 14% of shares outstanding.
2. Dividend Yield
Due to the recent decline in its share price, SEAS now yields more than 4%. This yield is especially valuable given the current low interest rate environment.
3. Valuation
As shown by the charts below, based on a number of metrics, SEAS is trading at a cheaper valuation than its two closest peers, Six Flags (NYSE:SIX) and Cedar Fair (NYSE:FUN). Due to SEAS current valuation, it would not be a complete surprise to see a takeover offer for the company emerge from Six Flags, Cedar Fair, or a financial sponsor. Blackstone remains the largest shareholder of SEAS and it is possible, while unlikely, that Blackstone makes a move to again take SEAS private.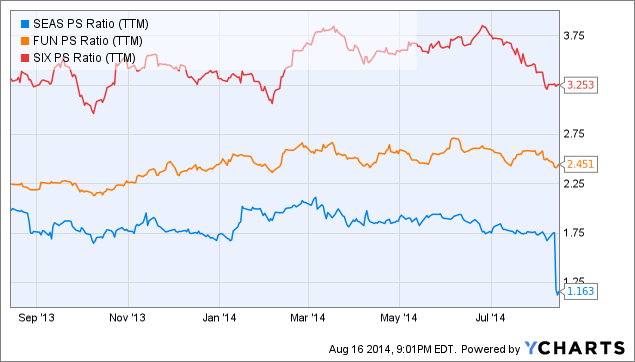 SEAS PS Ratio (TTM) data by YCharts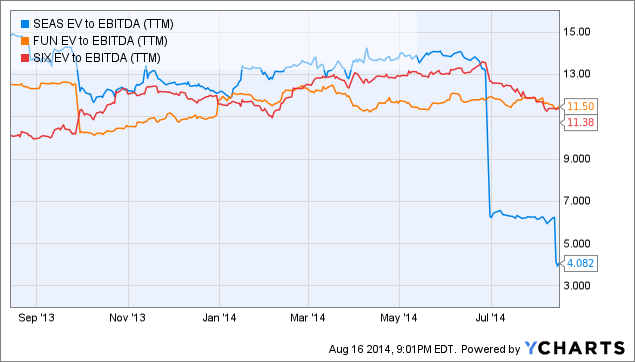 SEAS EV to EBITDA (TTM) data by YCharts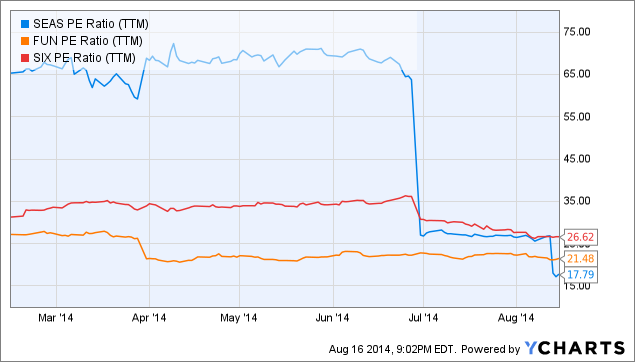 SEAS PE Ratio (TTM) data by YCharts
Conclusion
Long-term investors should use the recent decline in SEAS shares as a buying opportunity. I believe that headwinds relating to "Blackfish" will abate in the months ahead and the company will once again return to earnings growth. SEAS dividend, share buyback, and valuation are all reasons why I am bullish. Additionally, I believe a long-term catalyst for SEAS is potential expansion overseas. While still in the early stages, I believe international expansion has the potential to send SEAS shares sharply higher over the next few years.
Disclosure: The author has no positions in any stocks mentioned, but may initiate a long position in SEAS over the next 72 hours. The author wrote this article themselves, and it expresses their own opinions. The author is not receiving compensation for it (other than from Seeking Alpha). The author has no business relationship with any company whose stock is mentioned in this article.