Background
For almost six years, the Federal Reserve has been holding interest rates close to zero. The default rate has never been so low since 2008 and investors are crying for collateralized loan obligation (CLO) equity.
The CLO product has been to the graveyard several times over its 25-year history. Written off as dead, at least twice. The first time in the wake of the early-2000s default spike and the second time after the 2008 credit crunch. The complete structured finance market came under intense regulatory scrutiny, but has proven resilient yet again, and in fact is thriving like never before.
The CLO markets will continue to fly the coming months. Global volume stands at $89.86 billion year-to-date.
The number of managers that issue CLOs is on the rise again and increased to 101, from 92 in 2013 and 66 in 2012. An all-time high of 110 from 2006 is within reach.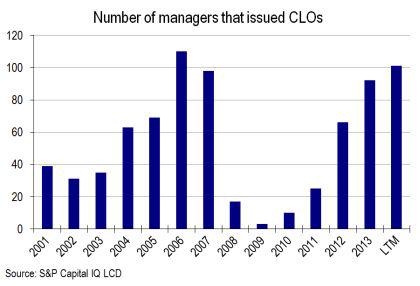 A small player that IPO'd in 2007 at $10 per share is Tetragon Financial Group.
Investment Thesis
Tetragon Financial Group (OTCPK:TGONF) is a global alternative asset management business that currently is heavily undervalued compared to not only their own net asset value, but also compared to their peers. It offers a healthy dividend and is growing its asset base.
Company Description
Tetragon Financial Group Limited is a Guernsey closed-ended company traded in dollars on NYSE Euronext Amsterdam under the ticker symbol: TFG. Tetragon aims to provide stable returns to investors across various credit, equity, interest rate and real estate cycles. The company maintains two key business segments: an investment portfolio and an asset management platform. Both segments cover a broad range of assets, including bank loans, real estate, equities, credit and convertible bonds.
Structure
TFG's asset management platform ("TFG Asset Management") currently consists of Polygon Global Partners ("Polygon"), LCM Asset Management LLC ("LCM") and GreenOak Real Estate, LP ("GreenOak").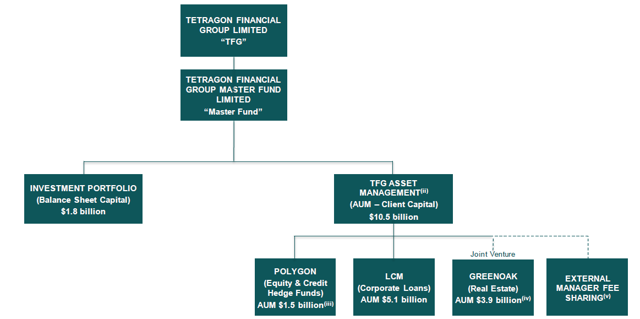 Results
TFG achieved a net economic income of $86.0 million, or $0.90 of earnings per share, in the first half of 2014, giving an annualised return on equity (ROE) of 9.5%. Below the company's target of 10-15% ROE per annum.
Performance was positive in both the TFG's investment portfolio and TFG Asset Management.
Before tax, the investment portfolio generated $73.6 million of net economic income before tax ($0.77 of earnings per share) and the asset management businesses generated $16.3 million ($0.17 of earnings per share).
The Q2 2014 dividend was declared at 15.5 cents per share, giving a rolling 12-month dividend increase of 13.3%.
Returns were particularly strong in Q2 2014 in TFG's U.S. CLO 1.0 transactions underlying performance was supplemented by gains on sales and discount rate reductions, which was a welcome pick up from a somewhat below-average first quarter. The reverse was true in equities, where TFG gave up some of the gains achieved in Q1 2014.
TFG Asset Management performed well, with steady AUM growth in all businesses and good fund level performance, which hopefully bodes well for future management and performance fees.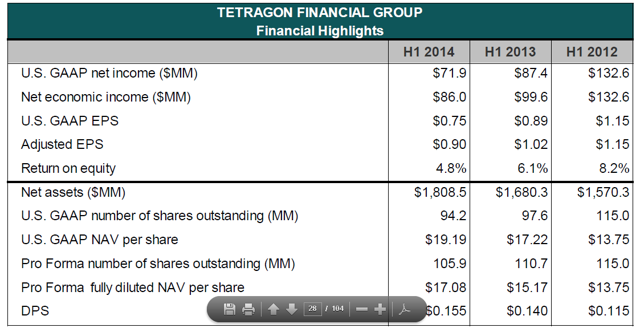 Net Asset Value
Net Asset Value increased to $1,808.5 million and fully diluted per share came in at $17.08.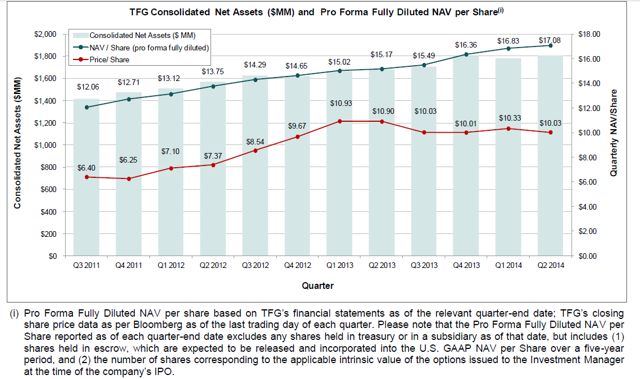 Portfolio Composition And Investment Portfolio
TFG's net assets totaled $1,808.5 million at the end of Q2 2014.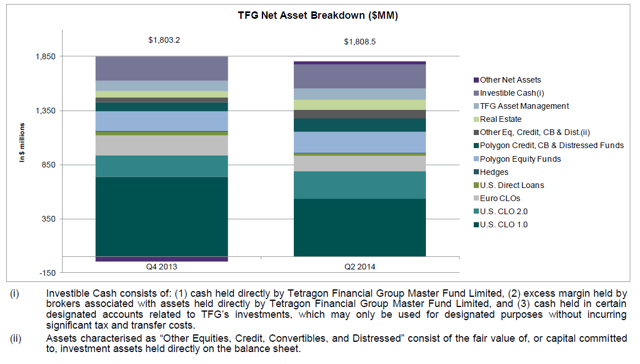 CLO investments represent more than 50 percent of Tetragon's assets. U.S. CLO 1 and CLO 2 come from deals originated prior to 2010 that may be valued conservatively.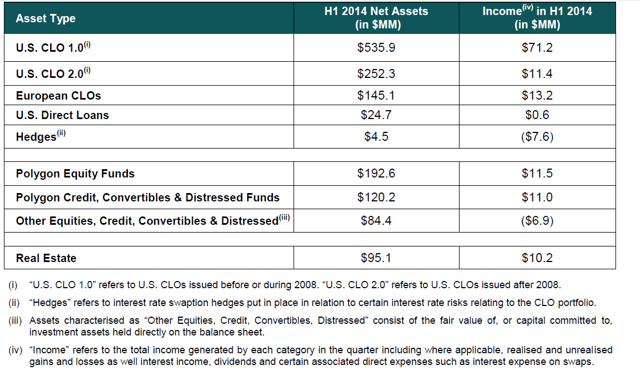 Cash Flows
TFG's cash flows from operations decreased by 28.1% to $131.8 million in H1.
Cash flows generated by the CLO portfolio continued to be the primary source of operating cash. The decrease of cash flow was due to the deleveraging of much of the U.S. CLO 1.0 portfolio as well as the sale of some deals. TFG took advantage of a buoyant level of market interest in CLO equity during Q2 to sell $153.1 million of CLO equity interests at or above their carrying value
Peer Comparison
TFG's peer group consists of those companies that have a combination of alternative asset management business and balance sheet capital who are looking to expand and diversify both their assets and their investment business. We identified five competitors in the U.S. who serve the same market: Blackstone (NYSE:BX), Carlyle (NASDAQ:CG), Apollo (NYSE:APO), Och-Ziff (NYSE:OZM) and Fortress Group (NYSE:FIG).
| | | | | | | | |
| --- | --- | --- | --- | --- | --- | --- | --- |
| | | | | | | | |
| Name | Ticker | Price | Market Cap | AUM | NAV/Book value | Div.Yield | Forward PE |
| | | | | | | | |
| Blackstone | BX | 32.98 | 38.06B | 279B | 11.01 | 4.15% | 9.41 |
| Carlyle | CG | 31.45 | 9.99B | 202.7B | 16.40 | 1.99% | 10.24 |
| Apollo | APO | 24.48 | 3.65B | 168B | 18.03 | 2.45% | 9.34 |
| Och-Ziff | OZM | 13.09 | 2.25B | 45.7B | -0.28 | 6.96% | 7.93 |
| Fortress | FIG | 7.31 | 3.17B | 63.8B | 1.68 | 4.29% | 8.01 |
| | | | | | | | |
| Tetragon | | 10.82 | 1.47B | 10.5B | 17.08 | 5.73% | 6.67 |
In the table above, you see that Tetragon is the only company that trades below net asset value (book value), has a low P/E ratio and healthy dividend.
Final Note
If the assets perform as expected and Tetragon buys its own shares, the stock price has to double from here. The net asset value is more that 70% higher than the current stock price of $10.80.
The growth in AUM in TFG Asset Management's businesses: LCM, Polygon and the GreenOak joint venture will be beneficial for Tetragon because management and performance fees could grow accordingly. All threes businesses continued to perform well through the end of June 2014, which bodes well for the rest of the year.
We think that the valuation gap will slightly disappear going forward.
Caveats
The fees Tetragon paid to Polygon (2009 and 2010) in the past, corporate governance issues and the way it treated shareholders has harmed investors' appetite in the stock and has brought criticism from big investors.
In a 2011 interview with Bloomberg, Leon Cooperman of Omega Advisors Inc. described Tetragon as "abusive to stockholders as anyone I've ever seen."
Through increased equity from the Polygon acquisition in 2012, the manager's interests are now more aligned with the shareholders of Tetragon.
Sources
Tetragon Financial Group Limited (TFG) Performance Report for Period Ended 30 June 2014 with Interim Financials
Disclosure: The author is long TGONF. The author wrote this article themselves, and it expresses their own opinions. The author is not receiving compensation for it (other than from Seeking Alpha). The author has no business relationship with any company whose stock is mentioned in this article.
Additional disclosure: I am long TFG on the NYSE Euronext Amsterdam.
Editor's Note: This article discusses one or more securities that do not trade on a major U.S. exchange. Please be aware of the risks associated with these stocks.