Yum Brands (NYSE:YUM) is a leading global restaurant franchise, together with its competitors McDonald's (NYSE:MCD) and Burger King Worldwide (BKW).
The company has managed to grow both in developed markets and in emerging markets. China has been an especially strong growth story for the company in recent years.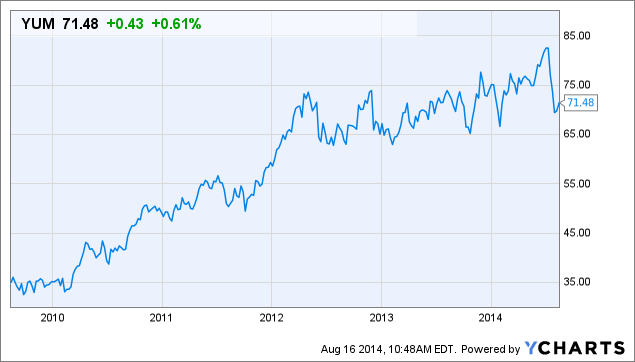 YUM data by YCharts
This growth has not gone unnoticed by shareholders who have bid up the price of the stock from around $35 in 2010 to a recent high just above $83. Luckily for investors, that is not the whole story. In addition to enjoying capital appreciation, investors are currently collecting an annual yield of more than 2%, which means a yield on cost for buyers of the stock in 2010 of more than 4%.
Historical Dividend Growth
Yum first started paying quarterly dividends in August 2004 at $0.1 per share. Already in May of the very next year, the Board decided to hike the dividend by 15% to $0.115. It continued increasing the dividend annually but shifted the increase by one quarter in 2009 so that the annual increase now happens in September and not May.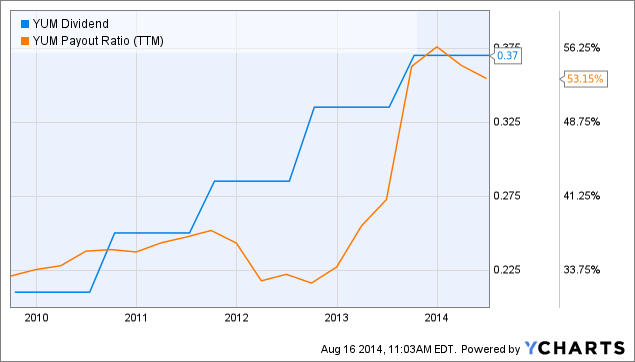 YUM Dividend data by YCharts
We can see that historically, the company has boosted the dividend quite substantially and more than the EPS growth, thereby increasing the payout-ratio from approximately 33% in 2010 to approximately 53% today. In total, since initiation of the dividend, the company has increased it by a CAGR of 14%.
This trend has kept up over the last few years, with a hike last year of 10.4% from $0.335 to $0.37, and the year before that from $0.285 for a percentage increase of 17.5%.
September Dividend Hike
Around the middle of September each year, the company announces not only a regular quarterly dividend, but also the annual increase of that dividend. The only question for shareholders is by how much the Board has decided to hike investors' dividend income this time around.
Judging by the history, the Board likes to keep this annual increase at a fairly high level, and by that I mean an annual increase of low-to-mid double digits. But of course, the Board is not totally free in deciding the dividend. The company needs a certain level of earnings per share to cover the dividend.
According to Morningstar, the company made $2.36 on an EPS basis in fiscal year 2013. The average estimate for the current fiscal year is an EPS of $3.56. If the analysts are only half right, this should leave ample room for the Board to boost the dividend. Just to play with numbers a little bit, if we were to assume a payout-ratio of 50% ,this would translate into a dividend of $1.78 on an annual basis or $0.445 on a quarterly basis. Compared to the current dividend, that is a massive hike of 20%.
I do not expect the Board to go that far, but it shows that there is room to maneuver. It is likely that the Board will make use of good years to make sure that the payout-ratio stays at a reasonable level, and then increase the payout-ratio somewhat in bad years so as to smooth the growth rate of the dividend.
Based on the historical trend in the company's dividend growth, it is likely to increase by 10%-15% for a new quarterly dividend of $0.407 to $0.425. If earnings estimates hold, even the higher dividend number will mean a reduction of the payout-ratio from current levels.
Risk Factors
Even though Yum is a large and global company within a relatively recession-proof business, there is still the risk of people choosing to make their own food at home in lean times. There is also currency risk as the company sells its products worldwide in a wide variety of currencies. Increasingly, people are becoming more health conscious. If they start reducing the number of meals they eat at fast-food restaurants, this will obviously impact Yum. Finally, there is also political risk in that the company could suffer from sanctions, a risk illustrated currently by sanctions between the West and Russia.
Current Valuation
Before considering investing in any company, no matter how successful, one should always look at valuation. I compare Yum to the two closest global competitors in my mind, McDonald's and Burger King.
| | | | |
| --- | --- | --- | --- |
| | Yum Brands | McDonald's | Burger King |
| Price/Sales | 2.4x | 3.3x | 9.2x |
| Price/Earnings | 27.1x | 17.0x | 35.3x |
| Yield | 2.1% | 3.4% | 1.1% |
Source: Morningstar
Yum is the cheapest of the three on Price/Sales, while it is priced in between McDonald's and Burger King on the Price/Earnings ratio. McDonald's is the clear winner on the dividend yield, while Yum comes in at number two.
Except for in the case of McDonald's, these companies are all priced above the broader market as represented by the S&P 500, which trades at a P/E of 18.2x. However, as we have seen earlier in the article, Yum is expected to deliver significantly higher earnings next year, pulling down the multiple in the table above considerably.
The average analyst estimate for the next five years is for an annual EPS growth of 15%. If the analysts are right and assuming no change in the earnings multiple, investors can expect a total annual shareholder return, as represented by earnings growth and the dividend yield, over the next five years of 17.1%. I do believe that the multiple will contract, but the stock should still produce market-beating returns. Yum Brands should therefore be attractive both to investors looking for capital appreciation and investors seeking growing dividend income.
Conclusion
Yum Brands has a solid history of growth, particularly in emerging markets. This has translated into robust cash flows and solid and growing dividends over time. The company usually increases the dividend substantially every September, and investors can expect the same this year with a likely dividend growth rate of 10%-15%. The stock should be attractive at these levels both for investors looking for capital appreciation and income-focused investors looking for dividend growth.
Disclosure: The author has no positions in any stocks mentioned, and no plans to initiate any positions within the next 72 hours. The author wrote this article themselves, and it expresses their own opinions. The author is not receiving compensation for it (other than from Seeking Alpha). The author has no business relationship with any company whose stock is mentioned in this article.