A Pioneer In Smart Glasses
Around the same time as Larry Page and Sergey Brin were coming up with the first Google (NASDAQ:GOOG) (NASDAQ:GOOGL) search algorithm at Stanford, Vuzix (OTCQB:VUZI) was founded in Rockchester, New York. Then known as Interactive Imaging Systems, the company began in the design of night vision weapons sights for Raytheon (NYSE:RTN) and DRS Technologies in partnership with Kopin (NASDAQ:KOPN). By 2005, Vuzix had shifted company strategy to focus on consumer electronics. In the same year the company began to manufacture wearable displays for the US military. Finally in 2011 Vuzix released its first augmented reality consumer product, the STAR 1200. At that point in time the display was a bulky and expensive ($5,000) predecessor to the M100 which was released to enterprise consumers in 2013 for $1,000.
While first marketing the smart glasses to the enterprise client, Vuzix teamed up with SAP (NYSE:SAP) which developed software for the device and began a limited rollout of the device for warehousing and order fulfilment applications. SAP has received strong positive feedback from customers and will be initiating a more broad product ramp-up when its software packages are finalized later this year.
Finally, nine years after the company began its strategic shift, it stands on the verge of releasing its M100 into broader markets, and it's doing it on a larger scale. On July 24th of this year, Vuzix announced a partnership with Lenovo. Under the terms of the agreement, Vuzix will be the sole smart glasses provider to Lenovo in enterprise markets, and Lenovo will co-brand and market the device in China starting in September.
This partnership is significant for Vuzix for a number of reasons. Aside from bringing a major global player onboard to its wearables platform, on a financial level this deal has major implications for Vuzix. Looking at Vuzix's income statement, the company has been running a $1 million operating loss per quarter. At that rate of cash burn, the company would need to undergo another round of financing within the next 12 months. Now that probably will not happen since Vuzix will likely become cash flow positive in the current quarter.
Gross margins at Vuzix excluding depreciation and amortization have stood at about 40% since the release of the M100. Since Lenovo will be marketing the device, SG&A will remain almost completely flat, and any increase will be offset by higher gross margins as manufacturing rates rise and create economies of scale.
Using these inputs, Vuzix will be cash flow positive on sales of 850 units per month. We would have to assume Lenovo isn't collaborating with Vuzix for another $1 million in incremental revenue from a mere 850 unit sales. Taking the conservative side and assuming that only these 850 units will be sold in China, Vuzix should be profitable from those sales alone. Add that to the fact that SAP will begin marketing the device to customers within the next year too and we have a company which is first-to-market with a revolutionary device, and which is on the cusp of profitability.
Barriers To Entry
While Google has chosen to drive down the same road as Vuzix with smart glasses development, it is clear that Vuzix is the leader and Google is the follower. In fact, a Vuzix employee mentioned that a number of Google engineers spent an entire day at the Consumer Electronics Show hanging around Vuzix's booth. Vuzix while having fewer resources has a 15-year headstart, not only on the optics, but on the tooling and manufacturing necessary to bring the product to market.
However the question still begs, why did SAP elect to partner with a $25 million company with a shoestring budget over partnering with Google? I've used both Google Glass and the Vuzix M100 and I can speak toward that end. There are two weaknesses in Google Glass which are not apparent in the Vuzix M100. Google Glass is not energy efficient. Due to this inefficiency, the device is apt to overheating during constant heavy use as demanded in the enterprise environment, and the battery has to either be made heavier (bad for comfort) or will not last through an entire workday.
Upcoming Releases
Vuzix has another two exciting releases coming over the next half year. The first is the second release of the M100 with an improved software package and user interface. The new software package will improve functionality and dovetail with enhanced enterprise capability across industries outside of warehousing.
The other more exciting release is what will likely to be the best augmented reality product to hit the market as of yet. Vuzix intends on releasing a device utilizing wearable displays for augmented reality. Instead of having to stare up at a tiny screen, imagine smart glasses which project the image into the space in front of the user by use of holographic optical technology. That device will become a reality. Vuzix has patented the technology needed to make such a device, and it will be near impossible to circumvent the patent and create a similar device in an economically feasible fashion. Here is an image of what the technology can do: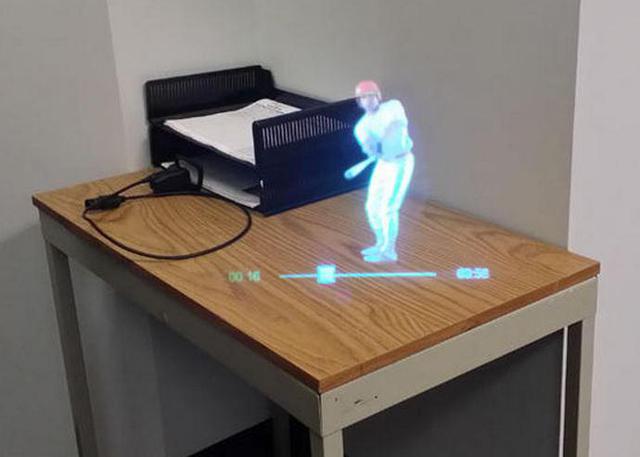 Aside from the numerous applications of waveguide technology, another key factor in the consumer market is appearance. No matter what you do with the M100 or Google Glass, the devices make a resounding fashion statement. "I am a nerd." Waveguides eliminate the little screen from the top corner, allowing smart glasses to have a normal form factor.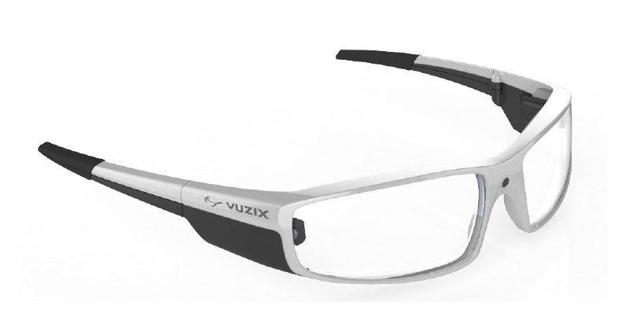 Valuation
At the current price of $2.70 per share, Vuzix has a market cap of under $30 million. Investors can consider the intellectual property (39 issued patents) a considerable backstop to Vuzix's value as at current tech valuations a liquidation of Vuzix would likely be higher than the current market value, considering the future prospects of profitability, along with the fact that dilution may be a thing of the past for Vuzix. To attain a P/E multiple of 15 on the current share price, assuming margins are flat and do not pick up with a production ramp-up, the company would only need to sell an additional 500 units monthly on top of the 850 to break even. Assuming SAP and Lenovo account for virtually all of Vuzix's sales, and that they sell an equal amount of devices, each partner would only have to move 675 units a month to get to that 15 P/E target. Obviously in untested fields its nearly impossible to project sales, but it appears as though the market is assuming unreasoably low device volumes for Vuzix.
Conclusion
Companies including Apple (NASDAQ:AAPL), Facebook (NASDAQ:FB), SAP, Lenovo, Samsung and Google have placed their bets on the future of wearable technology. The concept has staying power and the technology is reaching marketable viability. What Vuzix brings to the table which no other player brings is a deep IP portfolio (~50 pending and issued patents), far more experience, the right partners and a great product. The company closed the most recent quarter with well over $1 million in cash on its balance sheet, and with the new push from Lenovo along with the imminent mainstreaming from SAP, should not have to dilute shareholders in the future. 2015 will likely be a year of solid profitability for Vuzix. The time to invest in wearables is now, and Vuzix is an excellent company in which to place your bet.
Disclosure: The author is long VUZI, AAPL. The author wrote this article themselves, and it expresses their own opinions. The author is not receiving compensation for it (other than from Seeking Alpha). The author has no business relationship with any company whose stock is mentioned in this article.
Editor's Note: This article covers one or more stocks trading at less than $1 per share and/or with less than a $100 million market cap. Please be aware of the risks associated with these stocks.