By Brandon Matthews
Sirius XM Radio (NASDAQ: SIRI) shares are on the rise again, following the FCC's ruling on net neutrality. The reasons for this are simple. The idea of Free Unlimited Mobile Internet Radio is dead. Usage charges that will now be imposed by wireless carriers for bandwidth hogging applications such as the popular Pandora Radio, will guarantee Sirius XM's dominance in the audio entertainment space for years to come.
The Ghost of Christmas Past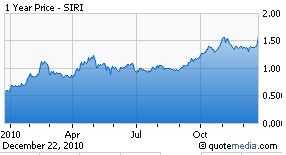 A year ago, Ford (NYSE: F) announced that it was making Pandora available as part of its SYNC audio system, which would share space with Sirius XM Radio, Commercial Radio, and MP3 ports. Pandora even hired a former Sirius XM executive to lead its way into the new car market. Analysts became concerned that the competition would be too much to bear for Sirius XM, and began to reduce subscriber growth estimates, amid competition concerns. During the course of 2010, several auto manufacturers began introducing wi-fi into their vehicles. This fueled concerns again for the future of Satellite Radio.
Smartphones grew ever more popular in 2010. Concerns grew again that Sirius XM had missed its opportunity, that it had peaked and was to go the way of the dodo bird. Internet Radio offered free unlimited music, and many content offerings that are not exclusive to Sirius XM Radio developed their own mobile applications. For those looking to avoid subscribing to Sirius XM Radio, the option did exist that a user could download the hundred or so applications to their smartphones to equal the content available on Satellite Radio, and have to fiddle endlessly while driving with choices, rather than just turning on a radio.
Hope emerged however, when the U.S. Courts ruled that Internet Service Providers could block specific applications that consumed large amounts of bandwidth, calling into question the F.C.C.'s authority to mandate unlimited free access for all.
The Ghost of Christmas Present
On Tuesday, the F.C.C. again decided to test its authority on the matter, by implementing rules that might escape Judicial scrutiny, by seeking a compromise on the matter. In doing so, the F.C.C. upheld the rights of wireless carriers to block bandwidth hogging applications, and or charge usage fees to consumers and the developers themselves. What we are left with thus far is an agreement between the F.C.C. and U.S. Courts that wireless carriers are free to limit and/or block applications, not just in the case of bandwidth usage, but simply because they can.
Consumers which have become accustomed to a monthly cell phone bill of $80.00 -100.00, may now be faced with monthly cell phone bills closer to $1000.00, as monthly bandwidth allotments can used up in as little as 32 minutes.
Internet Radio and other high bandwidth stealing offerings rely on the infrastructure built and paid for by others. Lacking a proprietary distribution service of their own means that free Internet radio is no longer free. I cannot imagine a world where consumers will agree to pay $1,000.00 a month to listen to "free" Internet radio, supported by advertising.
While the share price appreciation of Sirius XM over the last 24 hours indicates that the smart money has figured this out, by and large the "monopoly" factor and the benefits to Sirius XM's future have been missed by most, creating an exceptional investment opportunity.
As I reported several weeks ago, Sirius XM Radio patents indicate a potential move into video offerings. Sirius XM's content distribution through its own fleet of satellites and terrestrial repeaters might enable Sirius XM to take further advantage of the F.C.C. ruling.
The Ghost of Christmas Yet To Come
As I mentioned, the monopoly factor enjoyed by Sirius XM has yet to be fully recognized by Wall Street. Once it is digested, analyzed and reported on, Sirius XM Radio shares can easily double, or even triple, in 2011. That is not a typo. I believe that Sirius XM shares could easily be trading at $4.50 at this time next year.
With an economy on the mend, highly sought after exclusive content, superb auto penetration, a growing presence in the used car market, no near term debt issues, growing EBITDA, earnings per share and free cash flow, no near term debt concerns and a large reduction in capex, not to mention the potential for modest price increases along with revenue increasing on demand offerings that SatRad 2.0 will have introduced by this time next year, Sirius XM's best year may lay ahead.
Disclosure: I am long SIRI.