Whipped the benchmark with a LikeAssets score of 31.
There are a lot of analysts now making their calls for 2011 investments. Last December, Larry Dignan did a brief mention of Goldman Sachs' Software Sector picks for 2010. How did the Goldman picks pan out? LikeAssets allows me to analyze how the picks did against their appropriate asset class benchmark, as well as an industry benchmark. I'll be looking at this as I consider the Goldman picks for 2011.
Goldman's 2010 Software Sector Performance Review
Goldman's highlighted three primary themes driving their Software Sector investment picks: (1) PC and Server upgrade cycle; (2) Virtual desktop and growth of the cloud; and (3) M&A activity would step up. Here are the picks (% allocation started equally weighted in 12/14/2010) and the associated asset allocation used for determining the LikeAssets benchmark:



Here is the overall portfolio performance, beating the LikeAssets asset class benchmark by 31% as of December 17th. Note the performance against the Dow Jones U.S. Technology index (red line on chart) is less positive, but still a material 6.6% outperformance.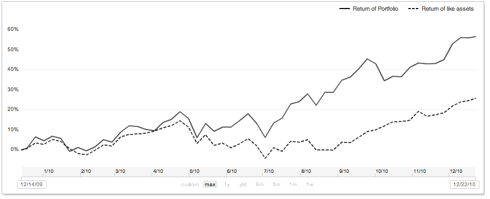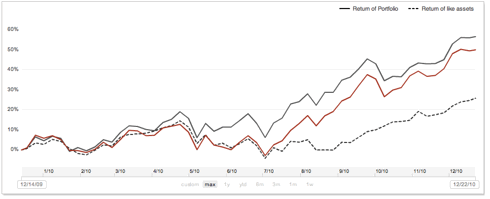 Now we can also look at the picks and see how each one did. Vmware (NYSE:VMW), with a return of 114%, 96% above the benchmark, and Citrix (NASDAQ:CTXS) with a return of 82%, 45% above the benchmark, were the champs playing on the virtual desktop and growth of the cloud theme. The only absolute loser out of the five picks was Microsoft (NASDAQ:MSFT), which returned -5%, 23% below the benchmark. MSFT was clearly a key play on PC and Server upgrade cycle, and while that trend picked up steam, MSFT was unable to translate that into stock gains. Below is the table of the picks performance through 12/17.





Overall, thumbs up on the Goldman 2010 Software sector picks. They soundly beat the LikeAssets benchmark and the technology index as well. These are still being tracked in a LikeAssets portfolio. I'll start tracking the 2011 picks as soon as I hear about them. If you have a link, please let me know.
Disclosure: I have no positions in any stocks mentioned, and no plans to initiate any positions within the next 72 hours.