As a relatively new dividend growth investor of about 2 years, it was difficult to stick to it. One of the main goals, if not, the top goal of dividend growth investors is the growing income coming from these dividend payers.
Small Number of Shares Pay a Small, but Growing Income at a Rate Faster than Inflation
However, with the small number of shares that I'm buying each time, the dividends that show up in my account are tiny. For example, the 10 shares of Chevron (CVX) held in my retirement account only pays me $10.70, and that only comes every 3 months. However, looking in a slightly longer view, a year before that, the same number of shares would have only paid me $10 quarterly. So, it already grew twice as fast as inflation. 10 years ago, those shares would have paid only $4. That is growing by over 11% annually. Which job in the world pays a salary that grows by 11% per year?
A Portfolio of Dividend Growers Pay Dividends Which Add Up
If I only bought 10 shares of Chevron, and received about $10 in dividends every quarter, then that income is pretty negligible. However, I don't just own 10 shares of Chevron. As a dividend growth investor, I build a portfolio of dividend-growing companies. So, I also have 10 shares of Coca-Cola (KO), 10 shares of McDonald's (MCD), 10 shares of Microsoft (MSFT), 10 shares of Wal-Mart (WMT), International Business Machines (IBM), Cisco Systems (CSCO), Kinder Morgan (KMI), General Electric (GE), Bank of Nova Scotia (BNS), etc.
Holding 10 shares of each of these companies, I would be receiving ~$221 in pre-tax annual income, based on their current quarterly dividends.
| Holding | Quarterly Dividend | Annual Income by Holding 10 Shares |
| --- | --- | --- |
| Coca-Cola | $0.305 | $12.20 |
| McDonald's | $0.81 | $32.40 |
| Wal-Mart | $0.48 | $19.20 |
| Bank of Nova Scotia | $0.64* | $25.60 |
| Microsoft | $0.28 | $11.20 |
| International Business Machines | $1.10 | $44.00 |
| Cisco | $0.19 | $7.60 |
| General Electric | $0.22 | $8.80 |
| Chevron | $1.07 | $42.80 |
| Kinder Morgan | $0.43 | $17.20 |
| | Total: | $221 |
* on the Toronto Stock Exchange
As you add funds bit by bit to income-generating shares, and keep track of the growing dividends, the dividends coming in really does start looking like it's doing something.
Keep Track of the Growing Dividends
To help me stay the course, I keep track of which quarter and year the dividend grows at, and at which rate because some companies grow dividends multiple times per year.
For example, if I owned Suncor (SU) since 2011, I would have kept track of its growing dividend like so:
Dividend*
Dividend Growth Rate
Quarter
$0.10
$0.11
10%
Q2 2011
$0.13
18%
Q2 2012
$0.20
54%
Q2 2013

$0.23
$0.28

15%
22%

Q1 2014
Q3 2014
* on the Toronto Stock Exchange
At a glance, I can immediate see Suncor's dividend growth progress. With a growing dividend like that, price appreciation will eventually come, and it did. If one just looked at Suncor's price action though, in the worst case scenario looking back a few years, one could have bought it at $46 in 2011. In the same year, it went to a low of $26. If one sold at a panic at that point, it would have been an immediate capital loss of 77%! Staying the course, one could have continued to receive its low dividend, and notice that it continues to grow its dividend at a double-digit rate, and even decided to buy more shares to reduce the average cost per share. (Albeit, one shouldn't have bought it at $46 in 2011, as at present, Morningstar gives it a fair value estimate of $50 CAD.)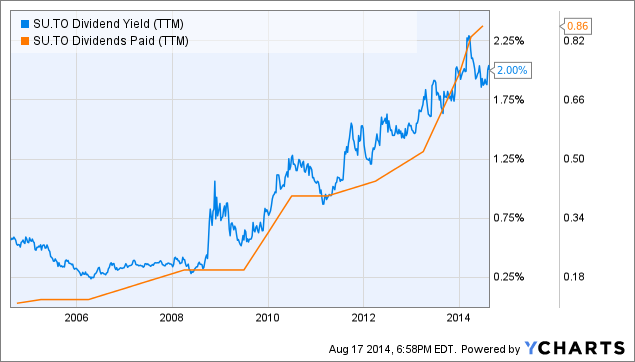 SU Dividend Yield (TTM) data by YCharts
In a few years time, Suncor grew its annual payout from $0.40 to $1.12. That is a growth of 180% in your income from Suncor alone if you had held it from 2011 to the present. The rest of a successful investing formula consists of choosing quality companies, buying them at the right price (did you buy it at a value?), and the number of shares you bought (the more shares, the more dividends you receive).
In Summary
It takes time to accumulate shares of quality companies.
These companies may pay you a small dividend initially, but as you accumulate more shares, it will grow slowly but surely.
In addition, I like to keep track of each companies dividend growth, see its progress, and watch the yield on cost grow.
Some dividend growth investors raise a red flag if say a company doesn't grow the dividend at a certain rate. Some would sell immediately. Others wait for the next increase to see if it's again increasing at the minimum rate. I opt for the latter.
At the end of the day, it is the companies you chose, the price you paid for each one, and the number of shares that you hold, which determine the success of your dividend growth investing.
If you like what you've just read, consider clicking the bolded "Follow" link at the top of the page above the article title to receive an email notification when I publish a new article.
Disclosure: The author is long BNS, IBM, MSFT, CSCO, KMI, SU, CVX, KO, WMT, GE, MCD. The author wrote this article themselves, and it expresses their own opinions. The author is not receiving compensation for it (other than from Seeking Alpha). The author has no business relationship with any company whose stock is mentioned in this article.
Additional disclosure: The author is long BNS and SU on the Toronto Stock Exchange.