Another asset that made some great moves in 2010 was DBA -- an ETF tracking a basket of agricultural commodities. The opening price for the year was $26.44, and it is currently at $31.87, constituting a price increase of over 20% for the year. And for traders who entered on the double bottom that formed in June, the results are closer to a 28% increase.
Below is a daily chart of DBA. The aforementioned double bottom, touched in June of this year and previously in March of 2009, may have been a low-risk technical signal to enter.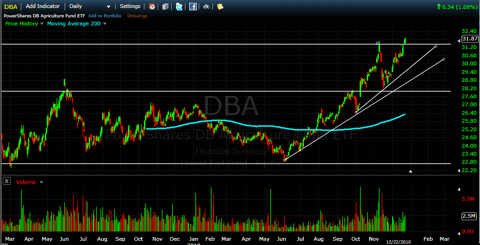 Is there still room in 2011? Below is a weekly chart; DBA is supported by multiple trendlines and has broken out after spending over a year in a rangebound environment. As we are entering the range visited in Q4 of 2007 and Q4 of 2008 -- a range with few support levels -- I think there may be some more room to the upside for DBA.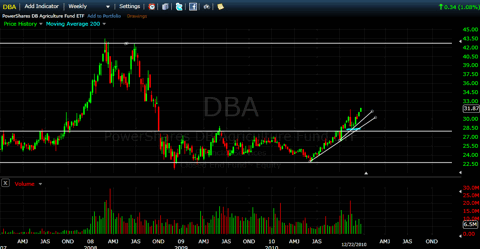 Fundamentally, the inflation/deflation debate that has been going on for the past several years continues; inflationists believe that central bank policy will result in higher prices will be bullish, while deflationists who believe credit contraction and declining demand due to high unemployment will keep prices tame.
Disclosure: I have no positions in any stocks mentioned, and no plans to initiate any positions within the next 72 hours.