Remember, one of the primary attributes for investing in a REIT is that you are paying someone to manage, lease, and invest in real estate so you don't have to perform those necessary tasks. In fact, I consider the share price paid part of the value that I'm getting when I pay for the investment of choice. As I see it, I am actually contributing the capital necessary to operate the business and for that reason a portion of the proceeds are being used to fund payroll costs.
Remember, it's important to think like an owner, not an investor. That means you should look at more qualitative factors such as management, integrity, and uniqueness of the overall brand. Accordingly, investors should look at the business behind the securities as a prospective buyer would of the whole business - that's the advice that Ben Graham described when he said:
investment is most intelligent when it is most businesslike.
Thinking like an owner is the first step and as Graham suggests, once you understand that, you should then look closely at the current price to determine what course of action would be the most advantageous. Ben Graham (in Security Analysis) wrote:
It must never be forgotten, that a stockholder is an owner of the business and an employer of its officers.

Separating the Best from the Rest
Donald Trump has become legendary for his leadership skills and in his highly successful TV series, The Celebrity Apprentice; the billionaire describes the secret for winning the ultimate job interview:
What separates the winners from the losers is how a person reacts to each new twist of fate.
Another way that I would describe a "twist of fate" is "managing risk." Similarly, the "twist of fate" that Trump references is nothing more than dealing with the potential for loss when (not if) things go wrong. As Howard Marks, author of The Most Important Thing, wrote:
Loss is what happens when risk meets adversity.
He went on to say:
Risk is inescapable…and recognizing risk is an absolute prerequisite for controlling it.
So how can an intelligent investor measure risk control when it's seemingly invisible in good times? Marks provides us with that answer when he wrote:
It's the investor's job to intelligently bear risk for profit. Doing it well is what separates the best from the rest.
That sounds good but in real life it's hard to measure how well a CEO is performing, especially since they often focus on short-term results at the expense of longer-term performance. That's just human nature - CEOs are incentivized to meet quarterly guidance numbers as they are judged by the market on the shorter-term goals.
In REIT-dom the best scorecard to measure CEO performance is the dividend. Not the high yield but the sustainability of the dividend payment over time. As Josh Peters, author of The Ultimate Dividend Playbook, explains:
…dividends speak louder than earnings. A company's pattern of dividend payments - its dividend record - can often provide valuable clues to underlying corporate performance, clues just as valuable as those provided by earnings reports…
By researching a company's dividend payment history, investors (and owners) can utilize a simple way to gauge long-term performance. Clearly that's not the defining metric for success but it provides a true measure of risk and reward. When a company has a consistent record of paying and increasing its dividend, it prompts me to believe that the management team is committed to investors. As Peters summed up:
The safest dividend is the one's that's just been raised.
My 5 Favorite REIT CEOs
As I stated above, the scorecard (I'm using) for my 5 favorite REIT CEOs is based on dividend performance. There are dozens of other metrics that could be used to generate a more objective ranking; however, the dividend history touches on practically ever discipline including capital management, leasing, retention, acquisitions, and just about every element that measures risk in a REIT structure.
In short, I'm not utilizing a rigid formula to build a case for the best CEOs in REIT-dom; instead I'm measuring these industry leaders based on what Howard Marks defined as "the most important thing":
Skilful risk control is the mark of the superior investor.
In no order, other than alphabetical (that is an order…say in ABC order), here are my top 5 REIT CEOs:
Federal Realty (NYSE:FRT): Donald C. Wood has been the President and CEO of Federal Realty since January 2003, and prior to that time, he served in various officer positions (with Federal) including President and Chief Operating Officer (from 2001 to 2003), Senior Vice President and Chief Operating Officer (from 2000 to 2001), Senior Vice President-Chief Operating Officer and Chief Financial Officer (from 1999 to 2000) and Senior Vice President-Treasurer and Chief Financial Officer (from 1998 to 1999). Wood is also a Member of the Board of Trustees of Federal Realty, a Member of the Board and former Chairman of NAREIT and a Trustee on the Board of Governors of the ICSC.
Federal Realty has maintained one of the most impressive dividend records in REIT-dom - a history that spans over 46 years in a row of paid and increased dividends. Here's a snapshot of the extraordinary earnings history (the dark green shaded area represents share price appreciation and the shaded aqua area represents dividends paid).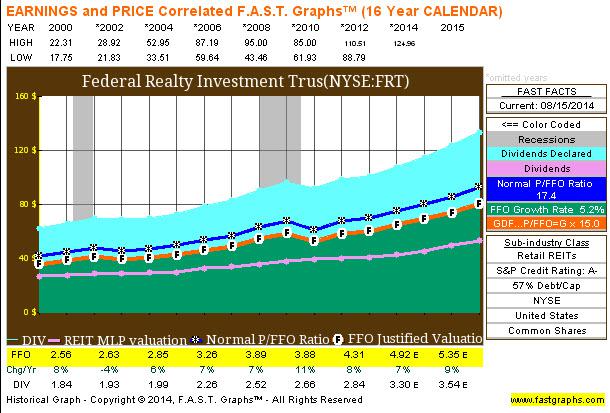 Federal Realty's stalwart dividend record is illustrated as follows: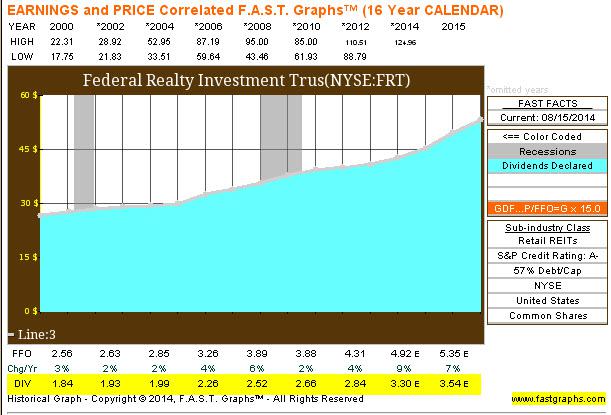 National Retail Properties (NYSE:NNN): Craig Macnab has served as a Director and CEO of National Retail Properties since February 2004 and as Chairman of the Board of Directors of the Company since February 2008. Macnab was previously the CEO, President and a Director of JDN Realty Corporation from April 2000 through March 2003. He has served as a Director of DDR Corp. since 2003, and served as a Director of Eclipsys Corporation from 2008 to 2010 and Per Se Technologies, Inc. from 2002 to 2007. Macnab has been an Independent Director of Cadillac Fairview Corporation since 2011 and he is also a Member of the Board of Governors of National Association of Real Estate Investment Trusts.
National Retail Properties has also maintained a very reliable and consistent earnings record that includes over 24 years in a row of increased dividend payments. Here's a FAST Graph that illustrates the predictable earnings record (the dark green shaded area represents share price appreciation and the shaded aqua area represents dividends paid).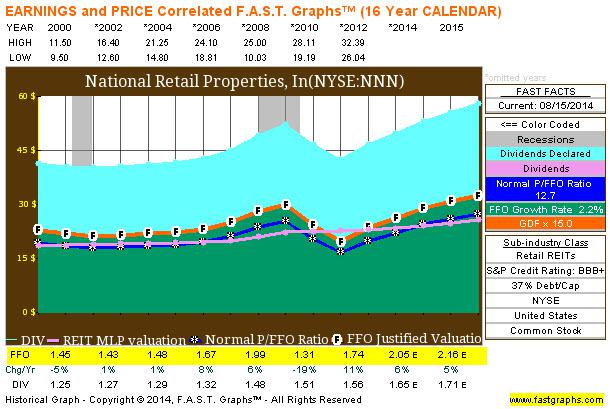 As I referenced above, a durable dividend record implies that the company can withstand adversity and keep swinging. As the FAST Graph illustrates below, National Retail Properties has been able to generate stable dividends that indicate this REIT has sound corporate strength and endurance.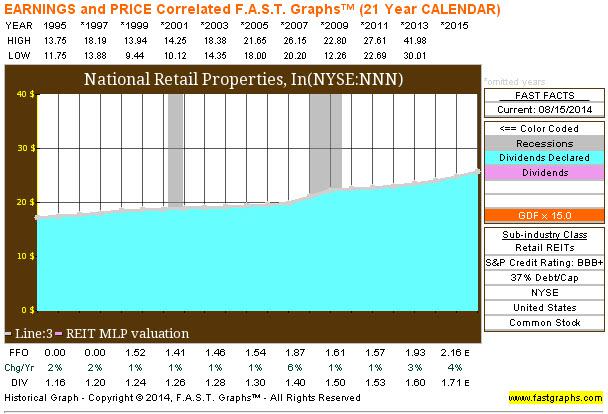 Tanger Factory Outlets (NYSE:SKT): Steven B. Tanger has served as President and CEO of Tanger Factory Outlet Centers since May 1993. His experience includes President and CEO since January 2009, President and COO from January 1995 to December 2008; and Executive Vice President from 1986 to December 1994. Tanger has served on the Board of Directors of The Fresh Market, Inc. since June 2012 and he is a graduate of The University of North Carolina at Chapel Hill.
It's not hard to spot the CEO of this REIT since his name is also the title of the company. Tanger, the company, has also built an extraordinary track record on consistency and as evidenced by the FAST Graph below, the predictability of the "pure play" outlet center income has been the secret to the model of repeatability (the dark green shaded area represents share price appreciation and the shaded aqua area represents dividends paid).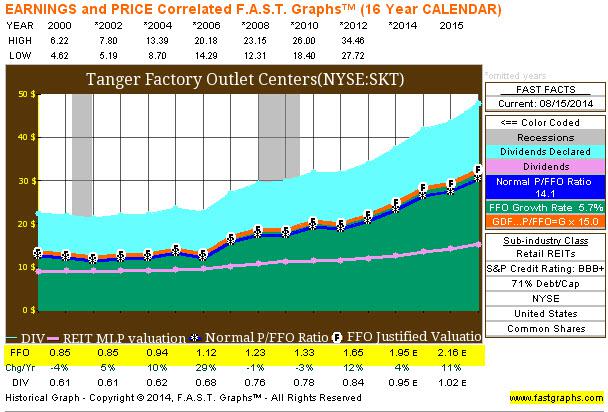 Tanger was recently named a "dividend aristocrat" for its prestigious track record of paying and increasing dividends for 20 years in a row.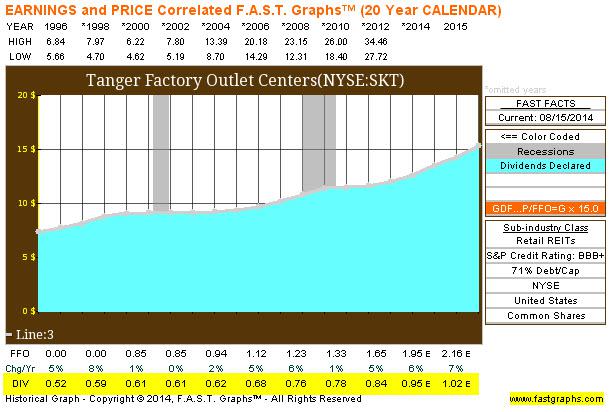 Taubman Centers (NYSE:TCO): Robert S. Taubman is Chairman, President and CEO of Taubman Centers, Inc., which is a subsidiary of Taubman Realty Group Limited Partnership. Taubman has been Chairman since December 2001 and President and CEO since 1990. He has been a Director of the Company since 1992 and he has been a Director of Comerica Bank and related predecessor boards since 1987 and of Sotheby's Holdings, Inc., the international art auction house, since 2000. He is also the Chairman (three-year term beginning July 2012) and a Director of the Real Estate Roundtable, a Member and former Trustee of the Urban Land Institute and a former Trustee of the ICSC. Taubman holds a B.S. degree in economics from Boston University.
First let me point out that Taubman has not paid and increased every single year; however, the company has never cut a dividend and is the only "pure" mall REIT that made it through the last recession without cutting (its dividend). The fact that Taubman (and his family) own a significant amount of stock provides an alignment of interests and like Tanger, it's a good feeling when the CEO has the same name as the company (the dark green shaded area represents share price appreciation and the shaded aqua area represents dividends paid).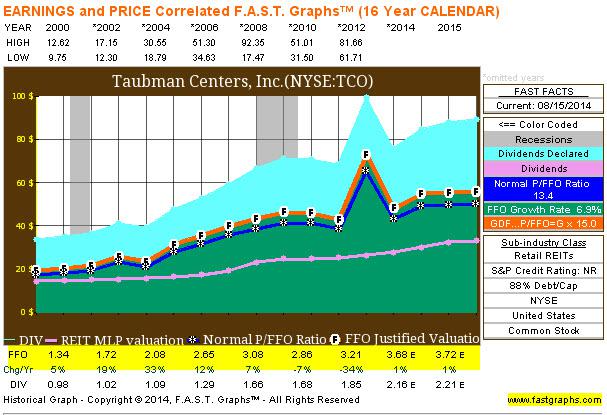 The quality of Taubman's dividend record is best illustrated below: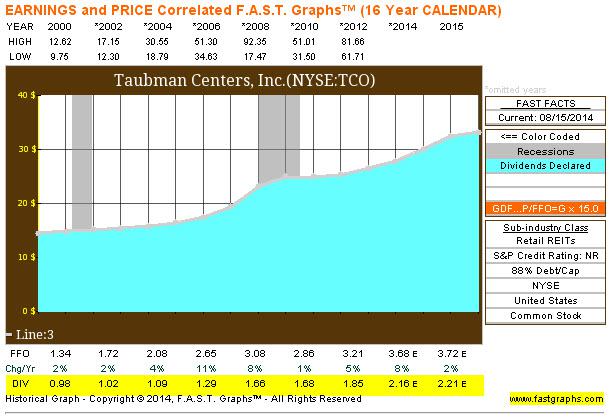 Ventas, Inc. (NYSE:VTR): Debra A. Cafaro has served as CEO of Ventas since 1999 and as Chairman of the Board of Directors since 2003. She was voted by Investors and Analysts to Institutional Investor's 2014, 2012 and 2011 "All American Executive Team" (top 3 REIT CEOs), selected as one of the Top 50 Women in World Business by the Financial Times, and named one of the 100 Most Influential People in Healthcare by Modern Healthcare.
She is a Member of the Board of Directors of Weyerhaeuser Company and she is on the Board of Trustees of the University of Chicago; and the Board of Directors of the Real Estate Roundtable, the Executives' Club of Chicago, the Economic Club of Chicago and World Business Chicago, the city's not-for-profit economic development corporation chaired by Mayor Emanuel. In 2010, she served as Chair of the NAREIT.
Prior to joining Ventas, she was President and a Director of Ambassador Apartments, Inc. and she also practiced real estate, corporate and finance law for 13 years following her 1982-83 judicial clerkship with the Hon. J. Dickson Phillips, United States Court of Appeals for the Fourth Circuit. She received her J.D. cum laude in 1982 from the University of Chicago Law School, where she was named its Distinguished Alumna in 2011 and her B.A. magna cum laude from the University of Notre Dame in 1979.
I have special admiration of Debra Cafaro as she came on board with Ventas when the company was a struggling enterprise - with only one tenant that was in bankruptcy. By masterfully restructuring the company, Cafaro orchestrated a highly successful strategy for managing risk - or in Trump's words, "reacting to a twist of fate." The only way to describe Cafaro's success is to describe her transformational mission as a "phoenix rising from the ashes." The FAST Graph below illustrates that success: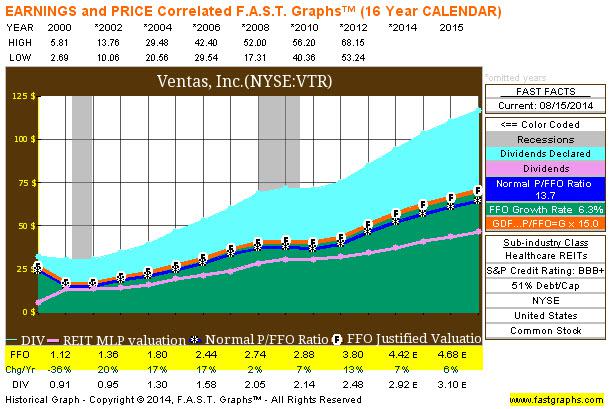 Ventas has maintained a relatively perfect dividend history and if it weren't for the dividend freeze in 2009, Ventas would have enjoyed a track record similar to other dividend aristocrats.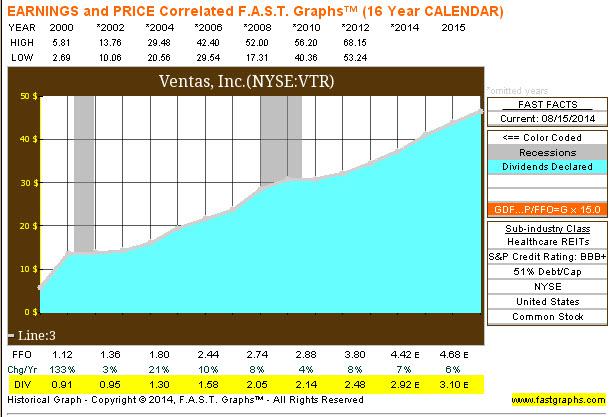 Finally, I know I told you that I was including 5 "sleep well at night" CEOs; however, I wanted to add a 6th. Actually, it seems more appropriate to include Realty Income's (NYSE:O) CEO as a "honorable mention."
You see, Tom Lewis retired last year as CEO of Realty Income and the board replaced the veteran "monthly dividend company" CEO with another veteran, John Case. Although Case does not have a significant track record as CEO, his vast experience in the Net Lease sector should not preclude him for being mentioned. In addition, Case appears to be following in the footsteps of the well respected Lewis and the company's risk management practices have not been compromised in the least. Here's a FAST Graph of the earnings and dividend history of Realty Income: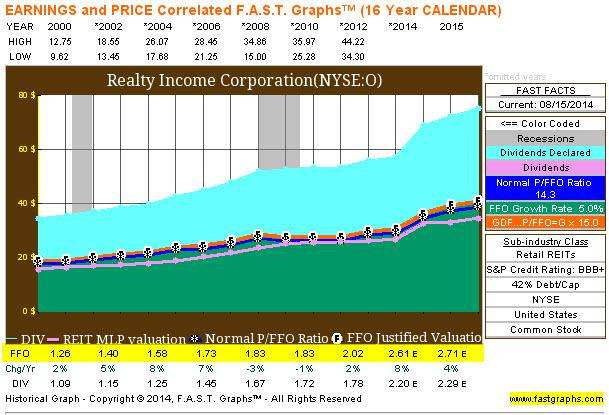 Finally, Realty Income just celebrated (on August 15th) its 20 year history as a public company. That means that Realty Income will soon be inducted into the celebrated "dividend aristocrat" club with Federal Realty, Tanger Factory Outlets, and National Retail Investors.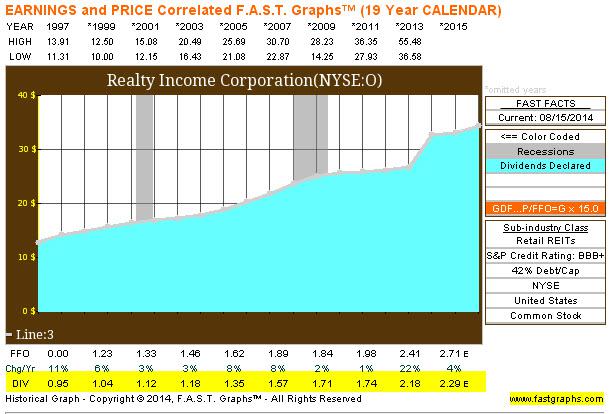 Sleep Well At Night With These REIT CEOs Behind The Wheel
This concludes my "best in class" CEO article. To provide more clarity as it relates to the success of these CEOs, I thought it would be fitting to provide this report card (by the way, this chart provides clear evidence that "dividends do matter" - the topic of a previous article).

By the way, I'm headed to San Francisco this week to attend The Money Show. Given my "stress free" strategy of collecting dividends, I'll be "sleeping well at night" knowing that these CEOs are only the best because they manage risk fare better than the rest.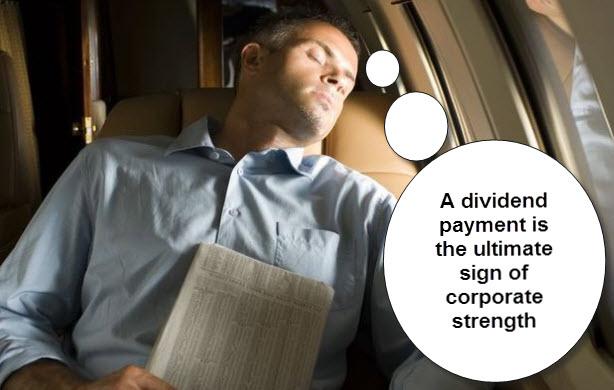 I provide BUY prices and other valuable metrics for these REITs and many others in my monthly newsletter, The Intelligent REIT Investor. For more information, click HERE.
Sources: SNL Financial and FAST Graphs.
Disclaimer: This article is intended to provide information to interested parties. As I have no knowledge of individual investor circumstances, goals, and/or portfolio concentration or diversification, readers are expected to complete their own due diligence before purchasing any stocks mentioned or recommended.
Disclosure: The author is long O, DLR, VTR, HTA, STAG, UMH, CSG, GPT, ARCP, ROIC, HCN, OHI, LXP, KIM, WPC, DOC, UDF, EXR.
The author wrote this article themselves, and it expresses their own opinions. The author is not receiving compensation for it (other than from Seeking Alpha). The author has no business relationship with any company whose stock is mentioned in this article.