Over the last few years Netflix (NASDAQ:NFLX) has become a force that major broadcasters and cable networks have had to start taking seriously. The success of shows like House of Cards and Orange Is The New Black is going to open doors for more and more series like them to cause havoc to the traditional television business model and in turn investors' portfolios. With the Emmy awards coming up next Monday, now is the time for potential stock holders to take a long hard look at Netflix as the time to strike just may be the present.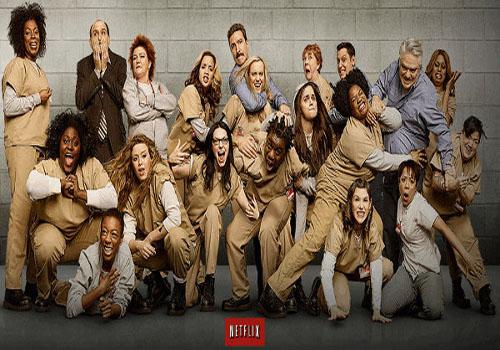 (Credit: Netflix)
First, for those that think Netflix's hot streak is a fluke…think again. Netflix stands ready to make history at this year's Primetime Emmy Awards as its breakout "comedy" Orange Is The New Black is the current favorite (at press time) to have a shot at dethroning Modern Family as the winner of the Outstanding Comedy series category.
While it already snagged a pair of trophies including one for breakout star Uzo Aduba at last weekend's Creative Arts Ceremony, a win in the main comedy category would make a major statement. It would be the first time a streaming service has won this big of an award and mark the second straight year a streaming series has made a massive impact (following House of Cards' big debut last season).
Although to truly argue that Netflix is ready to be the investment everyone thinks it will be, you have to take Orange and Cards out of the equation for a minute and look at its roster without them.
Simply put, if you remove Kevin Spacey from House Of Cards, you can't say with a 100% certainty the show would still be the smash hit it is today. While Cards has a strong ensemble and a talented crew behind it, Spacey makes the show. Yes, you could have put another top name in that role but Spacey truly owns it. He's the face, he's the focal point, and he's a large part of its appeal. The problem with that though is the show is then at his mercy and if he decides to go back to film or theater, the show falls like an actual house of cards.
That leaves you with Orange, which is currently at the top of its game, but you can't make an investment choice based on just one top performing show that only releases new episodes once a year.
Now you'd be correct by bringing up that Netflix actually has multiple other original series including Lilyhammer, Hemlock Grove and Derek, but with the exception of the Ricky Gervais created Derek, you don't see any of them nominated this year in the top categories. Yet that seems poised to change as more stars are looking to make the leap to streaming networks. In fact Netflix has quietly been assembling casts for its next big slate of series and in two particular cases has a roster that would make The Avengers blush.
Damages creators Todd A. Kessler, Daniel Zelman and Glenn Kessler have been crafting a project known as "untitled psychological drama" which has attracted an arsenal of big names. The project is a family drama that follows four adult siblings whose secrets are revealed when their black sheep brother returns home. Among the names signed on to portray the family include: Kyle Chandler (Friday Night Lights), Linda Cardellini (E.R.), Norbert Leo Butz (two-time Tony winner for Dirty Rotten Scoundrels and Catch Me If You Can) and Ben Mendelsohn (The Place Beyond The Pines) with Oscar nominee Sam Shepard (The Right Stuff) and Oscar winner Sissy Spacek (Coal Miner's Daughter) attached as their parents.
At the same time the network is prepping Grace & Frankie which stars Jane Fonda and Lily Tomlin as two life-long enemies who bond when their respective husbands (Martin Sheen and Sam Waterson) announce they are both gay and seeing each other. I could list the accolades and credits of the quartet but the odds are good you know them already.
With an ensemble like those you can see why Netflix is so bullish on this upcoming slate and why investors should be licking their chops in anticipation…after all, it looks like the network may be close to having an heir apparent to Cards. Yet if that type of show doesn't make you re-think Netflix's power, how about the service's new partnership with Marvel?
Last year it was confirmed Marvel and Netflix will work together on four new TV shows that in the end could combine into an Avengers-like movie called The Defenders. With characters including Daredevil, Jessica Jones, Iron Fist and Luke Cage, these live-action projects have the potential to draw in a huge number of subscribers, which like rivals HBO, Showtime and Starz is how Netflix makes its money.
What gives Netflix the edge here over those competitors though is that unlike the aforementioned networks Netflix has never released ratings information. Legally they don't have to, so they withhold viewership numbers and instead release total subscribers as mandated as part of being a publicly traded company.
It's fascinating as 10 people could be watching Cards, but because it was the right 10 people, it caught in the pop culture realm to a supernova level of attention. Now I guarantee more than 10 people are watching Cards, but you understand the comparison I'm trying to make. Having the ability to create that type of phenomenon based purely on word of mouth is like a license to print money and it's what allows for the unprecedented deals like the Marvel one.
To be clear, that was a massive win for Netflix and will give them a huge competitive advantage over rivals Hulu Plus and Amazon Prime as the two sides also worked out an arrangement for the streaming service to get all of Disney's (NYSE:DIS) studio releases starting in 2016.
Netflix has also become an alternative for projects that need a new home. Take Starz's (NASDAQ:STRZA) Marco Polo, an ambitious drama about the explorer's early years in the court of Kublai Kahn. Estimated to cost nearly $90 million to produce Starz eventually dropped out of the project and Netflix stepped in along with The Weinstein Company. Given a 10 episode order the show began production in April with relative unknown (at least stateside) Lorenzo Richelmy as the titular character.
The streaming service also snagged the rights to The Killing in a co-partnership deal with AMC that saw the network air the show first and then transition over to Netflix. However when AMC passed on continuing the collaboration, Netflix offered to pay for a final season to wrap up the franchise. Series leads Mireille Enos and Joel Kinnaman returned along with showrunner Veena Sud to give the show a proper-sign-off after one of the oddest journeys for a TV series in recent memory.
This wouldn't be the first time Netflix has swooped in to save a TV series in trouble either as along with Killing, the resurrection of Arrested Development also helped make the service one to watch. Much like DirecTV (NYSE:DTV) did with Friday Night Lights and Damages, Netflix has really become a viable option for shows shunned by traditional media.
This type of network has a real place in the entertainment model and should be keeping TV executives up at night. It's a big shift in the Hollywood business dynamic and one that isn't going away anytime soon. Investors should give them a solid look leading into the Emmys as with a combined 31 overall nominations it could walk away the big winner.
Disclosure: The author has no positions in any stocks mentioned, and no plans to initiate any positions within the next 72 hours.
The author wrote this article themselves, and it expresses their own opinions. The author is not receiving compensation for it (other than from Seeking Alpha). The author has no business relationship with any company whose stock is mentioned in this article.