The recent weak gold price action in spite of global unrest has people scratching their heads. When seemingly bullish news for gold is met with a yawn, that's when you know the prevailing trend is still neutral to bearish. I know this is difficult to understand with the clear geopolitical problems that are brewing, but markets will always trade to their own tune.
A Replay of the 1970's?
We like to think that markets move precisely to our narrative. But that's rarely the case. Gold corrected about 50% from 1974 to 1976, which was right in the middle of significant global unrest. Here's a brief list of some of the events that occurred during the precipitous decline in gold between 1974 and 1976:
Nixon resigns
The Fall of Saigon
Assassination attempt of President Ford
Livernois-Fenkell riot in Detroit
New York City bailed out by federal government
Civil War in Lebanon
It was logical to believe that if gold couldn't rally in the midst of these events that the bull market was over. Well, gold promptly rose over 700% in the next 4 years after the weak longs disposed of their positions. Keep in mind that in the gold space, the biggest rallies occur in the shortest amount of time.
This example shows that there is always a timing element with any market that is disconnected from news. Preceding the decline in the 1970's, gold had risen about 500%. It needed a rest. Recently, gold shot straight up from $800 to $1900 in a couple of years. It was also time for a rest.
How Markets Correct
Markets can correct in two ways: they can crash and bounce back quickly (think stock market crash of 2009), or they can have more of a prolonged decline. Although both types of corrections feel different at the time, they are effectively the same in terms of the subsequent rallies.
Here's a recent example of a prolonged, sideways correction in gold that led to a rally. This is more in line with what we are likely going to see when this correction runs its course.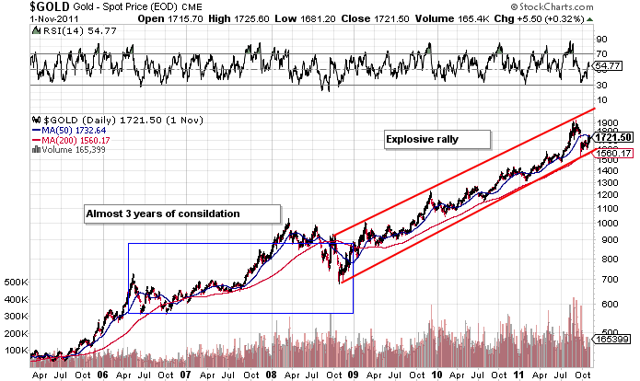 Gold has declined about 30%. This is a modest correction, price-wise, made slightly more severe by the time element. The bottom in gold could come at $950 for a 1970's style correction. At this point,bearishness should reach epic proportions. However, gold should rally much higher from this bearish extreme.
Remember, gold is ultimately the hedge against uncertainty and the government's fiscal mismanagement. We have both in spades. The slightest uptick in interest rates is going to have our government reeling. That's when things get interesting.
Disclosure: The author has no positions in any stocks mentioned, and no plans to initiate any positions within the next 72 hours.
The author wrote this article themselves, and it expresses their own opinions. The author is not receiving compensation for it (other than from Seeking Alpha). The author has no business relationship with any company whose stock is mentioned in this article.