Worried about a potential recession and another big market decline? Analysts at Citi say a good way to track this risk is to look at the HY bond spreads. Specifically, spreads at 600-700 bps indicate a recession is highly probable:
Another factor that seems to flag the transition into Phase 4 is the level of HY spreads. It seems that global equities can handle an increase in spreads to around 600-700bp, but anything higher indicates that a recession is imminent. Even given the recent sell-off, spreads are now 400bp. Sure, they may go higher as the withdrawal of US QE allows spreads to recouple with fundamentals, but they are still a long way off the levels that have previously flashed warnings for equity investors. In 2007-08, they very quickly hit this danger level.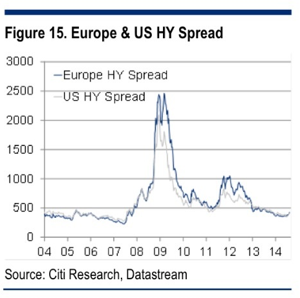 We're far from the caution levels at present, but HY spreads can change quickly. This one's worth keeping an eye on.
Source: Citi