Whiting USA Trust (NYSE:WHX) is a finite life royalty trust that distributes net proceeds from interests in oil and gas wells. The trust will terminate once it has distributed net proceeds from 9.11 MMBOE, and there are only 0.67 MMBOEs left to produce.
From WHX's August 7th press release:
The net profits interest will terminate when 9.11 MMBOE (which amount is equivalent to 8.20 MMBOE attributable to the net profits interest) have been produced and sold from the underlying properties, and the Trust will soon thereafter wind up its affairs and terminate, after which it will pay no further distributions. Consequently the market price of the Trust units will decline to zero around or shortly after the net profits interest termination date, which is currently estimated to occur during the quarterly payment period ending March 31, 2015. Therefore, to the extent that the Trust units are trading at a price substantially in excess of the aggregate distributions that may be reasonably expected to be made prior to the termination of the Trust, the market price decline in Trust units is likely to include one or more abrupt substantial decreases.
The simple math:
Average net proceeds/gross MMBOE produced since 2013: $27mm/MMBOE
Gross MMBOE left to produce: 0.67
0.67*27=$18mm dollars left to distribute
$18mm/13.9mm trust units = $1.30
We have called Whiting and confirmed all the above.
Fair value:
Discounting cash flows at 5% yields $1.27 in value. 10% is $1.25.
Why does this opportunity exist?
Google Finance, Yahoo Finance, and other financial information services/screeners lead retail investors to believe WHX is an amazing yield opportunity. Dividend hunters famously mistake cash distributions for cash flow. Those not doing their homework assume the trust's 90-100% dividend yield is sustainable, when really there are only 2 or 3 more distributions remaining. The trust's small market cap, low dollar price (brokers often prohibit shorting), and limited liquidity result in retail buyers pushing the price of the units to irrational levels.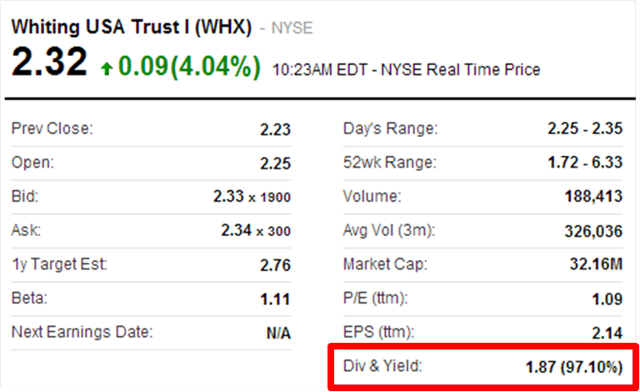 Disclosure: The author is short WHX. The author wrote this article themselves, and it expresses their own opinions. The author is not receiving compensation for it. The author has no business relationship with any company whose stock is mentioned in this article.
Editor's Note: This article covers one or more stocks trading at less than $1 per share and/or with less than a $100 million market cap. Please be aware of the risks associated with these stocks.