Driven by an aging US population and increased health awareness, the drugstore sector stands as an excellent investment option. With global pharmacy sales expected to reach 1.7 trillion by 2017, the sector undoubtedly has more room to grow.
There are three major players in the $160B drugstore sector: CVS Pharmacy (NYSE:CVS) with $91.5B, Walgreen (WAG) with $59.1B and Rite Aid (NYSE:RAD) with a mere $6.1B market cap. Although all three stocks are prime to own, there are a few qualities that make Rite Aid the strongest candidate.
3. Walgreen is the worst out of the cohort. Previously up nearly 27% YTD, the stock was recently hammered over 14% in one session dropping to $59.21 after CEO Greg Wasson announced that Walgreen decided not to shift its headquarters overseas to Switzerland where it would enjoy a corporate tax rate substantially lower than the 36% in the US.
Most of the previous rally in WAG was due to activist investors and analysts pushing for the company to acquire the rest of Alliance Boots, a European drugstore chain, and move its headquarters overseas for a lower tax rate. Although Walgreen did complete its 15.3 billion acquisition of the remaining 55% of Alliance Boots, its refusal to participate in corporate tax inversion did not sit well with investors. Coupled with a cut in revenue goals to $126-$130 billion for the 2016 fiscal year and an adjusted EPS of $4.25-$4.60 in that same period, Walgreen has failed to address its short-term promises and lay out its long-term prospects. Previously lauded for its fantastic dividend yield of over 2.75% in 2013, Walgreen's dividend has decreased to as low as 1.75% and is currently at 2.19%.
Currently the stock price is at $61.75 and has upcoming resistance from its 200 day SMA (green line).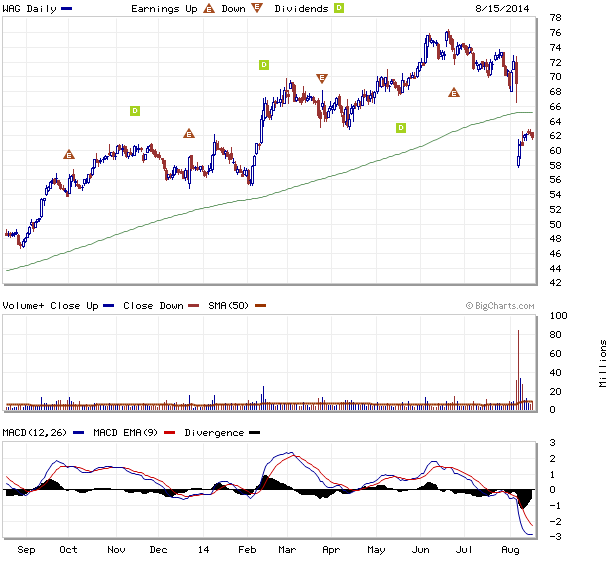 2. Rite Aid is ranked second of the three. It is up an astounding 25.1% YTD and over 475% in the past three years. RAD has become a remarkable turnaround stock in the last couple years by managing prices and introducing a greater variety of generic drugs that are always beneficial to sales and profit margins.
Primarily a stock geared towards strong growth, RAD has recently undergone some headwinds after hitting its 52-week high of $8.62. Since reporting a lower than expected earnings of $0.04 in June, the stock has fallen continuously to its current price of $6.32. The company blamed the decline in earnings on a higher tax expense and also cut its guidance down for 2015.
On the bright side, Rite Aid has spent $180 million on its store remodeling program in the 2014 fiscal year and plans to spend $225 million in its 2015 FY in a successful effort to boost sales. Its store renovation program has already bolstered same-store sales and will continue strengthening earnings going forward.
Despite its exceptional growth, Rite Aid still trades at an 18% discount to CVS and WAG on an EM basis. Looking at the chart, RAD has upcoming resistance from its 200 day SMA (green line). If it manages to break through the 200 day SMA, I recommend buying RAD to take advantage of its recent decline.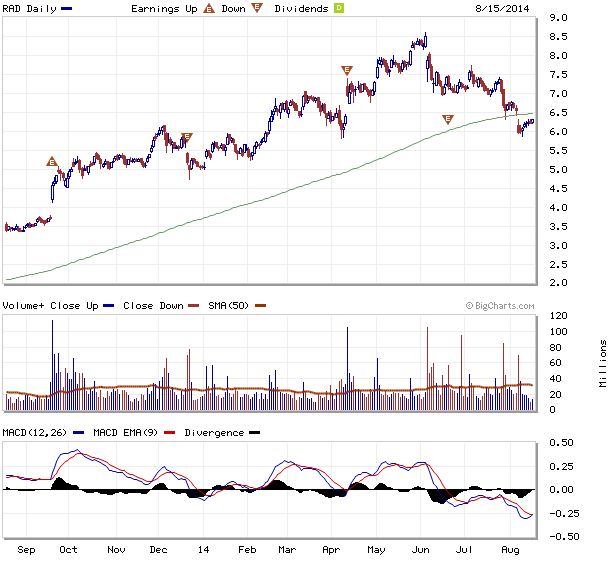 1. CVS Caremark is the best of the three drugstores. It is up 10.80% YTD. Due to its sheer size and strong growth, CVS enjoys the greatest profit margins of the three with 6.3% as compared to 5.5% for Walgreen and 3.6% for Rite Aid. Also, the pharmacy benefit manager division of CVS (PMB), also known as Caremark, has been successful, generating over 2/3 of the company's total revenue and supporting the retail division. CVS also maintains its walk-in clinic division, MinuteClinic, which caters to customers who are unable to meet a physician on short notice.
CVS plans to continue growing organically nationally and internationally and in its most recent EPS report on August 5th, CVS had an 11% increase in 2nd quarter earnings with growth in both the retail and pharmacy services businesses. It also boosted guidance for the year and revenue rose 11% to $34.6 billion beating estimates of $33.47 billion. In the long-term perspective, CVS is a safe bet that will continue making moderate gains on a slow, steady upward trend.
Currently, the stock sits at $78.91 per share with support at its 100 day SMA (green line).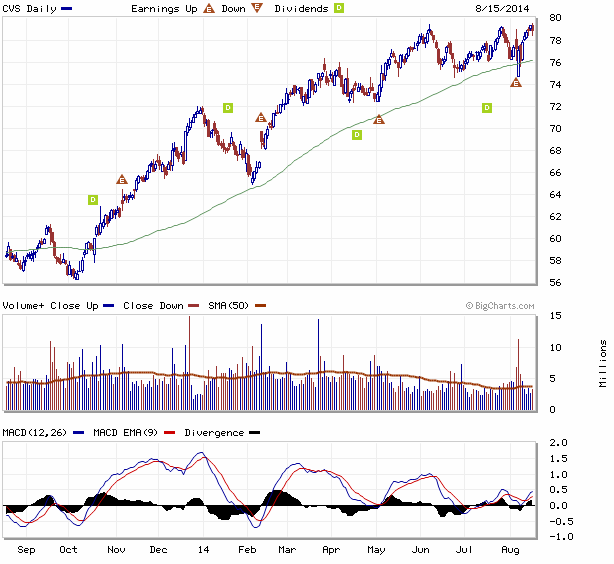 Concluding Remarks: Although all three of the major players in the drugstore industry qualify as sound investments, CVS Caremark stands above Walgreen and Rite Aid with a superb blend of structural stability and organic growth in both retail and pharmacy services.
Disclosure: The author has no positions in any stocks mentioned, and no plans to initiate any positions within the next 72 hours. The author wrote this article themselves, and it expresses their own opinions. The author is not receiving compensation for it (other than from Seeking Alpha). The author has no business relationship with any company whose stock is mentioned in this article.