For Bank of America (NYSE:BAC), the future is bright and the present is brightening. Several recent actions and events illustrate that the company is about ready to put the past behind it and move forward. BofA has borne a great weight of obligations to the government and to U.S. citizens due to its involvement in the financial crisis and mortgage market excesses. But those issues are clearing away now, and the company is repositioning to take advantage of a favorable interest rate outlook for it and a recovering economy.
Last week, Bank of America raised its common stock dividend for the first time in seven years. It was a breakthrough bigger than it seems, as it marked a turning point for the company. The bank was only able to (and allowed to) raise its dividend because of great strides taken to strengthen its balance sheet and build capital and liquidity. The raising of the dividend was only possible after receiving the okay of government regulators, and it's long in coming.
In late April, the company announced that it had misreported its regulatory capital ratios to the Federal Reserve, and as a result, it had to suspend its plans to raise its quarterly dividend to $0.5 from a penny and to repurchase $4 billion in common stock. Last week's event, therefore, marked a sort of coming full circle as BofA put that embarrassing issue behind it.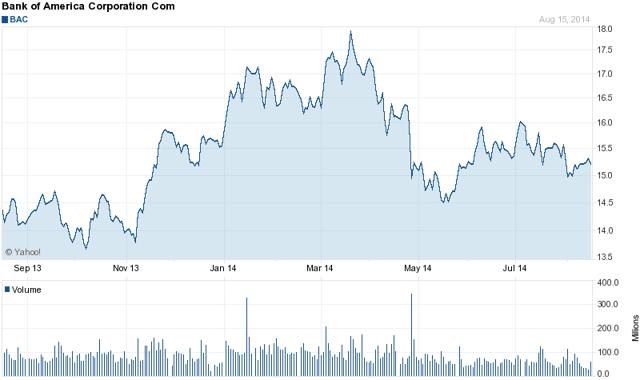 You can see in the 1-year chart here that BAC shares were being bid higher before the mistake, as investors anticipated what was coming for the company. As government obligations go away and the company clears regulatory hurdles, it gains leverage to once again invest in growth. As it does that and as it adds further value for shareholders through repurchases and dividends, its valuation will have catalyst to close in on that of its peers. Plus, its book value will finally be a reliable base to value from; book value actually increased in the latest quarter. These positive changes were priced into the stock before they were taken away on the company's blunder, but in my estimation, that only opened a buying opportunity for new stakeholders. As for patient holders already in the stock who have been waiting on the continued turnaround, they would have to wait a bit longer to reach higher price ground.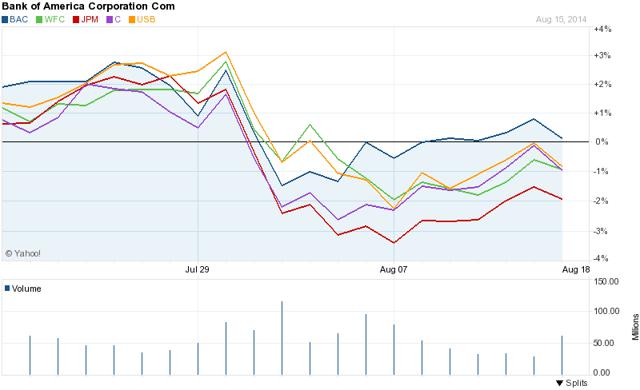 1-Month Comparison of Banks at Yahoo
But the stock has hardly budged of late. In fact, it has moved right in line with the rest of the group, affected by the geopolitical scare in Ukraine. Its pace with the group is despite a recent news break that the bank was close to a record-breaking $16-$17 billion settlement with the Justice Department. The deal would eclipse similar deals made recently by JPMorgan Chase (NYSE:JPM) and Citigroup (NYSE:C), but it would clear the way for Bank of America to finally look forward to the future.
| | | | |
| --- | --- | --- | --- |
| Bank | Price | Tangible Book | Price-to-Book |
| Bank of America | $15.45 | $14.24 | 1.08X |
| Wells Fargo (NYSE:WFC) | $50.69 | $31.18 | 1.62 |
| JPMorgan Chase | $57.23 | $43.17 | 1.32 |
| Citigroup | $49.51 | $56.89 | 0.87 |
| U.S. Bancorp (NYSE:USB) | $41.72 | $20.98 | 1.99 |
I talked about this point of inflection in this article, and said that when it came, the stock would grab back its lost value. Weeding out the outliers in Citigroup and U.S. Bancorp, taking an average of just Wells Fargo and JPMorgan Chase, that would mean the price-to-book could move upward to 1.47X perhaps, and the stock 36% higher to about $21.
What will help Bank of America on its way is rising interest rates. While rates have retreated since the flight to safety began this month on the latest Ukraine scare, if and when the geopolitical issue passes, rates should look upward again on expectations for Federal Reserve action and economic growth. Higher rates will benefit BofA's net interest margin and help to lift earnings. But most importantly, a capital-freed Bank of America will be free to invest in growth and value creation for shareholders, rather than value restoration, which it has been duly preoccupied with to-date.
Disclosure: The author has no positions in any stocks mentioned, and no plans to initiate any positions within the next 72 hours.
The author wrote this article themselves, and it expresses their own opinions. The author is not receiving compensation for it (other than from Seeking Alpha). The author has no business relationship with any company whose stock is mentioned in this article.