By David Russell
VimpelCom (VIP) has been basing out after a long decline, and now bulls are getting online with the Russian telecom.
optionMONSTER's Heat Seeker tracking system detected the purchase of more than 5,000 June 17.50 calls for $0.40 and $0.45 against open interest of 2,249 contracts. The trade pushed total options volume in the stock to 12 times greater than average.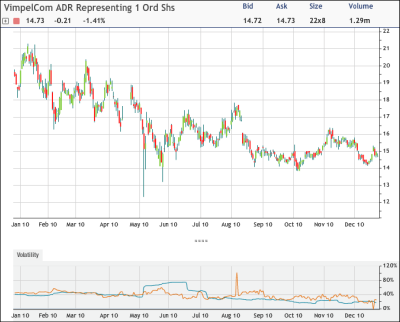 VIP fell 1.14 percent to $14.77 in morning trading and has been basing out around $14 since May.
Russian stocks, measured by the Market Russia Vector (NYSEARCA:RSX) exchange-traded fund, have been pulling ahead of other emerging markets, rallying 11 percent in the last month. In contrast, the iShares Emerging Markets Index (NYSEARCA:EEM) is up less than 4 percent in the same period.
VIP has been lagging both, but some traders may think that it will rally soon now that it has support in place at $14.
The stock also appears to trade at attractive valuations, with a forward price/earnings growth ratio of just 0.3. Last quarter its revenue grew about 24 percent year over year, and its enterprise value is less than 5 times EBITDA.
U.S. telecom giant AT&T (NYSE:T), by comparison, has revenue growth of less than 3 percent and an enterprise-to-EBITDA ratio closer to 6 times.
Calls outnumber puts by a bullish 5-to-1 ratio so far today.

Disclosure: No position