Warren Buffett is considered one of the best long-term investors, if not the best. His business, Berkshire Hathaway (NYSE:BRK.A), (NYSE:BRK.B), is a holding company that primarily holds several large positions in well-known American companies, and wholly owns many others. Most of Berkshire's long-term holdings have above-average dividends and a history of growing them over time, while Berkshire prefers to retain and reallocate that income rather than pay dividends.
This is a review of the changes listed on Berkshire Hathaway's latest 13F filing. Berkshire initiated no new positions during the quarter and fully exited none, but did make numerous increases and decreases to existing holdings.
POSITION INCREASES
Chicago Bridge & Iron (NYSE:CBI)
Berkshire first acquired a position in CBI in the first quarter of 2013, around the completion of the Shaw acquisition. The following quarter, Berkshire increased its stake to about 8.8 percent, where it subsequently stayed until last quarter, when Berkshire's position increased by about 12 percent to 9.89% of CBI equity.
A short thesis was published on CBI in mid-June, which has caused shares to decline. It is unclear Berkshire acquired these additional shares after the publication, but such seems likely. Nonetheless, shares have declined by about ten percent since the end of Q2. See a recent performance chart for CBI :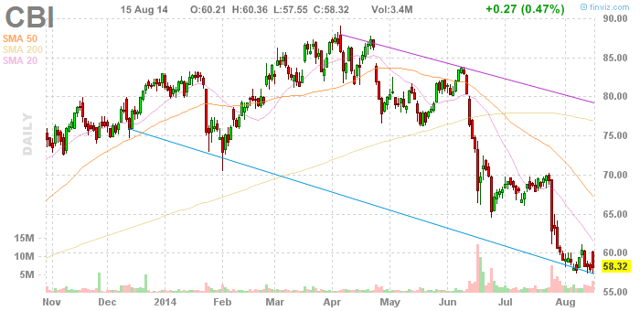 If Berkshire acquires, or already acquired, more shares of CBI in Q3, and those shares take its stake above ten percent of CBI's equity, Berkshire would be required to make a 13G filing within ten days after the end of the month where the ten percent stake was established.
General Motors (NYSE:GM)
Berkshire first purchased GM in the first quarter of 2012 and added to it in the second quarter of 2013. Berkshire reduced its GM stake by about 25 percent in the first quarter of 2014, and in the second quarter it increased the position by about ten percent.
The position does not appear to be the work of Warren Buffett, but instead Todd Combs and/or Ted Weschler. In 2011, Buffett picked both as investment managers and began giving each billions to invest. Similarly, CBI appears to be a Todd or Ted investment. GM recently declined to roughly last quarter's low. See a recent performance chart for GM :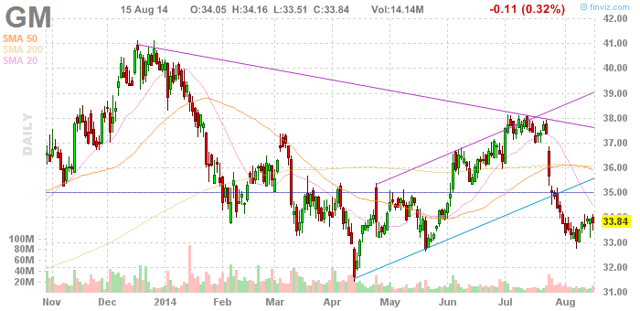 International Business Machines (NYSE:IBM)
IBM is Berkshire's third or fourth largest publicly traded investment, depending upon daily movements, and the newest of the largest positions. Berkshire first acquired IBM shares in 2011 and has increased the holding every few quarters. Berkshire's stake in IBM has also increased as a percentage of IBM to just over seven percent of the company due to IBM's significant buyback program.
IBM has suffered recently due to revenue weakness and notably poor sales within China. Buffett appears to be betting on IBM's ability to focus its future on profitable technology projects, as well as the company's sizable backlog of business and clear intention to continue both repurchasing shares and distributing cash.
Suncor Energy (NYSE:SU)
Berkshire first acquired shares in Suncor Energy in the second quarter of 2013, and increased the position last quarter by about 25 percent. This position is now about a 1.1 percent of Suncor, which is a Canadian oil producer. Berkshire has acquired many energy assets over the last few years, and it is likely that at least Todd Combs and/or Ted Weschler took some of the smaller positions for Berkshire, like this one.
U.S. Bancorp (NYSE:USB)
Berkshire acquired USB before the subprime crisis and substantially increased the position throughout the subprime decline. Berkshire trimmed the stake position in 2012, and subsequently made minor increases almost every quarter, including both so far in 2014. Berkshire's position in USB is Berkshire's eighth largest publicly traded holding and is now worth about $3.3 billion.
USG Corporation (NYSE:USG)
Berkshire has been acquiring USG for over a decade. Berkshire was already the largest holder of USG before it acquired convertible notes during the subprime crisis. USG began calling these notes in the fourth quarter of 2013 and called the remainder in the second quarter of 2014. Berkshire now owns about 27 percent of USG, worth just over $1 billion.
Berkshire is not likely to acquire a much larger position until USG burns through its operating losses, because doing so could reduce their value. USG has a substantial amount of operating losses that it is just beginning to use for tax purposes due to the recent return to profitability. Nonetheless, given the sizable stake and long-term accumulation, Berkshire appears very likely to continue acquiring USG to the extent it can without limiting USG's net operating losses and/or once the NOLs are used.
VeriSign Inc. (NASDAQ:VRSN)
Berkshire first purchased VeriSign in the fourth quarter of 2012 and substantially increased it the following two quarters. Berkshire again acquired shares in the first two quarters of this year. This position is now over ten percent of VeriSign, worth about $725 million. See a recent performance chart for VRSN :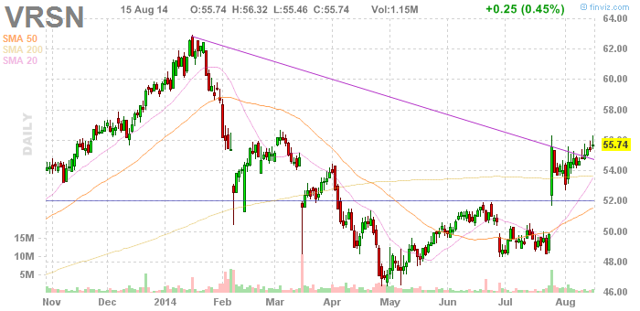 Wal-Mart Stores (NYSE:WMT)
Berkshire first acquired Wal-Mart in 2005, and has regularly increased the stake. It is now the fifth largest publicly traded stake Berkshire holds, valued at about $4.3 billion. Berkshire's increase to the position was minimal in the second quarter, but in the first quarter of 2014, Berkshire increased the stake by over 15 percent. Wal-Mart has declined recently, bringing shares to near the best pricing Berkshire could have gotten in the last six quarters. See a recent performance chart for WMT :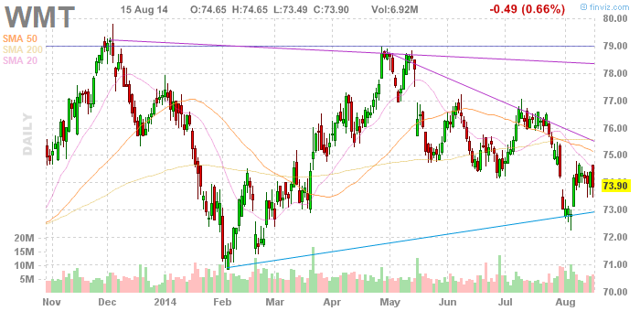 Verizon Communications (NYSE:VZ)
Verizon is one of Berkshire's newest positions. It was initiated in the first quarter of 2014. Berkshire increased the position by about one-third, and now owns about $730 million in the large telecom.
It is unclear whether this position is an extremely long-term investment for Berkshire, or more of a place to park mid-term cash for a tax-advantaged high yield. Berkshire has made many recent investments in data and providers like Verizon, including a larger investment in DirecTV, where it sold shares last quarter.
Liberty Global PLC (NASDAQ:LBTYA) (NASDAQ:LBTYK)
Berkshire acquired Liberty Global in the fourth quarter of 2013 and increased the position in both subsequent quarters, Berkshire owns both A and C shares of Liberty Global, and also owns shares in Liberty Media, which it sold in the quarter.
POSITION DECREASES
ConocoPhillips (NYSE:COP) & Phillips 66 (NYSE:PSX)
Berkshire has held ConocoPhillips in the portfolio since 2006. Berkshire has been reducing the position over several quarters, and the once sizable stake is now nearly gone. In addition to ConocoPhillips, Berkshire holds Phillips 66 shares, which it received when the businesses split. Berkshire also sold some Phillips 66 shares in the second quarter, and sold more in the prior quarter. Berkshire still holds about $100 million in COP and $500 million in PSX, but both positions are far smaller than they once were, with a trend of reduction.
DirecTV (NYSE:DTV)
Berkshire first acquired shares of DirecTV in the third quarter of 2011, and substantially increased the stake the next quarter. AT&T (NYSE:T) is trying to acquire DirecTV. Shares have doubled since Berkshire acquired shares, and there is some risk that the acquisition will sustain fatal FCC or DOJ scrutiny.
Berkshire sold about one third of its stake in DirecTV in the second quarter, but due to the strength of DTV shares throughout quarter, the value of the remaining stake declined by only one fifth. See a recent performance chart for DTV :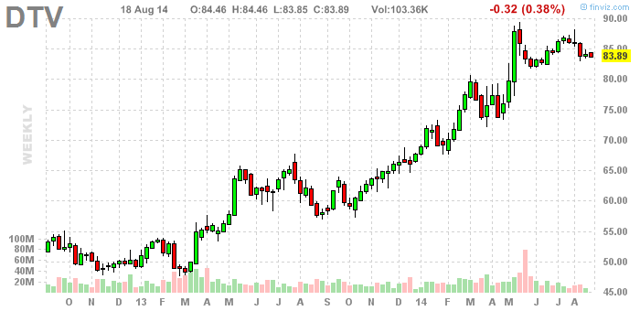 Graham Holdings (NYSE:GHC)
Berkshire's position in Graham Holdings was formerly related to its investment in The Washington Post. The position was unchanged for over a year, but was nearly eliminated in the second quarter. This was not due to a sale of shares on the open market, but in exchanged with GHC for certain local television station assets it held.
Liberty Media (LMCA)
Berkshire first acquired a stake in Liberty Media in the fourth quarter of 2011, and increased the stake in the following two quarters. Berkshire reduced the stake by about 25 percent in the second quarter of this year. The $500 million holding is likely related to Liberty's plans to distribute assets via spin-offs. Similarly, Berkshire reduced its stake in National Oilwell Varco Inc. (NYSE:NOV), which recently announced the spinoff of DistributionNOW, or NOW, Inc., NOV's distribution segment.
Berkshire's second quarter reductions occurred to only one holding where the position was valued at over $1 billion. Berkshire held about $2 billion in DirecTV at the end of the quarter and it appears reasonable to expect that the position may get further trimmed this quarter. All of these reduced stakes appear possible candidates for further reductions in the coming quarters, making most of them questionable near-term investments.
Berkshire made more purchases than sales in the quarter, but a good amount of the purchasing during the second quarter was related to the conversion of USG shares. The other purchases were largely to newer broadband and energy investments, as well as minor increases to the large positions in IBM and USB.
Disclosure: The author has no positions in any stocks mentioned, and no plans to initiate any positions within the next 72 hours. The author wrote this article themselves, and it expresses their own opinions. The author is not receiving compensation for it (other than from Seeking Alpha). The author has no business relationship with any company whose stock is mentioned in this article.
Additional disclosure: Family members own BRK.B, CBI, T and USG.