United Parcel Service (NYSE:UPS) share value has increased by more than 13% in a year. The company is running high right now due to the news of FedEx (NYSE:FDX) that has worried the rival's investors. The largest competitor of UPS now faces money laundering charges, after federal prosecutors alleged last week that the company was paid with illegally obtained money to transport substances from unlicensed internet pharmacies.
Of course, this is beneficial for UPS as any damage to the reputation of FedEx can result in consumers switching to the next best alternative. This especially applies to large corporations who don't want their names associated with a convicted organization.
This article will focus on the future potential of UPS. But before we proceed, let's have a brief look on the company's performance numbers.
During its latest quarter, UPS revenue increased year over year by 260 bps to $14.2 billion. Improvement in US exports helped the international segment post a 6.6% increment in volume as strong shipments prevailed on the Europe and Asia-to-Europe trade lanes. Similar trend followed in the domestic market where positive macro environment helped in boosting top line by 5.2%.
The growing figures can be explained through the fact that the US economy has recovered from the weather-related problems experienced during the first quarter. Healthy trade and industry fundamentals are driving retail sales higher especially through the e-commerce channel. In Europe, the economic outlook remains stable with development in larger countries offsetting problems in smaller ones. While growth in Asia remains relatively steady, the region is also seeing an acceleration of overall exports.
Hence, the trends are all in favor of UPS. Another way sales for the future should increase is through economic growth in the US. This is supposed to come from the recent efforts by the government to proceed with the next phase of "National Export Initiative." The program is designed to develop opportunities for US small and medium-sized customers in order for them to get more exposure in new markets. The policy includes details on trade facilitation, restructuring of border clearance, free trade agreements and infrastructure investment. Expanding pre-trade agreements will provide more opportunities not for other businesses only, but for UPS as well. The program has already been successful in the past (see graph below).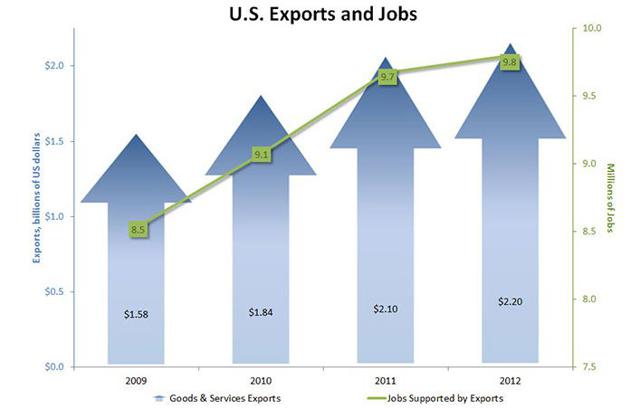 Source: International Trade Administration
Moving towards costs, the ORION deployment is progressing. This breakthrough course-plotting technology represents a decade-long effort of UPS to build tools that reduce miles driven, cut fuel consumption and improve the customer experience. The capability of this technology puts UPS in a better position to respond to changing market dynamics.
Now, the company expects to have 45% of its drivers using the routing technology for peak season. Going further, the facility automation and expansion projects are moving ahead as expected. Several new buildings and performance-improving projects in California and Texas will become operational during the second half of this year. They will provide additional capacity and flexibility for the company to benefit from the improving economic condition.
Also, to increase sort capacity, UPS is opening 50 new hubs in existing buildings. They will add 5% to the buildings' capacity with minimal capital investment. The company's new automated facility in Laredo, Texas is also a good strategic move since it offers gains to be reaped from the US and Mexican border route. UPS has further added 36 healthcare-compliant field stocking locations to reduce delivery time for medical device shipments. These sites will provide customers the ability to reach over 80% of US hospital beds within four hours.
Bottom Line
Similar strategic investments are being made abroad. For example, UPS recently added a rail service option for UPS customers shipping from China to Europe. This low-cost, four-container offering is up to 50% faster than ocean freight and 70% less costly than airfreight. Though these investments are going to hurt the bottom line temporarily, they are necessary to strengthen the market position and safeguard shareholder value from future unfavourable market dynamics. This explains why UPS has lowered its adjusted full-year EPS guidance to a range of $4.9-$5.
Nonetheless, there is no doubt that UPS is growing both from the inside and outside. Higher volumes have explained this so. The company's return on equity during the last one year has stood at 79%, significantly higher than peer average of 25.8%. With the above prospects, long investors should hold their investment. For the potential buyers, UPS is a good bet. It holds a buy rating.
Disclosure: The author has no positions in any stocks mentioned, and no plans to initiate any positions within the next 72 hours.
The author wrote this article themselves, and it expresses their own opinions. The author is not receiving compensation for it (other than from Seeking Alpha). The author has no business relationship with any company whose stock is mentioned in this article.