On Aug. 21, the management team at The Gap (NYSE:GPS) is due to report revenue and earnings for the second quarter of the company's 2014 fiscal year. With the retailer's shares trading around the mid-point of its 52-week price range, investors appear to be only cautiously optimistic about the business's prospects, but given its long-term performance is it possible that the company could be a strong long-term prospect?
Investors don't expect too much this quarter
For the quarter, analysts expect The Gap to report revenue of $3.97 billion. If this forecast turns out to be correct, it will represent a less than 3% gain in sales over the $3.87 billion management reported for the second quarter of 2013. Although higher comparable store sales could play a role in the retailer's anticipated growth, the more likely contributor to revenue expansion would be an increase in its store count.
| | | |
| --- | --- | --- |
| | Last Year's | Forecasted |
| Revenue (billions) | $3.87 | $3.97 |
| Earnings per Share | $0.64 | $0.69 |
From a profit standpoint, the situation looks almost equally unimpressive. For the quarter, The Gap is expected to report earnings per share of $0.69, just 8% above the $0.64 management saw in last year's quarter. While some of this increase will likely come from increased revenue, some modest improvement placed in conjunction with a decrease in share count (shares outstanding have dropped by 34% over the past five years alone), will play a role in any sort of rising net income.
Slow and steady wins the race
Over the past five years, The Gap has been what Peter Lynch might call a stalwart. In a large and mostly mature market, the retailer has long since grown at the double digits and, instead, has increased sales and profits modestly with the goal of creating a durable brand instead of a fad. Between 2009 and 2013, The Gap's revenue has risen by just 14% from $14.2 billion to $16.1 billion.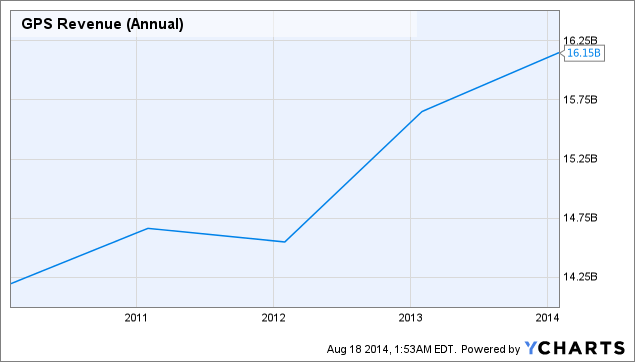 GPS Revenue (Annual) data by YCharts
With nearly flat aggregate comparable store sales during this timeframe, management has had to rely on its store count, which has increased by 10% from 3,231 locations to 3,539. Of this jump in stores outstanding, roughly 78% of new locations opened during this period were franchised locations. This typically results in lower revenue growth but does tend to yield higher margins for the franchisor.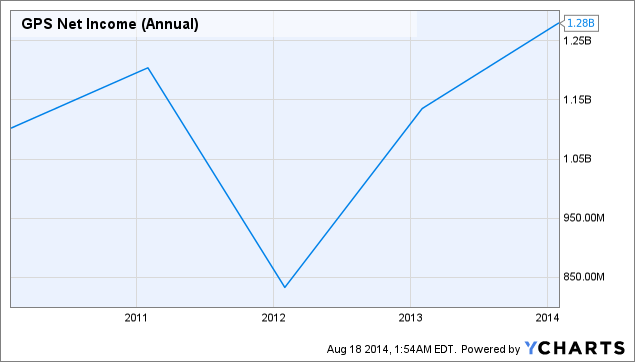 GPS Net Income (Annual) data by YCharts
Looking at profitability, the picture hasn't been much different with The Gap. Over the past five years, net income has risen by 16% from $1.1 billion to nearly $1.3 billion as higher revenue has been accompanied by a decline in its operating expenses from 27.5% of sales to 25.7%.
Takeaway
Based on Mr. Market's expectations, The Gap doesn't seem ready to burst through the roof anytime soon, but that shouldn't be an issue. True, the company's days of fast growth like some of its peers is way behind it, but with sales in the $10 billion + category and both revenue and profits rising, it could be an attractive prospect for a safer play in your portfolio almost irrespective of what the business reports this upcoming quarter.
Disclosure: The author has no positions in any stocks mentioned, and no plans to initiate any positions within the next 72 hours. The author wrote this article themselves, and it expresses their own opinions. The author is not receiving compensation for it (other than from Seeking Alpha). The author has no business relationship with any company whose stock is mentioned in this article.