Monster Rally
Coca-Cola (NYSE:KO) recently announced it will acquire a 16.7% stake in Monster Beverage (MNST) in $2.15 billion partial takeover bid. Monster shares were up 22% on the announcement.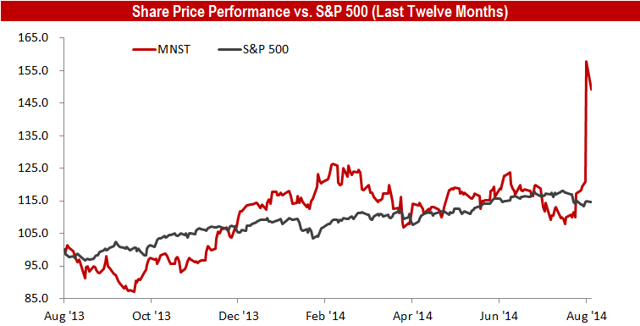 Source: Capital IQ.
Strategic Rationale
We believe this deal represents a very important milestone in the partnership between Coke and Monster.
According to a statement released by Coke, "The Coca-Cola Company will become Monster's preferred distribution partner globally, and Monster will become The Coca-Cola Company's exclusive energy play. These agreements will deliver sustainable value to The Coca-Cola Company's global system and accelerate Monster's opportunity to grow internationally."
Additionally, Coke CEO Muhtar Kent said in the press release that, "Our equity investment in Monster is a capital efficient way to bolster our participation in the fast-growing and attractive global energy drinks category."
Sweetened Deal
Coke agreed to swap its energy drink brands (NOS, Full Throttle, Burn, Mother, Play and Power Play, and Relentless) to Monster in exchange for non-energy drinks (Hansen's Natural Sodas, Peace Tea, Hubert's Lemonade and Hansen's Juice Products).
This trade appears to be a better deal for Monster (based on number of cases sold per year which is currently estimated at about 70 million). If we look to high level estimates from analysis, then the brand swap could equate to a gain of ~$9.00/share (consensus) for Monster.
In addition to the shares, Coke will receive two seats on Monster's board of directors.
International Expansion
The international expansion opportunity for Monster is now bigger and more real than ever. Coke has the largest global distribution network in the beverage industry and can easily push monster into new markets of higher growth.
We estimate that international sales for Monster could amount to $500 million by 2015 without Coke, but given the new distribution network could be upwards of $800 million.
If we assume a 30% margin, this equates to an additional $100 million of EBITDA that was not previously priced in, which at a current 15x 2015E multiple equates to upside of ~$8.00/share.
Share Buybacks
Monster currently has over $370 million in cash, which combined with Coke's $2.15 billion, equates to a $2.5 billion cash balance. If we assume that 50% of this cash can be used to buy back shares, that equates to ~14 million shares at a price of $88/share.
All else being equal, buying back 14 million shares should add ~$8.00/share in value.
Option to Acquire More
Coke has the option to acquire up to 25% of Monster after a 4-year standstill, which it views as a capital effective way of investing in Monster. Any additional shares would be purchased in the open market and would not be further dilutive to Monster.
Summation
In summation, we see upside beyond the current $88/share Monster price as follows:
$9/share on brand value gain (from the swap of brands)
$8/share on increased pace of international expansion
$8/share on buybacks
This implies an extra $25/share that could be realized over the next year or two as the above catalysts play out.
Conclusion - Caffeine Buzz Should Last
We view this transaction as an important milestone in the Coke-Monster relationship and believe it is beneficial to both parties.
Given the relative valuation gaps between the two companies (Monster trades at 34x forward P/E versus Coke at 20x forward P/E) we view this transaction as more positive for Monster, but also valuable to KO as a growth engine in the long run.
In conclusion, we are supportive of this deal and don't think the caffeine buzz will wear off anytime soon.
Disclosure: The author has no positions in any stocks mentioned, and no plans to initiate any positions within the next 72 hours. The author wrote this article themselves, and it expresses their own opinions. The author is not receiving compensation for it (other than from Seeking Alpha). The author has no business relationship with any company whose stock is mentioned in this article.