Tesla's (NASDAQ:TSLA) stock has been on a roll lately: Over the last month alone, it increased about 19%. Since the beginning of the year, shares of the hyped electric car manufacturer rose a whopping 75% with new impulses coming from the announced Tesla/Panasonic gigafactory agreement and well-received second quarter results. However, just because Tesla's stock rises and investors love it, doesn't mean the company is not mis-priced.
Quite the opposite is true: I believe Tesla is one of the most mis-priced stocks in the marketplace, but little can be done at any particular moment to correct such a mistake if the herd is stubbornly convinced a valuation of nearly eighty times forward earnings is appropriate for a deeply free cash flow negative company.
At the end of February 2014, I again recommended investors to short Tesla at approximately $210 due to valuation concerns. I wrote:
Tesla's free cash flow profitability was previously a serious concern for me and I don't think that the company's results, despite decent y-o-y improvements, justify a current forward P/E ratio of 60 and a P/S ratio of 13 -- especially with Ford's results and valuation metrics in comparison. Add to that the ongoing uncertainty about the investigation by the U.S. National Highway Traffic Safety Administration, which, in the worst case, could impose substantial costs for Tesla if recalls are required.
Shortly after the publication of my short thesis on Tesla, the stock indeed began to tank and ultimately fell back to $179 in May 2014. With a series of promotional news (gigafactory anyone?), Tesla's stock price, however, quickly reversed course again and subsequently reached new 52-week Highs. Shares are now trading at around $262 and are sitting just below Tesla's most recent 52-week High at $266.
Second quarter results weren't spectacular at all
Tesla's flagship product, the Model S, saw deliveries of 7,579 units in the second quarter and a production volume of 8,763. Tesla has guided to a total delivery volume of 35,000 units or more in fiscal 2014, which would translate into about 8,750 cars per quarter.
On the financial side of the business, Tesla certainly increased revenues by a respectable margin: Its second quarter revenues came in 90% higher at $769 million vs. last year's $405 million while Tesla's net loss doubled from $31 million in Q2 2013 to $62 million in the most recent quarter. On a per share basis, Tesla's net loss increased from $0.26 in last year's second quarter to $0.50 in the most recent quarter.
More importantly, Tesla's free cash flow continued to look really dismal and actually worsened year-over-year: The company reported a negative free cash flow of $177 million, much higher than last year's negative FCF of $77 million.

(Source: Tesla Motors Second Quarter Earnings Release)
In addition, Tesla's second quarter operating cash flow was also negative.
Though I get the growth story that is being repeated over and over by bulls, I doubt that these financial results justify a current market capitalization of $33 billion, which equates to about 80x forward earnings and implies an outrageous sales multiple of more than 13x.
What we see with Tesla in the marketplace is a prime example of herding behavior and investors speculating on further short-term momentum. However, this seems to be an inherently unstable situation. Tesla's valuation has certainly run way ahead of its fundamentals even after considering second quarter 2014 results, which were (wrongfully) cheered by investors.
Chart situation
Tesla's stock has had a great run over the last couple of months and the excitement was largely fueled by speculators who bet on ever increasing stock prices.
As stock market history has revealed over and over, buying stocks when everybody else does is a clear sign of forthcoming troubles.
The potential for trouble, though, is magnified if stocks trade at indefensible valuations, which clearly is the case here.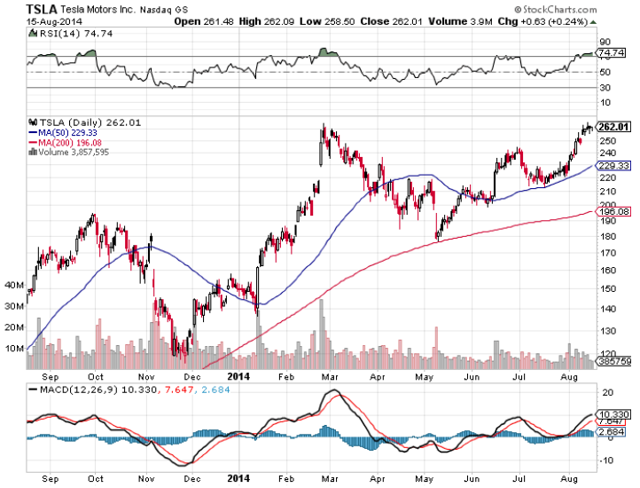 (Source: StockCharts.com)
Conclusion
I cannot help but dislike Tesla purely from a valuation point of view and because of its unattractive free cash flow profile. A lot of it has to do with the notion that Tesla is perceived as an infallible company which is about to revolutionize the car industry. In addition, Tesla clearly benefits from its charismatic CEO, Elon Musk, who excites investors, but who last year also argued that Tesla's stock appeared to be overvalued -- Tesla was trading at around $160 at the time.
With the valuation ratios witnessed in the market (80x forward earnings, 13x sales), one has to conclude that Tesla's stock price has largely run ahead of its fundamentals. Tesla needs stunning performance results in the future in order to grow into such lofty valuation figures.
Given the extreme amount of bullish articles on Tesla on the internet as well as on Seeking Alpha, it is clear that the electric car manufacturer has become a crowded trade, which shouldn't bode well for Tesla's stock price. Ultimately, gravity will catch up. Short.
Disclosure: The author has no positions in any stocks mentioned, and no plans to initiate any positions within the next 72 hours. The author wrote this article themselves, and it expresses their own opinions. The author is not receiving compensation for it (other than from Seeking Alpha). The author has no business relationship with any company whose stock is mentioned in this article.