Momentum and roll yield are two of the most commonly discussed strategies relating to commodity future investing. These two factors are the two factors that determine commodity selection in the Summerhaven Dynamic Commodity Index, the underlying index for the United States Commodity Index Fund (NYSEARCA:USCI). The Summerhaven Dynamic Commodity Index holds the seven commodities with the highest roll yield, and the seven commodities not already selected with the highest 12 month price change. This is a bit closer to the screening approach than the ratings or "one number" approach that I prefer, so I thought I would combine the rankings of the two indicators for commodity ETFs and ETNs.
Notes:
I used the performance of the ETFs or ETNs to measure momentum. This can be quite different from the price performance of the actual commodity due to the effect of the roll yield.
To measure momentum for Corn, Platinum, and Palladium where the ETFs haven't existed for a year, I used the Dow Jones-UBS Corn TR index, the platinum spot price, and the palladium spot price.
I added in the iPath Grains ETN (JJG) and the iPath Livestock ETN (NYSEARCA:COW) because the majority of the commodities held in those sectors are not available in ETP form.
The total ranking is a ranking of the sum of the momentum and roll yield rankings.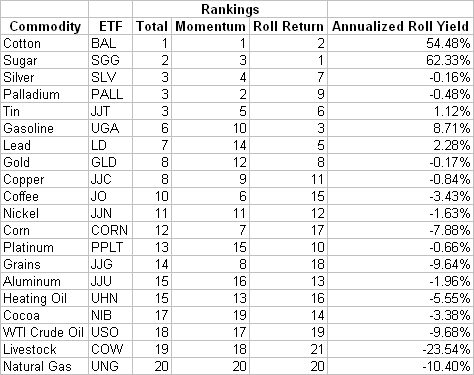 Disclosure: I am long USCI.