Introduction
Sohu's (NASDAQ:SOHU) Q2 earnings release on July 28th gave investors an insight into the changing face of online media in China, with revenues missing analysts' expectations and earnings beating consensus. This analysis discusses how investors should begin to focus less on Changyou's (NASDAQ:CYOU) established games and more on the competitive online video content market.
Business Model
Sohu is a leading Chinese language web portal, which comprises of leading search engine Sogou, leading online game developer Changyou, a US-listed subsidiary of Sohu, video content platform Sohu TV, as well as news and media portal Sohu.
The overall strategy for Sohu media is to increase monetization through data mining, as well as mobile monetization. Sohu News is collecting and analyzing user data across its various platforms, in order to understand user habits, because the firm is actively trying to further monetize the Sohu News app and Sohu WAP portal. One such way is by launching new ad formats, in addition to the traditional banner ads, such as loading page ads and newsfeed ads. The firm is leveraging their different mobile platforms, including video, news and WAP, as well as the Sogou Pinyin Chinese language input function, in order to cross market their video content to all users.
Sohu Video benefited from a strong June, where combined traffic grew 26% sequentially, and during the first two weeks of July, traffic had grown a further 24%. It is worth noting that the Gaokao university entrance exam finished in the second week of June, and university students would have returned home at the end of June. The pursuit of quality content is currently a common theme within the industry. As well as an extensive portfolio of domestic TV dramas, they've expanded their library, particularly focusing on American content, debuting the Conan O'Brien Show in June. Likewise, the animation content is growing, with a large variety of domestic and Japanese programmes. They took advantage of major events such as the World Cup in order to promote mobile apps. Sohu collaborated with China Telecom to offer its subscribers free World Cup viewing packages in the Sohu Video app.
Changyou was originally a business unit of Sohu, until it was spun out as a separate company in 2007 and subsequently listed on the NASDAQ in 2009. The company currently operates one of the most popular MMOGs in China called Tian Long Ba Bu (TLBB), as well as two popular web games called Wartune and DDTank, and operates the leading game information portal 17173.com. Over the quarter, Changyou had 252m average monthly users, which is year on year growth of 192%. Of this, roughly 50m were sourced from mobile apps. Yet despite this, Changyou saw relatively soft performance from the existing portfolio of games, which has seen expansion packs added to the TLBB game to decrease the difficulty. This is common when a game is coming to the end of its life, because the big spending gamers will likely have already completed the game and spent enough money, so by decreasing the difficulty, Changyou is just appealing to the casual and low spending gamers. Whilst mobile gamers are a big source of user traffic, it's worth noting that Tencent is actively expanding its game network on its WeChat and Mobile QQ platforms, making it a very large player in the market.
There is a more interesting trend that can be seen across recent quarterly reports. As TLBB's life cycle is coming to an end, online game revenues either remained stagnant or have fallen, whilst total revenues have risen. This is concerning because Sohu has been reliant on strong revenues from Changyou's online games, but they now require their new portfolio of games to replicate the success of TLBB. Also, Sohu's revenues are becoming more dependent on advertising. As I will discuss later in this analysis, Sohu is facing rising costs and intense competition for video content, which is directly affecting their advertising revenues. From this, I expect Sohu's revenues to become more unstable as they become more dependent on video revenues.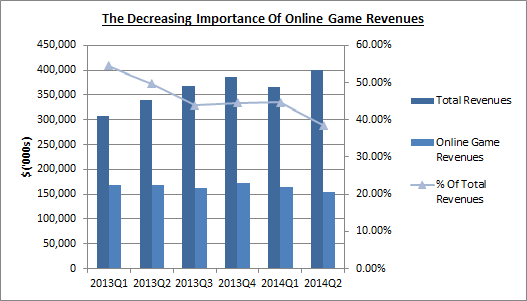 Sogou is the search engine subsidiary of Sohu, and is the third largest in China based on revenues and user base, with 3.7% of the market, behind Baidu and Google China. On PC, the user base expanded to 480m, and mobile monthly active users exceed 200m, making it the number two in the market, behind Baidu. During Q2, Sogou continued to make solid progress in other key products, such as the browser and the Pinyin system. This is a Chinese character input system that uses Sogou's search data to understand which characters are the most popular and most common. In fact, Sogou Pinyin is working exclusively with Tencent's QQ instant messenger, so that QQ users can use their personalised emoticons in other apps via the Sogou Pinyin input system.

(Sogou's WeChat Account Search Homepage)
In September 2013, Tencent paid $448m for a minority share in Sogou, and the two entities have since been integrating their platforms, such as the recently launched dedicated search engine for official WeChat accounts. The main purpose of launching this is to differentiate Sogou search from other providers, but at the moment, there is no immediate plan regarding monetized traffic. Tencent has been closing down services that aren't generating enough revenue, with their Weibo service and search engine Soso being victims of this.
From A Valuation Perspective
Sohu posted total revenues of $400m, up 18% YOY and 10% QOQ, and was in line with guidance. The news and video business segments made strong progress in mobile monetization, because the growing user base attracts more advertisers. Mobile revenues showed strong growth of 210% QOQ, partially due to the World Cup. Online video continues to grow, with the multi-screen strategy continuing to work well.
The brand advertising revenues in the second quarter were $133m, up 33% YOY and 20% QOQ. Including online video, Sohu ad revenues were $93m, up 38% year on year, with online video advertising revenues growing 85%. Online video mobile advertising revenues reached 20% of total revenues. Ad revenues for Focus.cn, the real estate channel, were $26m, whilst ad revenues for 17173 were $15m.
Sogou's revenue of $91m beat expectations, growing 82% YOY and 30% QOQ, as Sogou experiences continued search traffic growth because of the cooperation with Tencent. The number of search advertisers grew 23% YOY, whilst the average revenue per advertiser grew 63% YOY. Mobile search traffic grew 30% over the quarter, and the cost per click is growing much faster for mobile than PC, which is expected because of the Chinese technology industry's migration to mobile. The company acknowledged that Sogou has reached profitability much sooner than expected, due to two consecutive quarters of strong revenue.
Online game revenues were $154m, down 9% YOY and 6% QOQ, with Changyou posting Q2 revenue of $117m, down 3% YOY and 2% QOQ. However, Changyou had 252m average monthly users during Q2, which has almost tripled since a year ago. The decrease in revenue was because the higher spending players spent less on expansion packs that were released to decrease game difficulty. The release of expansion packs is a sign that a game's life is maturing, and Changyou is simply trying to extend the longevity of the game's revenue stream.
There has been a notable increase in content costs within the industry. In Q2, content costs were $40m, up 92% YOY and 55% QOQ. Last year, it was relatively easy to find the latest US TV shows across a wide range of online platforms in China. However, as of recently, there seems to have been a clear up of this content, as video platforms have been paying much higher amounts for their content.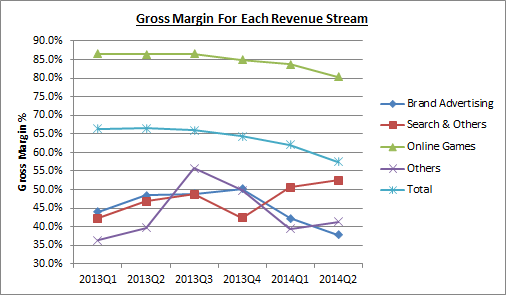 Looking at the gross margins for each revenue stream, the only business segment that has seen rising margins is Sogou, which is likely due to the collaboration with Tencent. With other revenue streams seeing falling margins, it is difficult to be optimistic about Sohu's near term outlook. The rising cost structure for content, and the falling marginal revenue for TLBB has put pressure on the overall gross margin, and investors will want to see a halt to this decline.
For Q3, the company's guidance is for revenues to be between $427m and $442m, which would represent QOQ growth of between 6.7% and 10.5%, and YOY growth of between 15.9% and 20%. Sogou's revenues are expected to be between $100m and $105m, which implies 10%-15% QOQ and 76%-84% YOY growth. Online game revenues are forecasted to be between $158m and $163m, implying an increase of 3%-6% QOQ, and a YOY change of -2% to 1%.
Looking Ahead
As recently as last year, the latest US TV shows were easily available across a variety of video channels, but now these shows are restricted to just one channel. This is a major concern for Sohu, because the intense competition in the video content market is resulting in price escalations. High rating TV shows will generate high advertising revenues, so companies are willing to pay more and more for this content. At the moment, there are a lot of companies with large financial backing that are fighting for market share. It's an unfavourable cost structure for all firms in the market, but it is still a relatively new market in China, so once it matures, prices will cool. Sohu is expecting an uptick in the cost of content over the year, particularly for US and the increasingly popular Korean shows, although the company is confident that it is manageable, so the cost structure will remain similar. However, Sohu intends to increase its revenue scale to cover these rising costs, whether that is through targeted advertising or through premium content. For example, users of Youku Tudou have to pay to watch the top content in high definition. In addition, costs reductions can be made through better working relationships with telecom firms in order to reduce bandwidth costs.
The effects of this have already been seen in Sohu's advertising revenues. Guidance for third quarter advertising revenue is noticeably lower than last year, as video advertising revenues are expected to fall from 85% in Q2 to 40% in Q3. This is because Sohu had The Voice Of China 2 in 2013Q3, whilst they have lost the third season of the highly rated show to Tencent. The World Cup has mitigated some of the effect of losing The Voice Of China, but it was reasonably evenly spread between Q2 and Q3, so there's still a substantial drop in guidance. The advertising revenue growth rate in Sohu's real estate website Focus.cn is also expected to fall substantially from 80% in Q2 to 40% in Q3, as a result of China's slowing real estate market.
Sohu remains confident in Changyou's ability to maintain strong cash flow, as there will be new games released in the second half of the year, including 3 MMO games, two web games, and five to six mobile games. After the success of the TLBB game, it remains to be seen whether these new games can replace its revenue stream. We can see that the near term margin is under pressure due to increased costs for game development, but Changyou is confident that the games will return yield. Changyou has announced an investment in MoboTap, which created the Dolphin browser. This is intended to promote Changyou's products overseas. Dolphin is a free mobile browser for Android and iOS, and is one of the most popular third party mobile browsers in terms of downloads, where the vast majority of its users are based in the US and Europe. As Chinese online game developers are market leaders, they are aggressively exploring overseas markets for web games and mobile games.
However, the industry faces a major competitor in game consoles, as China has lifted a 14 year long ban on sales. This is a major competitor for desktop online games, because both are played at home, yet game consoles have a much larger international player network and the quality of the gameplay is much better. In fact, JD.com announced recently that it has begun taking exclusive pre-orders for the Microsoft Xbox One, which will be the first gaming console available for purchase through authorised sales channels in China since 2000. All game consoles have been unofficially available at electronic markets across the country.
The outlook for Sogou is a little brighter, as it continues to quickly expand its business with strong mobile growth. Mobile search revenues as a percentage of total search revenues is still in the low teens, which is poor compared to its rivals, who are seeing around 30%. PC revenues are also growing quickly, so by the end of the year, mobile search revenues will likely maintain the current proportion of total revenues. Sohu maintain that profitability isn't the number one priority at the moment. They are second in mobile search, albeit a distant second to Baidu, so gaining market share is currently more important. This drive for market share will be based on having the largest teen user base, and the Sogou search app is the second most installed app on mobile, behind WeChat. Also, being within the Tencent ecosystem gives Sogou potential to grow. However, in my view, rather than looking forward, the biggest competition will come from the likes of Qihoo who are also focusing on gaining mobile search market share.
One final point is that Tencent has recently been closing down unprofitable and unpopular businesses, such as its Weibo microblogging service and its search engine Soso. Tencent has already purchased a minority share in Sogou, and should collaboration between the two entities continue to be successful, then I would expect Tencent to pursue an outright acquisition or majority stake of Sogou.
Summary
Whilst Sogou is benefiting from its collaboration with Tencent, Sohu as a whole is currently facing a period of uncertainty. As advertising revenues become more and more important to the firm, video content is becoming more expensive and the market is facing strong competition. Likewise, advertising revenues from its real estate portals are suffering from weak real estate markets, which still show no sign of improvement.
Changyou is seeing its most popular game TLBB come to the end of its life, with the remaining revenue stream coming from casual, low paying players who only pay for expansion packs to reduce the difficulty of the game. The higher paying players will have since been spending their money elsewhere, which places pressure on Changyou to release a successful portfolio of new games in the second half of the year. With added pressure from the Xbox One console that will be released in China this year, it is likely that online game revenues will continue to become a smaller proportion of total revenues.
The integration of Sogou into the Tencent ecosystem is likely to be an important driver of revenue growth, as it gives Sogou access to a much larger user base. This will likely help Sogou stave off competition in the mobile search market from Qihoo, and solidify its position as the second largest search engine in China. However, should Sogou continue to be successful, I would expect Tencent to increase its stake in the search engine.
The third quarter earnings report will give investors their first insight into how Changyou's new games are performing. With intense price competition for TV content expected until at least next year, investors may be best waiting until uncertainties over different revenue streams become clearer.
Disclosure: The author has no positions in any stocks mentioned, and no plans to initiate any positions within the next 72 hours.
The author wrote this article themselves, and it expresses their own opinions. The author is not receiving compensation for it (other than from Seeking Alpha). The author has no business relationship with any company whose stock is mentioned in this article.