Bespoke: Bullish Sentiment Reaches Historical Extremes
If the market continues its levitation through next week and the first day of the month (which almost always is up) odds would favor at least a short term bearish position on the 2nd trading day of the new year or so as bullish sentiment is approaching "off the chart" levels. The two main sentiment surveys, Investors Intelligence and the American Association of Individual Investors, taken alone each show extremes, but in this measure that Bespoke put together, combining them show where we are historically.
Essentially, we have not seen these levels aside from right before the historical crash of 1987 ("Black Monday"), the height of the NASDAQ bubble in 1999, and a few weeks in 2003-2004. Excluding 1987 one parallel to today and 1999 and 2003-2004 was a Fed gunning the system with easy money (Y2K money in 99, and at the time historic 1% rates that set the seeds of the housing fiasco in 2003-2004). Who says the Fed does not move markets?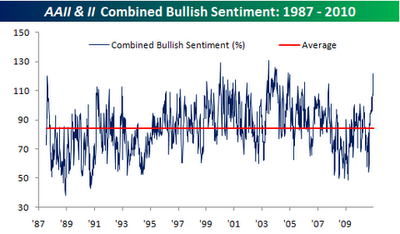 (Click to enlarge)
We are now above any level in the post March 2009 period by a long shot, and even above the mood that hung-over investors at the market peak in fall 2007. Our world shall be very interesting if the Fed ever takes its peddle off the metal.
Disclosure: None
This article was written by
Mark will be launching a mutual fund summer 2010. He is a self taught private investor who operates the website Fund My Mutual Fund (http://fundmymutualfund.com); a daily mix of market, economic, and stock specific commentary. Fascinated by the market since an early age, he discovered mutual funds as a teenager in the 80s and moved to equities by the mid 90s. The origin of the website is/was to leverage the power of the internet in developing a transparent track record to attract investors for his potential "long/short" mutual fund. His equity focus is identifying secular growth trends and the companies most likely to benefit from these macro trends. Stocks are identified through fundamental analysis, although basic technical analysis is used in determining entry and exit points. You can receive Trader Mark's latest posts daily by subscribing free via RSS reader (http://feeds.feedburner.com/FundMyMutualFund) or subscribing free via email (http://www.feedburner.com/fb/a/emailverifySubmit?feedId=1109639). With a degree in economics from the University of Michigan, a broader understanding of the economy as a whole, along with interpreting investor psychology, is also a major interest for Mark.